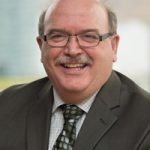 BY GORD JAMIESON
How many passwords do you use in a day? There's one for your email account and one to log in to your computer at work. There's your online banking account, maybe a brokerage account for trading stocks. There are the passwords for your various social media accounts. If you like to shop or pay bills online, there could be several more. If you want to keep your information secure, all of those passwords should be unique. You also should not write them down anywhere, for obvious reasons.
No wonder a recent Visa Canada survey of 1,000 Canadians found that a third of Canadians have abandoned an online purchase because they could not remember their password. Keeping track of them has become almost impossible. That's why many Canadians are ready to ditch passwords in favour of biometric authentication.
Until recently, biometrics were only seen in fiction, like in gadgets used in James Bond movies. But today, the technology has come so far that most people have a device capable of biometric authentication in their pocket. According to Visa Canada's survey, almost one-in-six (59%) Canadians were at least somewhat familiar with biometrics in some form, whether that is fingerprint or eye scans, voice or facial recognition, or something a little less common, like behavioural or vein pattern recognition.
In fact, one quarter of people use biometrics every single day on their smartphones, allowing fingerprints to verify their identities. By creating a unique measurement of our physical characteristics, our identities can be verified with a higher level of certainty than with passwords and PINs alone. As consumers get more comfortable with this idea, there are big implications for the future of payments.
The payments industry is continuously evolving as consumers look for new ways to make purchases conveniently and securely. Wearables, chip cards, smartphone and "tap"purchases have grown in popularity, and now consumers are increasingly embracing biometric recognition.
One of the main issues that consumers have with the current online payment system is the large number of passwords they need to remember to make purchases. Biometrics solves that issue by eliminating the need to create unique passwords. Instead, their payments will go through once their identities are confirmed through unique physical characteristics, such as a fingerprint or voice recognition. 65% of Canadian consumers find biometrics easier than passwords, and nearly 50% of our survey respondents say the top benefit of using biometrics is that it eliminates the need to remember passwords and PINs.
Biometrics can also increase the security of the transactions by reducing the reliance on passwords. To make life easier, many people re-use the same password, or variations of the same password, for every account. Our survey revealed less than a third (31%) of consumers use unique passwords for each of their accounts, which puts them at greater risk of being hacked and having personal information stolen.
Retailers should understand the changing needs of their customers and, consider how they can benefit from biometric authentication. As we mentioned earlier, a third of Canadians have abandoned online purchases because they could not remember their passwords. They would rather go somewhere else or not make the purchases altogether, instead of resetting their account details. By integrating biometric technology into the payment experience, organizations can make the process more convenient and secure, and improve customer satisfaction.
While consumers are growing more comfortable with biometrics, they still have concerns. Given the increase in data breaches in recent years, and the growing severity of those breaches, security is a high priority. Respondents to the survey had two main concerns: how personal biometric information is stored, and how the technology authenticates and grants access to accounts.
Understandably, having biometric information stolen is a top concern for consumers, because of the nature of the information. Because biometrics are measurements based on individuals' physical characteristics, if they are stolen or compromised, they can't be changed. How and where the information is stored, and making sure it is secure, will be key to getting consumers to trust the technology.
Respondents also didn't have a firm understanding of how biometrics authenticates their identities. Approximately 44% of consumers currently believe that biometrics are more secure than passwords for authentication. To win over the other 56%, payments companies will need to inform the public about how biometrics works and the advantages they present. This is one of the main hurdles to the wider adoption of biometrics.
It's clear that Canadian consumers are ready to ditch their passwords in favour of the ease and security of biometric authentication when making payments. As awareness and trust in the technology spreads, organizations need to begin exploring how they can integrate biometric technology into their payments experience, or risk being left behind.
—
Gord Jamieson is Head of Risk Services, Visa Canada