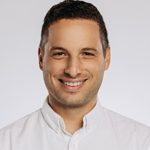 By Andy Nemes
In the current economic recession, many businesses were forced to reevaluate their strategies in order to survive. One common thread among the various action plans was to fall back on loyal, reliable customers and try to keep them happy instead of chasing new ones. Industry analyst Forrester specifically called loyalty programs a lifeline during the inflation crisis. But can they really be the savior many companies are looking for?
Businesses put their trust in customer loyalty
In a recent study by Antavo, the Enterprise Loyalty Cloud found that 88.5 percent of companies trust customer loyalty to help them overcome the inflation crisis and potential recession. Called the Global Customer Loyalty Report 2023, Antavo based its findings on a behavioural data set of over 295 million loyalty member actions, over 600 minutes of qualitative interviews, and survey data from over 260 CMOs, CRM executives, and loyalty professionals.
On closer look, 32.6 percent of businesses stated that customer loyalty is somehow important, while 55.9 percent claimed that customer loyalty is absolutely essential, meaning that those who are more optimistic about the role of loyalty are in the majority. Not surprisingly, this sentiment translates to action, as 67.7 percent of respondents plan to increase their investments in customer retention in the inflation crisis and potential recession. Put together, these two trends forecast a renewed interest in customer retention initiatives, such as personalization, data-driven marketing and loyalty programs.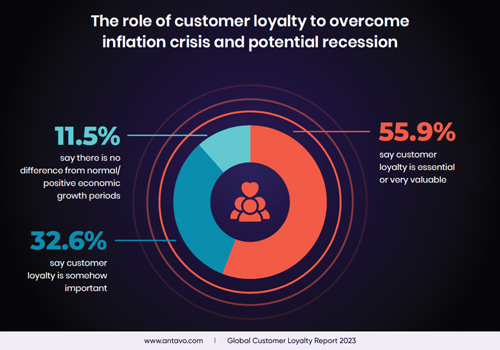 Modern loyalty programs aren't the same as before
Historically, loyalty programs have been seen as purely transactional tools meant for driving revenue. However, in recent years (especially during the pandemic), the role of loyalty programs has been transformed as an engagement tool. Next-gen loyalty programs are now designed to build stronger relationships with customers and reward them for engaging with the brand.
This of course can mean repeat business or higher basket volume. Still, more and more businesses look outside of the buying cycle by rewarding actions like spreading word-of-mouth on social media, sharing zero-party data by answering quizzes and surveys, and even actions like bringing back old clothes or using a sports app to earn points with their workout.
But rewardable actions in a loyalty program are more than just a gimmick to catch customers' attention. During an economic crisis, keeping buyers close to the brand at all times is absolutely critical, otherwise, a competitor might steal their heart instead.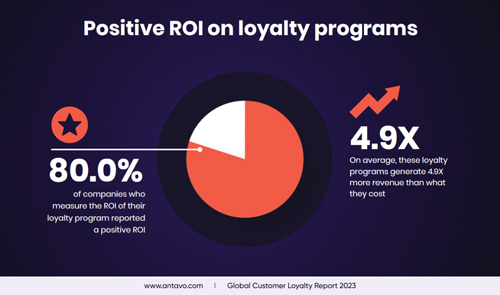 Loyalty programs: the way out from recession?
The shift towards a more engagement-focused loyalty program hasn't gone unnoticed by the market. According to Antavo's GCLR2023, 8 out of 10 companies plan to revamp their loyalty program in the coming years. This is a steady increase from last year. The reason behind the decision isn't a lack of faith (the report also highlights that satisfaction rates haven't dropped compared to the previous year), but rather to keep up with the trends and to become the new industry innovator.
Market research company Gartner shares a similar boost for loyalty programs, but for new ones: in their predictions for 2023, they forecast that one out of three companies who don't have a loyalty program will opt to launch one. Therefore, we will no doubt see an influx of innovative reward programs in the coming years.
Just to highlight the difference between an average and a successful loyalty program, Antavo's report shows that 80.0 percent of companies who measure the ROI of their loyalty program reported a positive ROI, earning on average 4.9X more revenue than what they spend.
Naturally, a company needs to have a clear vision for the KPIs they wish to move with their program, but the statistics hint at the fact that a well-received loyalty program can act as a revenue center, and reward customers for actions that aren't transactional won't necessarily hurt the bottom line.
The secret of running a successful loyalty program in 2023
This begs the question, though: how can a brand make sure that its loyalty program falls into this category? Of course, no two reward programs are the same. In fact, it would hurt their appeal. Being different spices up the experience, and each program should be designed in accordance with the brand's goals and audience in mind.
But for more practical advice, let's see what Antavo's report has to say. According to the collected answers, 28.2 percent of companies' total marketing budget goes to customer loyalty program management and CRM — a 5.4 percent year-over-year increase. The lesson here is that businesses are willing to allocate more budget to customer loyalty programs as they see them as an important part of their overall marketing strategy.
Personalization is another area worth investing in. Just like email communication and product recommendations, loyalty program offers and rewards also benefit from a little bit of personalization. In fact, the average annual spend of members who redeem personalized offers is 4.5X higher than non-members, states the report.
Loyalty pays back to the world too
Lastly, for those willing to give non-transactional engagement a shot, one fairly unexplored area is rewarding social-conscious (ESG) actions. Allowing program members to donate their points to charity might be a familiar concept, but loyalty programs can earn customers' trust and adoration in other ways as well — like giving points or rewards for purchasing ethically-made products, choosing a healthy lifestyle, participating in crowdfunding, or promoting a noble cause on social media.
Loyalty programs can be a powerful tool for businesses looking to drive both revenue and engagement during the current economic crisis. By building strong relationships with customers their customer lifetime value will eventually increase, as well as their willingness to promote the brand to their friends or to share more data about themselves. But to achieve all of this, it's important for businesses to revamp their existing loyalty programs and allocate more budget to customer loyalty programs management and CRM. Furthermore, measuring the ROI of loyalty programs is crucial to ensure that they are heading in the right direction.
Andy Nemes is the VP of North America and Co-founder of Antavo, the Enterprise Loyalty Cloud that provides best-in-class technology to manage experience-based, paid, and lifestyle loyalty programs online, in-store, or on mobile.