Montreal AI Startup Hippoc Receives $3 Million Funding Infusion
Funds to be used for enhanced platform development and global expansion of breakthrough artificial intelligence tools for advertising executives.
Fueled by exponential growth, Montreal-based Hippoc, a breakthrough digital marketing startup, recently announced $3 million in financing from Colvest Holdings Inc. and Distinction Capital (the private investment fund of CGI founder Serge Godin). Funds will be used to expand the business to a wider client base in North America as well as in Europe, and help the company support its vision to further develop its first-of-its-kind intuitive artificial intelligence (AI) platform designed for marketing specialists.
Hippoc — founded in 2019 by Jean-Maxime Larouche and Kévin Combe — launched its ground-breaking technology to resolve issues faced by marketers related to long delays and elevated costs associated with traditional advertising testing, such as focus groups and panels carried out with real consumers. The company's web-based app, described as the ultimate advertising testing and optimization tool fueled by neuroscience and AI, predicts the cognitive impact of an ad before it appears online. Results are obtained through tests carried out on a replicated average human brain) and are delivered instantly to marketing specialists — from start-ups and SMEs, large corporations and marketing/communications agencies, to junior and senior advertising designers, and freelancers — who can then validate the effectiveness of their ads.
According to a study conducted by Hippoc, 20 percent of advertising budgets for campaign launches is invested in ads that deliver significantly below average performance. A predictive test conducted by Hippoc can cut these budget losses in half, by identifying these ads before launch, said Larouche.
"Hippoc's solution is timely for the digital marketing world, which is going through unprecedented challenges related to measuring performance, stricter regulations, new tools for consumers to restrict access to identifying data, and the imminent end of third-party cookies," he explained. "Hippoc's unique and proven platform solves these issues by offering a complete turnkey solution.
Users of the company's platform are growing exponentially, with thousands of clients already benefiting from the technology, including leading Canadian marketing and advertising agencies Glassroom, BleuBlancRouge and Adviso. Now, Hippoc is expanding across the U.S. and collaborations are already underway with agencies in New York.
"Hippoc offers a powerful, intuitive tool that companies can use to increase the impact and recall of each visual contact between their brand and consumers," said Charles Beaulieu, Associate from Montreal and Toronto-based Glassroom agency. "In just a few seconds, this solution helps create customer brand loyalty and maximize the ROI of visual content."
Combe points to a study that shows 49 percent of a brand's sales from advertising is attributed to the quality of the creative and the message. "More than clicks or mouse movements, an ad's design — what people look at and remember — it is what plays an essential role in the purchasing decision process, and this is what Hippoc enables advertising and marketing professionals to pre-measure."
Users credit Hippoc's turnkey solution for making their advertising creation process faster, more efficient and less subjective since "each product is first sold to the public's brain,'' said Larouche.
He explained that affordable packages are available for companies of all sizes, from open-access web applications with special subscription types for SMEs, marketers and freelancers, to personalized corporate options adapted to companies' needs.
The $3 million funding will support the current Hippoc platform as well as develop integrations with advertising platforms like Google and Facebook (Meta) and new applications, including software to dynamically analyze different types of content, such as interfaces, emails, blogs, animated content, videos and GIFs.
■ ■ ■ ■ ■ ■ ■ ■ ■ ■ ■ ■ ■ ■ ■ ■ ■ ■

Honda design studios leverage virtual and mixed-reality technology to fast-track the development of new vehicles
A new video offers a first-ever look at the Honda VR Design Studios in Los Angeles, revealing how Honda is leveraging advanced virtual reality (VR) and mixed reality technology to fast-track the development of new Honda vehicles. VR has quickly become a critical tool for Honda designers in the development of future mobility products, including EVs, and Honda continues to expand the use of these tools in LA and Japan.
The 2024 Honda Prologue full-electric SUV was the first Honda model designed primarily through virtual reality visualization technology, which was critical in overcoming collaboration and efficiency challenges faced during the COVID-19 pandemic.
"Our design teams used the latest VR technology to envision Prologue in different environments and to accelerate cross-collaboration between Honda styling teams in the U.S. and Japan," said Mathieu Geslin, Honda VR design leader. "It's an ongoing effort to further explore the technical capabilities of VR and mixed reality in our development centres globally, and we're really excited about what this will mean for the Honda products of the future."
View the video at https://youtu.be/YgZe4d1RtkA
■ ■ ■ ■ ■ ■ ■ ■ ■ ■ ■ ■ ■ ■ ■ ■ ■ ■
Deloitte Canada unveils Smart Factory and Warehouse
Deloitte Canada recently opened The Smart Factory @ Montreal, a first-of-its-kind facility showcasing an interconnected ecosystem of more than 20 cutting-edge solutions and technologies and intent on transforming manufacturing and warehousing through digital transformation.
"As Canada's largest professional services firm, we care about the future of the country," says Anthony Viel, chief executive officer of Deloitte Canada. "We believe that projects like this will fundamentally transform our economy — and society — and set Canada on a better path. We are proud to leverage our globally recognized expertise in warehousing and manufacturing to establish this unique and innovative facility. By combining Deloitte's consulting expertise with valuable software and equipment donations from leading-edge sponsors, The Smart Factory @ Montreal is showing how Canada can lead in the fourth industrial revolution."
Spanning over 9,000 square feet, The Smart Factory @ Montreal is designed to showcase the possibilities of automation to run production lines, efficiently store and move inventory, as well as track inbound and outbound shipments. In its first year of operation, the state-of-the-art facility is expected to draw hundreds of national and global business leaders to expose them to revolutionary ways of working in order to maximize efficiencies.
According to the 2022 Material Handling Institute's Annual Industry Report released in collaboration with Deloitte, the top three supply chain company challenges faced by businesses are potential supply chain disruptions and shortages, hiring and retaining qualified workers, and customer demands for faster response time. The Smart Factory @ Montreal leverages the latest technologies and practices to address these challenges expeditiously and at the best possible cost to clients.
The report also shows that the pandemic has accelerated supply chain transformation for 78 percent of companies, particularly those operating in the realm of e-commerce. Several use cases shown in The Smart Factory @ Montreal address this challenge and identify potential technologies to lead in this space with affordable investments.
"Today's customer expectations are higher than ever before," says Geneviève Provost, Managing Partner, Quebec and National Capital Region for Deloitte. "With increasing access to information, products, and services, consumers have come to expect a seamless and personalized experience throughout the entire buying journey. By implementing advanced technologies, businesses can improve their efficiency and speed of execution, thereby enhancing the overall customer experience by providing faster delivery times, accurate tracking and inventory management, and overall improved satisfaction. We are thrilled to have this facility in Quebec, which is expected to attract visitors and business leaders from around the world and boost our local economy."
Using cutting-edge industry 4.0 technologies such as artificial intelligence (AI), sensors, robotics, internet of things (IoT), big data, cloud and edge applications, The Smart Factory @ Montreal demonstrates how digital supply networks are transforming supply chains away from siloed functions into an interconnected ecosystem that is both seamless and transparent.
Operating in real-time with the additional information provided by accelerated connectivity, these new dynamic manufacturing and warehousing digital networks strengthen supply chain agility and empower companies to make rapid and optimal decisions.
"Canadian businesses tend to be sized for the Canadian market but are often competing against multinationals that have extensive resources and sophisticated systems," says Alan Taliaferro, Deloitte partner and project leader for The Smart Factory @ Montreal. "This space provides an opportunity to support Canadian businesses by enabling them to learn about, and experiment with, an array of live smart technologies in a fully automated factory and warehouse. By setting stretch goals and embracing change, Canadian businesses will have the opportunity to learn how to achieve a competitive edge in both local and global markets."
■ ■ ■ ■ ■ ■ ■ ■ ■ ■ ■ ■ ■ ■ ■ ■ ■ ■
Shutterstock introduces generatIon AI to its all-in-one creative platform
Shutterstock, Inc. the world's leading creative platform for transformative brands and media companies, rolled out its AI image generation platform in late January. The platform is available to be used by all Shutterstock customers globally in every language the site offers. The text-to-image technology converts prompt into larger-than-life, ethically created visuals ready for licensing. It is the latest addition to Creative Flow, Shutterstock's extensive toolkit that has been specifically designed to power the most seamless creative experience possible.
"Shutterstock has developed strategic partnerships over the past two years with key industry players like OpenAI, Meta, and LG AI Research to fuel their generative AI research efforts, and we are now able to uniquely bring responsibly-produced generative AI capabilities to our own customers," said Paul Hennessy, Chief Executive Officer at Shutterstock. "Our easy-to-use generative platform will transform the way people tell their stories — you no longer have to be a design expert or have access to a creative team to create exceptional work. Our tools are built on an ethical approach and on a library of assets that represents the diverse world we live in, and we ensure that the artists whose works contributed to the development of these models are recognized and rewarded."
Shutterstock explains their technology is revolutionizing the way visuals are created for campaigns, projects, and brands by making generative AI accessible to all. They believe our users should not need to learn how to write long, complex prompts to benefit from this technology. That's why their image generator produces unique, varied, and breathtaking images from even a single word input or short simple phrases. And with an intuitive style picker and support for over 20 languages, they empower people worldwide to bring their creative visions to life without limits.
The company is also making the experience very convenient for users. Customers can search for stock, create and publish winning designs, and generate content — all in one place. If they want to take it a step further, clients can polish their newly generated asset in Create, Shutterstock's easy-to-use editing tool that lets people customize their visuals without being a professional designer, and plug it into the rest of the applications that make up Shutterstock's Creative Flow. This results in the perfect piece of content every time, allowing clients to bridge the gap between idea, design, and execution. Every Shutterstock customer already has access to this entire suite of tools through their current subscription.
Shutterstock explains that they are the first to support a responsible AI-generation model that pays artists for their contributions, making them a trusted partner for generating and licensing the visuals clients need to uplevel their brand. Also, the company has thoughtfully built-in mitigations against the biases that may be inherent in some of their datasets, and they are continuing to explore ways to fairly depict underrepresented groups.
The AI image generator, and the rest of our capabilities that are ready to turn ideas into achievements, can be found on shutterstock.com.
■ ■ ■ ■ ■ ■ ■ ■ ■ ■ ■ ■ ■ ■ ■ ■ ■ ■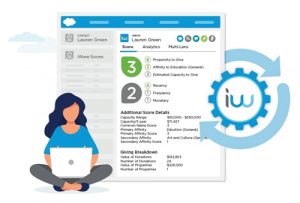 Enhanced iWave for Salesforce Integration Brings Automated Wealth Scoring to Nonprofits
iWave, the industry's top-rated fundraising intelligence platform, released new enhancements to the iWave for Salesforce integration on the Salesforce AppExchange. The latest version includes Automated Scoring, a new feature that enables fundraising professionals to understand the giving potential of new constituents, as soon as they are added to Salesforce. Additionally, nonprofits can optimize their cultivation efforts by using customizable scoring triggers to automatically receive the latest wealth and philanthropic intelligence in Salesforce.
By integrating iWave and Salesforce, fundraising professionals can enrich their internal Salesforce data with iWave's fundraising intelligence to identify ideal donors, find new prospects, personalize outreach, and ultimately raise more donations using a frictionless workflow. Automated Scoring further enhances the ability to prioritize donors who have additional giving potential, and provides new cultivation and solicitation opportunities.
Numerous studies have shown that timing is essential to maximizing fundraising outcomes. For example, donors are much more likely to give a second gift within the first three months. With Automated Scoring enabled, a new donation that meets a predefined threshold can automatically trigger a constituent record to be updated with the latest available wealth and philanthropic data. This ensures that fundraising teams can determine the optimal ask amount and personalize cultivation using up-to-date fundraising intelligence. Other configurable scoring triggers include a new donation, a change of address, and more.
"It's known that good data provides a greater perspective and ability to do something more effectively, and therefore, is an essential component of decision-making at any forward-thinking organization," said Mary Cote, VP of Product at iWave. "This is why we are so focused on providing the best-in-class and most accurate fundraising intelligence data. However, the exponential growth of data available on donors introduces a new challenge — ensuring good decision-making by having the most up-to-date donor intelligence. To address this challenge, we're introducing new automation within iWave for Salesforce so that constituent records can receive automatic updates with the latest wealth and giving data."
iWave, the industry's top-rated fundraising intelligence solution, enables nonprofit organizations to fundraise with confidence. In a new era of nonprofit fundraising, iWave solves critical challenges facing fundraising professionals today: how to identify, qualify, and retain donors to raise more major gifts. iWave's intuitive and easy-to-use solutions give access to the industry's highest quality wealth and philanthropic information so you can determine who to ask, how much to ask for, and when to ask. Many of the largest education, healthcare, and nonprofit organizations in the World, rely on iWave to power their fundraising efforts.
■ ■ ■ ■ ■ ■ ■ ■ ■ ■ ■ ■ ■ ■ ■ ■ ■ ■
IT must play a role in talent recruitment and selection – not just HR, says Info-Tech Research Group
In the present labour market, recruitment is one of the top challenges organizations are facing. With candidate expectations going beyond traditional considerations like compensation, organizations need to change their recruitment strategy to attract top talent. To improve talent attraction, selection, and the overall applicant experience, IT must work with HR by becoming involved at crucial stages. To assist organizations in their efforts to encourage and support IT departments' participation in the recruitment process, global IT research and advisory firm Info-Tech Research Group has released its timely, research-backed blueprint Improve Your IT Recruitment Process.
According to Info-Tech's research, 37 percent of IT departments are outsourcing roles to fill internal skill shortages. Although social media is an exceptional platform for talent recruitment, its proliferation and use by most organizations have made it overcrowded. As a result, organizations are directly competing for talent with industry competitors. Info-Tech advises that organizations must focus on key programs and tactics to improve the effectiveness of their approach to sourcing talent.
The firm's blueprint indicates that the way an organization is positioned impacts who is likely to apply to posted job opportunities. Therefore, creating an intentional employee value proposition (EVP) is vital to showcase an organization's unique benefits and opportunities. A purposeful EVP allows organizations to attract a wider pool of candidates and can lead to many internal and external benefits, as well.
In addition to a clear EVP, creating engaging job ads to attract talent is crucial in the recruitment process. With most candidates using mobile platforms for the job hunt, ads must be clear, concise, and easily viewed on a mobile device. Job postings need to paint an accurate picture of key aspects of the role while avoiding the granular details, as this may overwhelm applicants.
Offering employee referral programs, in which employees get some form of reward if their referral candidate is hired, is another effective tactic to hire talent. However, it is important to keep in mind that referrals can hinder diversity because employees tend to recommend people like themselves.
Info-Tech's latest blueprint outlines how IT leaders can work alongside HR to build an effective and efficient IT recruitment process and a great candidate experience:
Employee Value Proposition (EVP) and Employer Brand – Define and communicate the unique benefits of working for the organization to potential candidates through a strong employer brand.
Job Postings and a Strong Sourcing Program – Use best practices to create attractive job postings to attract the right candidates and build a strong sourcing program.
Effective Interviewing – Create a high-quality interview process to improve candidate interview, assessment, and offer processes.
Onboarding New Hires for Success – Drive employee engagement and retention with a robust program that acclimates, guides, and develops new hires.
To meet growing candidate expectations, Info-Tech recommends that organizations change how they source talent. While the focus on the candidate experience is important throughout the talent acquisition process, social media, technology, and candidate values have made it a critical component of sourcing.