By Michael Brooke
In mid-January, Data.ai released its State of Mobile 2023 report. The report provides readers with valuable information and truly compelling insights.
According to research conducted by Data.ai, over 485,000 apps were downloaded worldwide each minute in 2022. In total, 255 billion apps were downloaded last year. This represents an 11 percent growth from the previous year. When it came to app spending, $318,000 was spent each minute worldwide ($167 billion in total) — down 2 percent from 2021. Users have bumped up their average time spent on mobile devices by 3 percent and it now sits at 5 hours per day on average.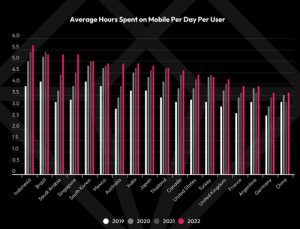 Mobile ad spending climbed significantly in 2022 achieving a 14 percent year-over-year growth and it now sits at $336 billion. Perhaps the most staggering number is the 4.1 TRILLION hours humans spend each year on their mobile devices. Collectively, this works out to 11.2 billion hours per day.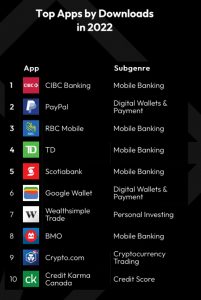 Data.ai's report presents both a worldwide perspective along with specific countries. It can be quite illuminating to see where Canada ranks in the world. The report highlights some rather intriguing differences along with a surprise or two. For example, Canadians spend actually more time on their devices compared to Americans. Leading the pack in terms of daily usage is Indonesia where people are on their smartphones for over 5.5 hours per day. Just three years ago, Indonesians spent just over 3.5 hours per day.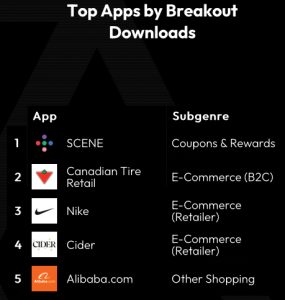 When it comes to consumer spending, China leads the world, reaching just over $55 billion in 2022. Canada doesn't even appear in the top 20. When it comes to global ad spending the growth in the last five years has been very robust coming in at 18.5 percent. Data.ai notes that short video apps are expected to take money away from social networking platforms.
Over the Top (OTT) apps are both the #1 download for consumer spending in 2022. OTT accounts for 16 percent of dollars spent on in-app subscriptions. Six categories accounted for 50 percent of consumer spending.
Canadians seemed to get a real kick out of Wordle, the 2248 Puzzle and Colouring Match. These three apps had a combination of over 7 million downloads. However, games took the biggest hit in 2022. Productivity apps proved more resilient. Canadians seem to favour these apps and have moved away from downloading meeting and health apps.
Canadians are spending a lot more money on dating apps and audiobooks. It would also appear that Canada, like the rest of the world, loves watching short videos. This again proves the force that is TikTok — they are dominating people's time and attention.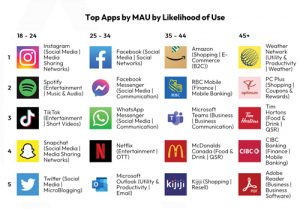 The report isolates Monthly Active Users (MAU) by age demographic. Canadians 18-24 years old are focused primarily on social media like Instagram, TikTok, Snapchat and Twitter. Those 35-44 are spending a lot of time on Amazon and McDonald's. Canadians over 45 are focusing their time on the Weather Network, PC Plus shopping and Tim Hortons.
Mobile app adoption across subgenres like Mobile Banking, Digital Wallets and Payment, and Personal Loans saw rapid growth in 2022. This continues the accelerated push to mobile that began at the start of the pandemic in 2020.
Meanwhile, economic concerns such as high inflation have left their mark on the fintech space. Personal loan apps have flourished across North America, Asia and Africa. Cryptocurrency trading apps took a notable downturn in 2022. There was also turbulence in the crypto-currency market that resulted in the downfalls of cryptocurrencies like Luna and crypto exchanges like FTX.
In 2020 the pandemic prompted rapid growth for mobile shopping, particularly from retailers who needed to maintain sales while consumers were avoiding in-person shopping. Retailer apps saw 43 percent year-over-year download growth in 2020.
As in-person shopping returned in 2022 and high inflation squeezed shoppers' pocketbooks. Mobile apps became essential tools for cost-conscious consumers to save money. In Canada, buy now pay later (BNPL) apps completely dominated coupons and rewards apps.
As TikTok has exploded in popularity, so did the amount of money it generated in consumer spending, reaching over $3 billion in revenue in 2022. The social app consumer market in Canada is just over $110 million — up roughly 10 percent over 2021. When it comes to video streaming, YouTube remains the global favourite, followed by Netflix. However, Disney+, Amazon Prime Video and YouTube are all ranked higher than Netflix here in Canada
McDonald's investment in mobile has paid off tremendously for the company in North America. Their app sits atop of both the USA and Canadian food and drink rankings. Using rewards and exclusive offers, their app has become a very useful tool to improve customer loyalty. It's also helped the restaurant chain stand out from its competitors and brought in more customers.
The entire 92-page report can be downloaded at the data.ai website.