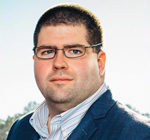 By Seth Patin
For companies that rely on the holidays the clock is ticking to Black Friday and the holiday season. One thing is very clear: consumer expectations of excellent e-commerce fulfillment are on the rise.
Distribution and fulfillment is the critical last step of the perfectly executed holiday push and the next 90 days will make all the difference in being ready. The time to prepare is now.
Companies with a heavy dependency on holiday spending have already projected demand for products and set production targets. Throughout the supply chain and manufacturing networks the operations and purchasing departments have most likely submitted orders to suppliers and have begun receiving the materials needed to produce holiday seasonal products. Within weeks, products will be rushing out of manufacturing plants into distribution centres, ready for the holiday push.
While there are numerous challenges to making the holiday sales goals a reality, we assume the demand planning and manufacturing parts of the process are resolved and running smoothly. If not, then it is probably too late to prepare for the 2019 holiday shopping season.
But are companies ready?
According to a mid-2017 study by Radial, in partnership with EKN Research, 67% of retail CEO survey respondents said that the costs to fulfill orders have increased over the past several years, with 37% citing that inventory order and supply chain operations are not properly aligned, resulting in the rise.
Now is when companies must be rigorous; it is the difference between making or breaking a company's fiscal year. There is no magic wand; action must be taken now. As examples, often both labour productivity and availability are problems during the holiday season. But it is not too late to solve them before reaching the holiday critical mass.
Learning from the past season
While this may seem like an oversimplification, the best answer is to learn from the past. Unless a company is an e-commerce startup, experiencing meteoric growth, the same issues experienced last year will crop up again this year unless a new action plan is implemented.
Almost every issue that happened last year will be worse this year if there is forecasted growth in volume. The real key is not identifying WHAT to fix, but HOW to fix it.
There are lessons to learn from the last holiday season. Maybe there is an opportunity to secure more business with a better process for order customizations or more flexible transportation processes. Perhaps the warehouse had insufficient space for all inventory; if so, then physical expansion certainly seems logical. Too often, fast-growing companies have adequate space, but they could not get orders out the door fast enough to arrive in time. That problem is a bit trickier to identify root cause. Perhaps more labour is the answer: if the workforce is both affordable and available. With low unemployment it has become more difficult to find seasonal holiday warehouse workers.
Perhaps the lessons from last year were more painful. The system crashed last year or ground to a snail's pace ruining labour productivity because it could not scale to customer demands.
One such very recent example is the Liquor Control Board of Ontario (LCBO), whose well-publicized distribution technology challenges over the past few months have left shelves bare, depriving many Canadians of their favourite cold beverages at the height of summer grilling season. While the LCBO will bounce back, many businesses would not be so fortunate.
New technology to help
If technology performance, training complexity and inefficient processes are the most likely problems, there is still time to implement new technology that solves those problems this year. A new type of workforce enablement software called Connected Worker Technology helps warehouse workers be more efficient and more accurate with streamlined processes that don't require major warehouse management system (WMS) modifications.
This technology leverages the power of industrial smart devices that many companies already have and can be rapidly installed to speed up tasks, such as receiving, putaway, picking, replenishment, sortation and packing. With intuitive augmented reality visual and voice instructions, workers can train in minutes and maintain higher levels of efficiency and accuracy.
Additionally, companies using Connected Worker Technology are achieving better workforce visibility. They are using the data collected from connected workers to better understand costs and the factors impacting workforce performance.
If a company does not have confidence in its peak season preparedness, now is the time to act before system and process changes become too risky to implement. Enhancing business processes with Connected Worker Technology now can take critical stress off an operation and make order fulfillment more predictable this peak season.
Seth Patin is the founder and CEO of LogistiVIEW, (www.logistiview.com), a software company that uses artificial intelligence and augmented reality on industrial smart glasses to improve the productivity and job satisfaction of task-oriented workers Since starting his career at supply chain software vendor, RedPrairie (now JDA), over 15 years ago, Seth has worked in several roles as a technology vendor, customer and consultant. Seth's experience in logistics and his vision for a better approach to human/computer interaction led him to found LogistiVIEW in 2014 and lead the company to become a pioneer and leader in the development of connected workforce technology.