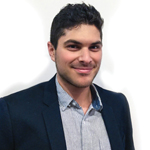 By Jake Schwarzbaum
In 2018 Amazon's net sales reached $232 billion USD with its biggest revenue segment in retail products, according to recent research. As an industry expert in Amazon and Amazon Marketplace, it's crucial that my company, Velocity Sellers, and I watch every update, change and new regulation Amazon crosses to better help our clients deliver strategic measurable improvements for their Amazon-based sales operations.
Amazon is known to vertically integrate different parts of eCommerce from hosting its own platform on Amazon Web Services (AWS) servers to developing their own fulfillment network. It is now targeting different parts of the customer experience through increased engagement, video and improved advertisement tracking.
Currently, Amazon lacks the variety of tools to grow sellers' brands within its platform. Instead it heavily relies on other platforms such as Facebook and Instagram to promote content and the brands' stories.
While those social platforms are not going anywhere, Amazon has recognized the opportunity to leverage its platform to allow deeper engagement between brands and customers. This has led the company to introduce some new features that will make a big difference in 2020.
Amazon Posts (beta)
Amazon is beta-testing its new Posts browsing and sharing application. With Posts, Amazon has arguably adapted the most successful social media formula on its massive eCommerce platform.
Here's how Posts works. A brand's posts show up on a feed like many other social media platforms. Brand owners will be able to create engaging content that can link directly to product pages for purchases. Formatting is similar to Instagram, which enables a lot of content to be repurposed for this new platform. Since Amazon is a trusted buying platform, its shoppers and visitors are much more likely to make purchases than those browsing other social media sites.
Brands should take advantage of Posts, quickly and aggressively. Posts will work like any other social media platform, where early adopters and frequent content providers are rewarded. There is no limit to the amount you can post, but make sure that the content is high quality and consistent with the brand. Make sure also that you are tracking the analytics and metrics that Posts provide. Learn from successful content in your content strategy plan.
Amazon Live
Amazon Live, which features live-streamed videos by Amazon and from brands featuring their broadcast live streams, gives shoppers an all new way to gather details on Amazon's products for sale. During live shows, hosts talk about and demonstrate the products available on Amazon.
This is Amazon's latest effort to combine two very successful platforms: live television shopping channels such as QVC and Home Shopping Network with online streaming platforms such as Facebook, YouTube and Twitch (owned by Amazon).
With Amazon Live, brands now have a long-form channel to promote their products with video without the limited time slots of traditional TV. They can host their own streams and promote their products where shoppers can chat with and ask questions to the hosts before making purchases. Live streaming can be done directly through the Amazon Creator Live mobile app on iOS.
Both Amazon Posts and Amazon Live are available now in the U.S. and will come to Canada in 2020. Canadian sellers should also strongly consider selling across Amazon U.S. if they are not already doing so.
Attribution Program (beta)
Recently Amazon Attribution has been getting a lot of buzz in the marketing and advertising sectors. Even though the software is still in beta, it has already become quite popular and highly acclaimed.
Amazon Attribution tracks the effectiveness of various types of advertising in driving sales for Amazon sellers from outside sources, such as social media posts, search engine advertising campaigns, email marketing campaigns and any other source that use a link to direct traffic to Amazon.
There are three main reasons why Amazon Attribution has become such a popular solution. It provides an easy to understand format for tracking and measuring advertising effectiveness. Also, Amazon Attribution allows simple on-demand Attribution reporting. Finally, the program also gives campaign managers in-depth current data, which allows them to tweak active campaigns and more effectively plan future campaigns.
Amazon content
Content marketing is becoming more important every year for Amazon and eCommerce as the market becomes more saturated with products, and as companies work harder and harder to get ahead. Video content in particular drives results and have been increasing its presence on Amazon, such as in mobile video ads on the Amazon app.
Brands should create a marketing strategy that includes creating written content, but also invest in an efficient way to develop video, whether it's with a simple in-office studio or working with a video production company.
In order to stay ahead of the curve, brands will need to focus more time, energy and money into creating meaningful content. Time should also be dedicated to analyzing results with Amazon's new Attribution tools.
Vendor Central vs. Seller Central
There have been several changes to these two platforms in the last few years. In 2019, Amazon made a push for small vendors to move toward Seller Central before quickly backing away from that initiative. It is likely that Amazon still plans to follow through with this, while brands under a certain threshold (varying per category) may be cut off from Vendor Central.
This isn't all bad though, as Seller Central has been reaching near feature parity with Vendor Central and in fact provides many benefits. For example, one of the last strongholds of marketing exclusivity for Vendor Central is the Vine review program, where trusted Amazon reviewers post product opinions, which has not moved to Seller Central. Even so, most businesses should start planning for a transition to Seller Central just in case.
Bonus predictions
 Amazon has and will continue to crack down on review manipulations. This is good for both customers and sellers who follow the rules;
 Brick-and-mortar will make a comeback, but not as it used to be. Brands will go direct-to-consumer similar to Casper Mattresses and Peloton, using their physical retail locations to create experiences that complements their online presences; and
 Amazon has a political target on its back. The U.S. Government awarded a $10 billion contract to competitor Microsoft for cloud services with suspected bias. On the other side of the aisle, some U.S. presidential candidates are promising to break up large companies like Amazon.
It's going to be a busy year ahead for Amazon and its brands. With the implementation of more engaged features for brands, and potential regulatory changes on the horizon, Amazon continues to fiercely push ahead in the industry. Brands need to stay up to date with the latest or risk being left behind.
My company and I know firsthand the challenges brands face when creating a successful Amazon business because we've helped several companies reach their goal.
Jake Schwarzbaum is co-founder of Velocity Sellers (www.velocitysellers.com).