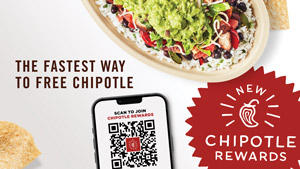 Chipotle Rewards means real food becomes real free real fast.
Chipotle Mexican Grill officially launched its loyalty program, Chipotle Rewards, in Canada. This is the latest advancement in Chipotle's efforts to make the brand more accessible and to strengthen the relationship with its Canadian community. Chipotle implemented its U.S. loyalty program in 2019 and in only three years, 28 million members have enrolled, making it among the fastest growing loyalty programs in the history of the restaurant industry.
"Chipotle Rewards is another access point for guests to engage with our promise of real ingredients prepared fresh daily, and a way for us to say thank you for joining our mission of Cultivating a Better World," said Anat Davidzon, Managing Director, Chipotle Canada.
To start earning free Chipotle with Chipotle Rewards, fans can sign up in the Chipotle app or at chipotole.ca/rewards. Members of Chipotle Rewards in Canada earn 10 points for every $1 CAD spent in the restaurant, online or in the app. After as few as two purchases, Chipotle Rewards members can earn enough points to start unlocking free Chipotle.
Chipotle Rewards brings instant gratification to guests with free chips and guac* after the first purchase as a member and a surprise birthday reward every year. Chipotle Rewards members can earn extra points and collect achievement badges with Extras. The gamified loyalty experience offers personalized challenges allowing members to level up and earn free Chipotle faster.
"We're excited to engage with our Canadian guests in a brand new way with Chipotle Rewards," said Chris Brandt, Chief Marketing Officer. "Our personalized loyalty program allows members to select how they redeem points, earn Extras by participating in challenges, and achieve badges for their achievements."
Round Up for Real Change
Guests ordering digitally can also round up their bill to the next highest dollar amount to donate to Chipotle's nonprofit partners. To celebrate Pride month, Chipotle is spotlighting Egale, Canada's leading organization for 2SLGBTQI people and issues, in its app and on CHIPOTLE.CA. Since launching its Round Up for Real Change program in 2020, Chipotle has raised over $12 million USD for non-profit partners in the U.S.
Chipotle is Cultivating a Better World by serving responsibly sourced, classically-cooked Mexican-inspired cuisine with wholesome ingredients and no artificial colours, flavours or preservatives. Committed to Food with Integrity, Chipotle's real food is cooked fresh daily with no freezers or can openers in its restaurants.
Chipotle is the only restaurant company of its size that owns and operates all of its restaurants. The company currently has 28 restaurants in Canada, with plans to open four additional locations in British Columbia and Ontario this summer. Last week, Chipotle opened its 10th restaurant in Toronto in the Liberty Village neighbourhood and wants to cultivate a better world by serving responsibly sourced, classically-cooked, real food with wholesome ingredients without artificial colours, flavours or preservatives.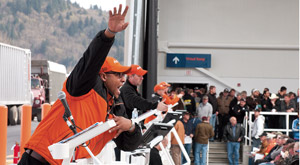 Canada's Ritchie Bros. markets and sells so much heavy equipment, well, it's astonishing.
Now, they are expanding their offerings for oil & gas industry customers with new dedicated Energy team. Ritchie Bros. Energy will offer a complete suite of transaction solutions, services, and insights.
Ritchie Bros. has a long history of serving the oil & gas industry, with its first energy auctions conducted in the 1960s. For the last several years, some of the company's oil & gas equipment auctions have been held under the Kruse Energy brand, with online bidding available through IronPlanet.com. Going forward, all oil & gas customers will be helped by the Ritchie Bros. Energy team, with access to Ritchie Bros.' complete suite of transaction solutions, services, and insights—meaning more options for sellers and more selection for buyers.
"Oil & gas companies want the same level of choice as any other consignor," said Ann Fandozzi, Chief Executive Offer, Ritchie Bros. "With Kruse we offered a one-size-fits-all solution. With Ritchie Bros. Energy we can offer unreserved auctions, weekly featured online events, a daily reserved marketplace for premium assets, and a listing service. We can also offer oil & gas customers a variety of value-added services and data solutions, along with access to unmatched global reach and buyer demand."
Ritchie Bros. held its final Kruse Energy auction last week, attracting approximately 3,500 bidders. The first Ritchie Bros. Energy event will be held in September in conjunction with Ritchie Bros.' Fort Worth, TX auction, which typically attracts more than 12,000 bidders from 60+ countries.
"This is all about providing more options for our sellers and selection for buyers," said Kelly Kittson, Ritchie Bros.' Director, Strategic Accounts, and leader of the Ritchie Bros. Energy team. "For our buyers, we will be leveraging teams globally to find more supply. For sellers, our Fort Worth 'Energy Days' will attract more bidders than we ever could with the Kruse Energy brand, driving stronger prices for your used equipment and surplus assets."
Established in 1958, Ritchie Bros. (NYSE: RBA) (TSX: RBA) is a global asset management and disposition company, offering customers end-to-end solutions for buying and selling used heavy equipment, trucks and other assets.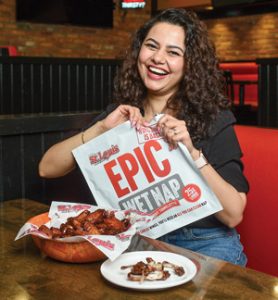 What Do You Do With a 100 sq. ft. Wet Nap?
St. Louis Bar & Grill, Canada's go-to destination for 'Devilishly Good!' food and atmosphere kicked off Wingsanity at its restaurants across the country with a "nap". Wingsanity's long awaited return after a two-year hiatus St. Louis is offering lucky guests an opportunity to increase their chances of staying clean with a giant 10 ft. x 10 ft. Wet Naps that are 25 times larger than regular sized versions.
"Over the years we've come to realize that all you can eat wings really do need an all you can eat Wet Nap. We have so many guests who really embrace the spirit of this iconic event, leaving our restaurants covered in sauce. We hope this helps them to return home a little cleaner," said Royal Nasager, V.P of Marketing, St. Louis Bar &Grill.
Over the last 30 years, St. Louis has earned an enviable reputation for its mouth-watering wings, of which it sells more than 2.2M each year. The recipe for its famous wings start with the highest quality chicken wings. While many have tried to uncover exactly how St. Louis makes its wings taste so delicious, its recipe remains a trade secret.
St. Louis' wings are available in 29 flavours that include its top selling Medium Dry Rub, as well as Carribean Jerk, Chili Lime, Chipotle Mango Dry Rub, Garlic Parm, Buffalo Ranch, General Tao's, Smoked BBQ Heat, and more. The wings are best enjoyed with friends, along with a side of signature fries, and addictive Garlic Dill sauce.
Proudly Canadian owned and operated, St. Louis Bar & Grill first opened its doors in Toronto in 1992. Famous for its 'Devilishly Good!' service, signature wings, and Garlic Dill Sauce, its local neighbourhood establishments offer exceptionally warm and friendly service in a fun, casual sports bar and grill setting. There are 74 restaurants across Canada, with 63 located in Ontario.
Official Coffee of the Renowned Dance Company, with a Slate of Marketing Initiatives Set for 2022 and Beyond.
Balzac's Coffee Roasters, a specialty coffee roaster with a network of cafés, direct-to-consumer operations and a high-growth CPG business, is pleased to announce its new partnership with The National Ballet of Canada that sees Balzac's become the official coffee supplier to Canada's pre-eminent dance company.
The multi-faceted, multi-year deal makes Balzac's the exclusive coffee beverage served at all National Ballet of Canada events, as well as seeing the two brands collaborate on various marketing initiatives to their respective audiences and communities, including sponsorships, sampling opportunities and on-site marketing activations.
"We are absolutely thrilled to announce this new partnership with the National Ballet," says Christine Cruz-Clarke, CEO of Balzac's Coffee Roasters. "The National Ballet has such a rich history of engaging its audiences with the finest repertoires in dance. We strive for the same degree of excellence in our own field and look forward to working with them as this new season unfolds."
Established in 1951 with the goal of presenting the best in classical and contemporary ballet to Canadian audiences, The National Ballet of Canada is known around the world for its performances of traditional, full-length classics, as well as embracing contemporary works and the development of top notch Canadian choreographic talent. The National Ballet performs extended engagements at Toronto's Four Seasons Centre for the Performing Arts each year, augmented by both national and international tours.
"We are excited to embark on this endeavour with Balzac's Coffee Roasters," says Barry Hughson, Executive Director, The National Ballet of Canada. "Our patrons have come to expect the best from the National Ballet, and by extension, the brands we associate with. This partnership with another beloved, national brand, continues to deliver on that promise."
Established in 1993, Balzac's has seen continued success roasting specialty coffee and providing European inspired café experiences across Ontario. Inspired by Honoré de Balzac's famous quote, "the Café is the People's Parliament," the 100 percent Canadian coffee company is dedicated to sustainably sourced and roasted coffee that can be enjoyed in one of the many Balzac's cafés, ordered online or found on retail shelves nationwide. District Ventures Capital is a venture capital fund investing in innovative companies in the food & beverage and health & wellness sectors. The fund is led by General Partner, Arlene Dickinson. Venturepark is the leading ecosystem in Canada that focuses on the CPG space and brings capital, marketing support, programming, and commercialization as support to the companies it invests in.
PointsBet Canada now an Official Sports Betting Partner of ClubLink.
PointsBet Canada is hitting the links with ClubLink, Canada's largest owner and operator of golf clubs. The multi-year partnership will see PointsBet Canada become the Official Sports Betting Partner of ClubLink which hosts over 1,000,000 rounds of golf annually at its clubs in Ontario.
"We are delighted to be partnering with one of the most recognized brands in Canadian golf," said Nic Sulsky, Chief Commercial Officer at PointsBet Canada. "A friendly wager is a regular occurrence among golfers enjoying a round which makes the ClubLink audience a natural fit for us. Golfers are some of the most passionate sports fans and we cannot wait to show them why PointsBet is the two-time winner of EGR North America's Best Sports Betting Operator."
PointsBet Canada entered the country's new legal sports wagering market in April, accepting its first bet just 50 seconds into the launch of Ontario's regulated market. As one of the fastest growing operators in North America, the company has made a sincere commitment to the Canadian market, including partnerships deeply rooted in Canadian sport and a team headquartered in Toronto. PointsBet prides itself on offering unmatched speed and ease of use across every customer touchpoint, as well as the deepest slate of pre-game and in-play betting options in the world, thanks to owning and controlling its technology.
"Newly launched in Ontario, PointsBet has already shown a great deal of dedication to offering unique experiences to its customers," said Brent Miller, Vice President of Marketing and Business Development at ClubLink. "We're thrilled to partner with one of the preeminent sports wagering operators in the world and to add value to the ClubLink Member experience through PointsBet's support of our network-wide championships."
"From day one, PointsBet Canada has been focused on living our brand as one of the few locally based Canadian companies through long-term partnerships with brands that embody our country's sports landscape," added Keesje Kort, Director of Commercial Partnerships at PointsBet Canada. "We're looking forward to a summer of fun engaging ClubLink's members throughout their clubs in Ontario."
PointsBet is a corporate bookmaker listed on the Australian Stock Exchange with operations in Australia, the United States, Canada and Ireland. PointsBet has developed a scalable cloud-based wagering platform through which it offers its clients innovative sports and racing wagering products, advance deposit wagering on racing (ADW) and iGaming.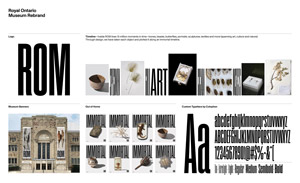 Leo Burnett Design takes on rebranding Canada's largest Museum, to help transform ROM (Royal Ontario Museum) into a dynamic new presence for the 21st century.
"Our visual identity is our first impression with people. It had to be bold and contemporary, and signal the change that is happening within the ROM walls," says Lori Davison, ROM Chief Marketing & Communications Officer. "We partnered with Leo Burnett Design knowing they could design a world-class identity that would bring our vision to life and create a heartbeat for the brand within the city."
The rebrand includes a new wordmark, a custom typeface, design system and photography by Mike Tjioe and Saty + Pratha. The new visual identity is featured first, in a Union Station takeover and will continue to influence communications, exhibitions, merchandise, ROM magazine, wayfinding and more within the building.
"The new visual identity expresses ROM's vision in an iconic and simple way. The Museum's 13 million objects and natural history specimens were reimagined as an immortal timeline. It uses a typographic approach that expands and contracts allowing people to be immersed in any moment in our history," says Man Wai Wong, VP Group Creative Director, Leo Burnett Design. "The identity is truly timeless, because it captures all of time — past, present and future."
The new identity is unveiled in tandem with ROM's Immortal brand campaign. Developed by Broken Heart Love Affair (BHLA), the campaign brings to life the idea that every object in ROM is a portal to powerful stories that live on forever.
ROM, in partnership with Leo Burnett Design, will continue to roll out the evolution of the brand over the coming year.
Leo Burnett Canada is a creative consultancy using strategy, design thinking, communications and experience design to solve the biggest business challenges of the modern age. We believe creativity has the power to transform human behaviour and we use creative in all forms to better the relationship between people and brands. A part of Leo Burnett Worldwide, we operate a global network of over 200 operating units and 96 full-service agencies in 85 countries and is a wholly owned subsidiary of the Publicis Groupe.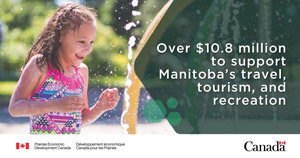 More than $10.8 million to support Manitoba's travel, tourism, and recreation initiatives, creating jobs and growing the economy.
From northern lights and polar bears in Churchill to The Forks historic site in downtown Winnipeg—tourism is an integral part of the province's economy. The Government of Canada recognizes the impact that the pandemic has had on Manitoba's tourism industry, and is helping travel, tourism and recreation providers recover, build back better, and safely welcome visitors to enjoy new and unique experiences and destinations.
The province is making a marketing investment of $10,853,481 to support 39 projects in Manitoba's hard-hit tourism sector. This funding is provided through the Tourism Relief Fund, Canada Community Revitalization Fund, and Regional Relief and Recovery Fund programs. Projects include the development of a number of Manitoba's top tourist attractions. Among them:
The Forks Renewal Corporation received over $1 million to complete several projects, including the construction of a one of a kind Treaty Knowledge Centre done in partnership with the Treaty Relations Commission of Manitoba.
The Royal Aviation Museum of Western Canada received $500,000 to create and install exhibits at their newly opened museum space at the James A. Richardson International Airport.
Fort Whyte Alive received $747,465 to enhance the gathering areas and wetland trails throughout the nature park.
The plan will have an impact on a wide range of tourism, community and recreation initiatives, helping businesses and organizations recover, grow and thrive, while visitors and residents explore friendly Manitoba.
"Summer is right around the corner the time is now to welcome visitors back to our province and safely enjoy all Manitoba has to offer," said Daniel Vandal, Minister for PrairiesCan. "Manitoba is known as a gathering place, where people come together to experience the rich culture, beautiful landscapes, and history of our province. Tourism is a critical industry for Manitoba and through these investments, our government is helping the travel, tourism, and recreation providers create new — or enhance existing — experiences, revitalizing communities, and attract visitors. Together, we are ready to welcome people from across Canada and the world back to Manitoba."
"The new Royal Aviation Museum has a vision to be one of Manitoba's signature tourist attractions and to be a beacon welcoming visitors to Winnipeg," said Terry Slobodian, President, CEO and Curator of the RAF Museum of Western Canada. "Creating interactive and immersive exhibits was key to delivering a unique and engaging experience for visitors of all ages and interest levels. The generous support of PrairiesCan allowed us to not just tell aviation stories but bring them to life through a variety of video, audio, and tactile features in our exhibits."
The Tourism Relief Fund (TRF) helps tourism businesses and organizations adapt their operations to meet public health requirements while investing in products and services facilitating their future growth. The Canada Community Revitalization Fund (CCRF) helps communities across Canada build and improve community infrastructure projects to rebound from the effects of the COVID-19 pandemic.
More than $10.8 million will support Manitoba's travel, tourism, and recreation initiatives, creating jobs and growing the economy. As part of Canada's COVID-19 Economic Response Plan, the CCRF helps communities across Canada build and improve community infrastructure projects so they can rebound from the effects of the COVID-19 pandemic. With a national investment of $500 million over 2 years, the Fund's purpose is to help not-for-profit organizations, municipalities, and other community groups, as well as Indigenous communities build new community infrastructure and revitalize existing assets, bring people back to public spaces safely as health measures ease, create jobs, and stimulate local economies.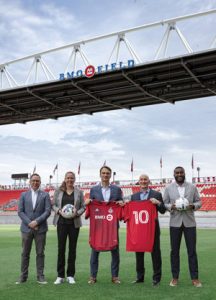 TFC and BMO renew their game plan with 10 year agreement.
With the second half of the Toronto FC season underway, the club and BMO Financial Group (BMO) announced the renewal and expansion of their foundational partnership. This agreement ensures BMO is featured prominently on the Toronto FC kit and that the home of Toronto FC will continue to be named BMO Field. BMO Field will also proudly host matches during the 2026 FIFA World Cup with Toronto being recently announced as a host city. As both organizations look ahead to the next decade, a key priority of Toronto FC and BMO at the grassroots and professional levels of soccer will be promoting equity in the sport and developing more avenues for women and girls to learn, play and coach.
"BMO has been a foundational partner of Toronto FC's since day one of the franchise's history and have played a pivotal role in the growth of the club, and its many successes, in those fifteen years," said Toronto FC President Bill Manning. "It is fitting that we announce a long-term renewal with BMO as we not only set our sights on delivering another championship for the city and our fans, but also a long-term ambition to grow the game and create opportunities for women and girls in soccer across the country. We are grateful to BMO for their continued support and excited about all that we will be able to accomplish together over the next ten years."
Toronto FC has long invested in player development through the Academy and TFC II that trains and prepares top-tier talent at BMO Training Grounds for a professional career. BMO shares the club's passion for developing and growing young talent and continues to be a presenting partner of KickStart, an MLSE Foundation program also in association with Toronto Public Housing, which introduces youth to the game of soccer with a focus on physical literacy and fundamental skill development.
BMO's investment in the KickStart program enables the foundation to provide equitable access and opportunity for youth, and for the first time, a portion of BMO's TFC Kickstart Program will be built and delivered specifically to self-identified girls and will feature women leaders in sport, ensuring a strong generation of women in soccer for years to come.