Digital Media Investment Increased; Q4 Saw Market Recovery with Positive Growth
NEW YORK, NY–Standard Media Index (SMI), the world's leading advertising intelligence company, has released a new Anglo Market Report detailing the impact of COVID-19 on the U.S., UK, Australian, New Zealand, and Canadian advertising markets. With 2020 resulting in the largest decline in ad spend ever seen in these key markets, the new insights show collective national advertising spend dropped by -8%, or $US7.6 billion, year-over-year.
Anglo Market Snapshot
Capturing real advertising expenditure and pricing data from multinational and independent media agencies in each country, SMI's new global market report shows that while the COVID-induced decline in ad spend has been at a record level, the market recovery is well underway with these markets reporting combined Q4 growth of +5%.
While the initial shock of the pandemic triggered a devastating -32% decline in Q2 ad spend, the market has been steadily recovering.
"We definitely saw the bottom of global advertising demand in Q2, but as the markets adjusted to a new 'COVID normal,' the level of demand has begun to return. Q3 saw an increase in spend, bringing the collective total across all five markets up to -6%, and then returning to strong growth of +5% in Q4," said James Fennessy, Global CEO, Standard Media Index.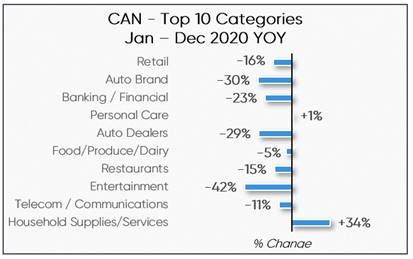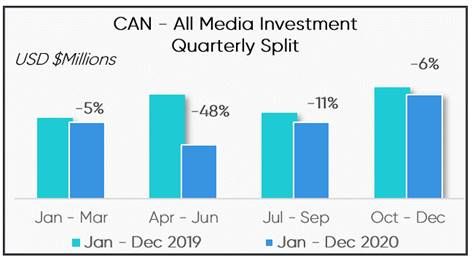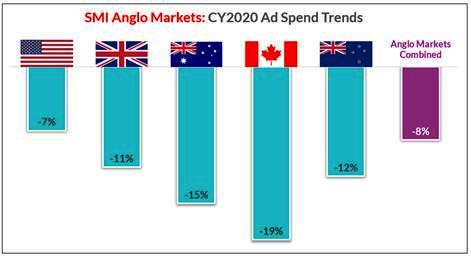 Q4 advertising spend was widespread, with the U.S. market +6%, the AU market +5%, the UK market +3% and NZ +5%, with only Canada reporting further market weakness at -6%. January-December, year-over-year, each country has reported large declines, with the U.S. market being the only one to report a single digit fall of -7%, as all other markets reported double digit declines, with Canada being the most impacted with a -19% drop.
The combined -8% decline in ad spend in 2020 reversed two consecutive years of solid growth, with 2018 seeing a +5% lift and 2019, a +2% lift.
Digital Growth
Despite the overall market softness, Digital and Television have fared better than other media categories with Digital's share of ad spend across these five markets lifting from 42% to 47% as actual spend grew +4%. Year-over-year, Television spend was down -13% across all markets, but most impacted by the pandemic were smaller media such as Radio, Outdoor and Print as ad spend to non-TV and Digital fell -34%.
"Clearly one of the media most affected by the pandemic in each of our markets was Outdoor simply due to the huge loss of audiences as more people were forced to remain at home, while in the print media COVID resulted in the closure of numerous titles as both small business and national marketers reduced their ad spend," said Fennessy.
Digital's increased share was mostly driven by strong growth in the U.S. where this media type represented 53% of spend allocation in Q4. The UK also contributed to the trend, where Digital experienced its highest share of 51% in Q3, as did Canada where Digital media held 57% of all Canadian ad spend in Q4. Television held the largest portion of ad spend in the Australian and NZ markets.
The bulk of the increased Digital spend was reported in Q4 with a +24% lift across all markets, with each Digital subtype reporting double digit levels of growth. Programmatic platforms and Social Media websites reported the strongest quarterly growth of +30% and +27% respectively, and SMI also identified very strong increases in ad spend to Video-based websites with the quarterly total up +23%.
"SMI's digital ad intelligence also suggests demand for video advertising has at least in part moved from the broadcast TV space to the OTT/Streaming arena. This is in line with this media subtype's ongoing development through the COVID period," said Fennessy. "This continues a trend seen throughout the year as the category has now delivered the highest annual growth of any Digital media this year of +7%."
Product Category Performance
SMI's global market intelligence shows that the strongest performing category across the combined markets was Pharmaceuticals which saw a +17% increase in investment. This growth was primarily due to a surge in spending in the U.S., the largest advertising market.
In the UK, Telecom and Communications reported the largest growth at +37%; in Australia Health Care delivered the highest increase in ad spend seeing a lift of +98%, while in Canada it was Household Supplies which increased by +34%. In NZ, Government reported the largest growth at +46%, not only due to COVID-related advertising but also as a national election was held during the year.
Across all markets, the major categories that saw the most significant declines were Travel dropping by -60%, Entertainment by -36%, and Retail which fell -16%.
About Standard Media Index
Standard Media Index is the most trusted source of advertising pricing and spend data in the marketplace. SMI accesses actual spend from the world's largest media buying groups, as well as leading independents, and then organizes that data to create a clear, granular, and easy-to-use database for our clients and agency partners. By aggregating this data, SMI offers detailed ad intelligence across all media types, including Television, Digital, Out of Home, Print, and Radio. Data can be broken down by ad types, publishers, product categories, and other dimensions.