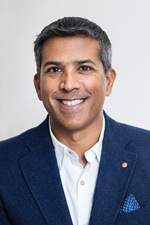 By Asif R. Khan
For many businesses to succeed, they don't need to connect with customers across the world, country, or even Province. They just need to reach customers nearby who are most likely to come into their store and buy from their business.
That's where location-based marketing comes in.
What is location-based marketing?
Location-based marketing includes any marketing tactic that targets audiences based on their geographic location. Location-based marketing campaigns use historical customer data, location targeting, or real-time location-tracking to identify and reach specific, targeted customers.
The tactics can be used by small businesses as well as franchises and regional brands to tap into a specific local market. At the Location Based Marketing Association, we look at it as the intersection of people, places and media and the linkages between geography and the opportunity to influence people in those places.
Benefits of location-based marketing
Location-based marketing is an effective marketing strategy for any brand looking to connect with nearby customers because you can:
Reach the customers most likely to do business with you. Through location-based marketing, you don't waste resources reaching customers who are never going to visit your business because they live too far from your location.
Drive store visits and sales. Location-based marketing reaches customers when they are most likely to visit a store. It can effectively drive foot-traffic and encourage nearby customers to notice, visit, and buy from a specific location. In recent stats from the LBMA, "nine in ten marketers said location-based advertising and marketing resulted in higher sales."
Produce a high return on investment (ROI). When you target the customers most likely to do business with you and stop wasting resources on reaching people who will never visit your business — you get a better bang for your buck and higher return on investment.
The key elements of effective location-based marketing
Now that you know what location-based marketing is and why it's effective, let's look at some elements that help you implement this strategy.
A. Data
Data is the fuel that leads to location-based marketing success. Collecting and analyzing historical consumer data helps you pinpoint areas that are hot spots for customers, so you know where to target. Real-time data can tell you when customers are in a specific area so you can send marketing messages when customers are primed for receiving them.
B. Geotargeting
Geotargeting is a paid ad campaign setting that allows you to show ads only to users within a specific postal code, city, or geographic region. You can use it to target the areas where your customers are located when running local PPC campaigns, social media ads, or other types of digital ads.
C. Geofencing
Geofencing is the process of building a virtual boundary and showing ads to people when they move in or out of the defined area. It's proximity marketing that uses GPS technology to show highly targeted ads to people based on where they are and what they are doing or experiencing. This is a powerful approach as you can cater messages to what people are looking for in specific locations — like presenting a mall shopper with a coupon to a restaurant in the mall.
D. Location-Based Push Notifications
A location-based push notification is a tactic that sends a message to someone when they enter a specific region or area. The message may be an app alert or text message, and it is triggered via a type of beacon technology, geotargeting, or geofencing.
E. Location-Based Augmented Reality
Location-based augmented reality is the process of anchoring data or features to a specific geographic location or place. The most recognizable version of location-based augmented reality is Pokémon GO. It uses an app to scan an area to find information or bonus materials (in this case, a Pokémon). This type of location-based marketing is relatively new but expected to grow as it creates a fun way to drive audiences to visit or engage with specific locations.
F. Local SEO
Local SEO is a series of tactics designed to make your brand show up on search engine results pages (SERPs) when nearby customers search for terms related to your business. Through a series of tactics, you optimize your website and online brand presence so you are more likely to appear in top placements on SERPs and connect with nearby customers who would be likely to visit your business.
G. Location Pages
Location pages are website pages designed to share information and promote one location of a multi-location business or franchise. Location pages are important because they give local customers a way to find information about the specific location they want to visit. It also aids in other location-based marketing tactics because you can send paid traffic to the location page rather than the entire branded website, taking local customers directly to the information that matters to them.
H. Location Tags
Location tags are pieces of information in a social media post that refer to and link back to a specific business location. You see location tags when someone checks in on Facebook or when someone shares a photo on Instagram adds their location. Location tags are a form of free location-based marketing as users are the ones adding and spreading info about your brand.
Start attracting more nearby customers
When your customers are located in a specific geographic area, there is no need to design marketing campaigns that reach the masses. Instead, home in on a specific area and use location-based marketing tactics to target the people most likely to visit and buy from your business.
Why now is the time to start using LBM
According to the Location Based Marketing Association's (LBMA) fifth annual Global Location Trends Report 2020, 52 percent of marketers globally say their budget went toward location-based marketing, with mobile, static billboards and digital out-of-home (DOOH) considered the top three media considered.
Amid a backdrop of increased application of location data to sell products and services, as well as drive public health awareness around COVID-19, 97 percent of North American respondents say they rely on location-based data — an increase in ten percentage points year-over-year (YoY).
The rules around location data privacy are changing, but it's never been clearer on its value. The industry is adjusting to target audiences rather than individuals. The average citizen is much more aware of the value of their location data because they've been given more control over it, and yet, see its importance to their everyday lives when it comes to renewing a driver's license, hailing and Uber or contact tracing in a pandemic world.
Bottom line is the value and power of location data is clear…are you ready to embrace it?
Asif Khan is the Founder and President of the Location Based Marketing Association, based in Pickering, Ontario.