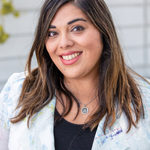 By Aleena Mazhar
Raptors fever took over Canada in late May and early June of this year. It broke when the Toronto, Ont. team won, for the first time, the National Basketball Association finals on June 13.
We knew we had something special as soon as the playoffs started, but I don't think anyone (other than the players) believed that we'd make it this far. Since the beginning, we saw "Jurassic Park" (the public area adjacent to Scotiabank Arena) come alive in ways it never did during previous years. In the finals alone, people from all over the world stood in line for days to get into the coveted fan zone. This was just to be with the 10,000-plus die-hard fans in the park, and, no matter the win or the loss, they were in it together.
Many other little "Jurassic Parks" started to pop up. Like in Mississauga, Burlington, Ajax and London, Ont., Halifax, N.S. and Montreal, Que. Even in Almonte, Ont., the birthplace of James Naismith who invented the sport as a phys. ed. teacher in Springfield, Massachusetts, in the United States. Each of these communities had their own fan viewing parties.
Finding power in connection
Why were people gathered in masses to watch a basketball game? There are many other options: bars, couches and even movie theatres. Instead, people across Canada stood together to potentially see the Raptors win a championship.
Here's why. We as humans find power in connection. We crave connection and when it comes alive, it manifests in moments of community. There's a magic in these moments that create a sense of community among those who wouldn't normally be connected.
When Kawhi Leonard's five-bounce bucket made it in the basket in Game 7 against Philadelphia, an entire city erupted. People ran onto the streets, Yonge and Dundas in the downtown closed down, cars honked at each other, strangers high-fived and "We The North" chants broke out all across the city. Our impulse in celebration was to make it as big, as wonderful as possible and with as many people as possible. Strangers and friends were all one; we were all fans. We became one giant community that is supporting an incredible team of athletes as they made us proud.
Searching for shared experiences
We know that social cohesion and connectedness is a part of Canadian life, with 62% of Canadians believing in community belonging1. But we also see phrases thrown around by researchers like "generation lonely" 2 and in fact we live in a day and age where loneliness is on the rise,3: that though we live in the most hyper-connected time in history, we feel like we are alone. This is why we are searching for experiences that bring us together with others who have similar beliefs and interests as us. We are searching for those moments to actually build community and joy in real life. We know that those who have high community belonging4 experience high levels of mental health, unlike those who are isolated from the community.
A recent study showed that Millennials are a big factor in experiences for connection and community; 69% of them believe attending events makes them feel more connected to the community5. They believe that experiences are about identity creation.
The kicker, however, is the requirement of authenticity. The challenge with our hyper-connected digital world6 is that we know in our hearts we are experiencing curated lives. Even our closest friends and family are only showing the best of themselves! We are making assessments on people, cultures and even brands based on a "made for Instagram" story and visual identity. But it's lacking the realness and authenticity of an actual connection, which is sometimes difficult, sometimes messy, sometimes raw and sometimes so joyful that you can't contain yourself. It's not neat, clean, beautiful and perfectly filtered.
This makes our expectations of our real-life connections even higher, because we are looking for these moments of authenticity with the people in our lives. We are looking for the emotional triggers that go along with these moments. We want to feel alongside others and live in that energy of a Jurassic Park when the Raptors win a Game 7.
How marketers can help, authentically
We as marketers and brand builders can make a difference in making these connections. We can find ways for people to come together and create a sense of community around the things they value.
But it doesn't just hang on a historic playoff run. A sense of community can manifest in many different ways: from coming together and giving back to causes that make our communities better, to bringing people together to celebrate culture. It can also mean in moments of sadness when we as a community gather to experience pain together. When the Humboldt tragedy happened in 2018, you saw an entire nation come together with a small community in Saskatchewan to mourn them7. We can be together in our heartbreak as much as our joy: and a strong sense of community helps us get through our sadness to the other side.
My goal is to find ways for us as marketers to create and capture moments where we can be catalysts of connection for people. We can leverage brand values to power these moments in ways very few others can, and we can bring people the sense of community they crave. It is not a one-size-fits-all approach; it is very linked to a brand's identity and purpose.
In this time where authenticity is currency and there's a craving for connection, why not jump at an opportunity to figure out how a brand can fill in the gaps? I always get the question, "what about our business goals? Theoretically this is great, but we are trying to drive the bottom line." Brands that stand for something are more popular than brands that don't. To illustrate, a total of 56% of Gen Zeders consider themselves socially conscious and that influences their purchasing decisions8.
There are ways to drive your business goals while still creating something that's legacy building for yourself, your community and your brand. If ever there was a time to leave a mark, this is it. Connection is a human need and necessity. Let's find ways to create more moments for communities to come together.
Aleena Mazhar is vice president and partner, at FUSE Live (www.fuselive.ca). In the past eleven years Aleena has grown up within the ever-evolving live experience business. Her focus is to create experience-led integrated campaigns for brands that are looking to get noticed. Working with top tier clients on award winning work, Aleena works with a strong team of creative problem solvers to build moments of human connection that drive her clients' businesses forward. Her passion for coaching a team, and solving big complex creative problems drives her continued excitement for the marketing industry.
1 Government of Canada, "The Chief Public Health Officer's report on the state of public health in Canada 2008: Addressing Health Inequalities", 2008.
2 Hayley Jarvis, "Generation lonely: Millennials loneliest age group", Brunel University, October 1, 2018.
3 Cigna, "New Cigna study reveals loneliness at epidemic levels in America", press release, May 1, 2018.
4 Canadian Institute for Health Information, "The health of Canadians, 2009: exploring positive mental health", 2009.
5 Eventbrite, "Millennials Fueling the Experience Economy", 2017.
6 Olivia Laing, "The future of loneliness", The Guardian, April 1, 2015.
7 Cathal Kelly, "The Humboldt tragedy reminds Canadians that we are all in this together", opinion, The Globe and Mail, December 30, 2018.
8 Megy Karydes, "Millennials Want Companies to Take a Stand. Here's How to Do It Without Losing Customers", column, Inc., May 15, 2018.