Email to chat integration makes businesses more productive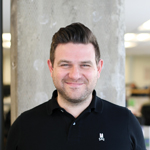 By Justin Keller
Professionals send anywhere from 10,000 to 20,000 emails every single year and spend around 5 hours and 52 minutes each day in email, reports CNBC. If you're looking at a 100-person company, that's nearly one to two million emails sent every single year and nearly eight days' worth of hours in email packed into each day.
Email isn't going anywhere. But many marketers are often left wondering if there's a better way to move conversations back and forth.
Many organizations use various tools, such as Slack or Google Hangouts, to streamline internal conversations. But now marketers have caught on to the versatility of these tools through built-in, customer-facing chat functionalities. This technology allows you to click into an email and be instantly connected with the right person via chat instead of sending emails back and forth.
Let's take a look at some of the benefits and best practices associated with converting email to chat and integrating both channels:
 Faster lead qualification. Lead qualification drops ten times, according to studies, if you wait longer than five minutes to respond to an email. Unfortunately, the average response time for email is 12 hours. Luckily, chat functionality allows marketing and sales to drop the average response time to only two minutes. Improved efficiency is one of the main benefits that a chat/email integration creates. Quicker response times often lead to happier users on the other end of the conversations, which can result in more qualified leads earlier in the generation process; and
 Improved personalization for each and every prospect. A PwC survey found that eight in 10 respondents prefer interacting with a person. Live chat allows for interactions to happen quicker by moving the conversations from the back-and-forth of email to personalized chat windows where the experts can quickly learn about the prospects and the prospects can receive one-on-one attention at their convenience. This convenience factor is another important benefit that chat functionality creates. Potential customers crave the ability to ask questions and provide responses in a timeframe that works best for them, all while remaining in contact with a representative who is ready to answer on the other end.
Best practices for live chat
There are numerous ways to use a chat/email integration to benefit your business, but a few best practices can help foster the best possible results and long-term relationships.
1. Leave it up to the humans.
One of the main benefits that chat functionality offers is a more tailored communication experience for your prospects. To ensure this experience shows through, there must be an actual person who is able to have a real conversation on the other end of the chat window, rather than a scripted chatbot. In fact, Forrester Research found that 44% of online users consider the one-on-one communication experience with a live person as a factor when making online purchases. While utilizing chatbots is appealing for more tedious tasks, anything that goes beyond basic automation must be handled by individuals.
This personalization through chat interactions with humans also creates an improved sense of value for prospective buyers. For example, when they have the power to move the conversations from email threads to real-time, one-on-one chat conversations many feel that their concerns are heard and their requests are being handled in a timelier manner.
2. Be authentic.
Authentic communication through chat builds trust. Unfortunately, a recent HubSpot survey reported that only 3% of respondents consider sales teams to be trustworthy: and speaking to prospects like a robot certainly won't help build trust.
When communicating with a prospect through chat, sales personnel must be trained to read the situations and react with appropriate responses. Does the prospect want to get right down to business and discuss details around the platform? Do they want to make the conversation more personal and start with some small talk? Either way, your team must be prepared to go off-script.
3. Streamline tools for your team.
The final best practice for utilizing live chat functionality is to integrate with existing tools to keep processes streamlined for your employees. Companies use an average of 129 applications for various business operations, reports the Wall Street Journal. Rather than dropping another into the mix, live chat often integrates with the essential platforms employees are already using. For example, if your business utilizes Google Hangouts or Slack, consider integrating live chat so that all conversations are in one place. This will prevent employees from having to toggle back and forth from chat to other windows, therefore building seamlessly into the workflow and optimizing processes.
Final thoughts
Every business to business (B2B) company must use email to stay alive: let's face it, this form of communication won't die off anytime soon. It's no longer about finding ways to replace email for contact with potential leads, but instead, about optimizing this channel and make it even more effective. Integrating email with chat functionality allows for more efficiency, warmer leads and, of course, an enhanced customer experience. And as account-based marketing evolves, live chat should be built into every marketer's playbook.
Justin Keller is vice president of marketing at Sigstr.