Driving growth from the ground up with smart strategies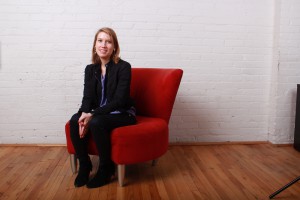 Amanda Connon-Unda is making a splash in the Toronto tech industry as senior marketing and communications manager at Rangle.io, a fast-growing software company that she has helped expand from six to 85 employees in less than three years with no outside investment. Her work, characterized by sharply focused digital strategies, has recently been recognized with a Marketer of the Year award in the small to mid-size enterprise category from the Canadian Association of Marketing Professionals.
What does "direct marketing" mean to you, today?
Traditionally direct marketing fell under the domain of outbound marketing (like display advertising), but today, the distinction between inbound and outbound is blurring. Today, we can do remarketing or find clients and customers through social media, and participate in a conversation with them on all channels. Technology and automation enables us to drive various targeted messages across many channels and ensure we get only the most relevant messages out to the right people.
How do you measure your professional performance?
With a plethora of digital analytics tools across so many channels, we constantly evaluate our real impact in terms of conversions, while avoiding vanity metrics. However, because the marketing landscape has become so diffuse it's most effective to focus efforts around a particular performance area in a given quarter. For both personal and organizational performance we focus, assess our specific objectives and key results and measure our improvement. As the business goals evolve, marketing can stay highly strategic, more relevant and effective.
The job of a direct marketer has never been more complex. How do you manage to stay at the top of your game?
The most important thing to achieving excellence is building a team that stays on top of their game. This requires larger marketing teams, with clear mandates and more specialization than most companies realize. Team members need to be extremely competent, have complementary skills and work well together. Building and communicating knowledge collectively throughout an organization can benefit everyone.
What advice do you have for new marketers trying to distinguish themselves?
Lead the marketing strategy with clear business objectives. Understand the outcomes you want, and not just how to execute. Be more than a project manager, and earn a seat at the table where decisions about the business are being made. Don't settle for playing a supportive marketing role where you're being asked to do things without your strategic inputs being acknowledged. Make the effort to understand and learn about the business, the industry, and market trends that will affect your strategic path. Always look for quality and not just quantity in your efforts. Consider starting a blog about your work and this can become a tool to talk with other marketers and make new connections.  If you work with clients, be sure to use the knowledge gained and apply it to the marketing of your own brand.
The beginning of a new year is a natural time of reflection. What was your greatest accomplishment of 2015 and what do you have your sights set on in 2016?
In 2015, with a small but mighty marketing team of four at Rangle, our initiatives were involved in 80% of all the revenue generated as the company's revenue grew by 400%. Moving into 2016, our goal for marketing is to expand our capacity to generate more marketing leads at the top of the pipeline and assist in moving longer more complex deals though our sales pipeline. Our department will become an industry publishing house with detailed analytics that connect to all our activity. To make this happen, we'll hire new team members, come up with more creative content ideas and possibly launch a social employee advocacy program. We will continue to contribute to Rangle's company-wide diversity hiring initiative by sponsoring events that connect us to more women who work in software. It feels like we're just getting started and we have much to look forward to this year.