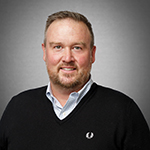 By Andrew Eppich
When we turned the corner on a new decade, nobody imagined that an international pandemic would change the direction of the global economy, but that's precisely what COVID-19 has done. Over the course of a short year we've seen remote work go mainstream in a big way, forever changing the way businesses develop, produce and deliver their products and services across the enterprise.
Contact centres are no different. Since the onset of the pandemic, many have switched to a remote work model, with contact centre agents addressing customer concerns from home. This increase in remote work is also driving up demand for the type of network bandwidth needed to support the volume of voice and video traffic now travelling across the internet.
For example, the latest Global Interconnection Index (GXI), an annual market study published by Equinix, shows that the COVID-19 pandemic has already had a dramatic effect on how businesses are planning their digital infrastructure initiatives over the next three years. In particular, telecommunications, cloud and IT services, content and digital media and technology providers, are forecast to increase private connectivity bandwidth 5x by 2023.
To ensure contact centres thrive in this new digital-first environment, there are a few things they need to focus on:
• Infrastructure;
• Interconnection; and
• Having the right infrastructure partner.
Powering the next decade of work
One challenge all digital businesses face is connectivity. Inadequate connectivity makes it difficult for multiple components to quickly transfer data in a cost-effective manner: an essential feature for contact centres. And in a global ecosystem that runs on multiple cloud platforms and data centres, even milliseconds matter.
Fortunately, two closely related trends are coming together to solve this challenge. These are edge computing and distributed cloud.
Edge computing places content collection, information processing and solution delivery close to its source of information — i.e. users — thereby reducing latency. For contact centres, this translates into shorter response times regardless of where the users (customers) are calling from or where the agents are located, traffic remains local.
To have its greatest impact, however, edge computing requires distributed cloud support across multiple touchpoints: i.e. different parts of the country. Distributed cloud essentially applies the idea of edge computing to public cloud infrastructure, with cloud service providers (CSPs) offering their services from locations which are outside the CSPs' physical data centres but remain under their control.
As the amount of data generated by interactions between users and agents soars, locating computing and storage at the edge is essential for contact centres to retain high performance and low latency.
The new digital infrastructure
Businesses often want to rely on multiple clouds to power new innovation, avoid being locked in with a single vendor and ensure their clouds remain as efficient as possible. However, creating such a multicloud environment requires businesses to deploy virtual infrastructure in each cloud, and each infrastructure needs to be managed separately.
The way today's public clouds are designed, applications deployed in multiple distributed cloud infrastructures cannot be easily connected. This challenge has led many senior IT decision-makers to feel that as their companies become more digital, the infrastructure powering them is becoming more complex, not simpler. According to recent research by the Enterprise Strategy Group, digitally mature organizations are three times more likely than those with no digital transformation initiatives to say IT is significantly more complex today.
The answer lies in providing a hybrid multicloud environment. It allows businesses to extend their on-premises infrastructure into the cloud, move data from one cloud to another, and even run applications across different cloud servers. According to Equinix's 2019-20 Global Tech Trends Survey, 51 percent of companies are deploying hybrid multicloud models to ensure peak performance and data security.
Distributed cloud at the edge is helping pave the way for greater multicloud adoption in the future by helping enterprises seamlessly manage their on-premises services and services spread across different clouds as one logical cloud with minimal infrastructure duplication: a boon for contact centre services.
A matter of interconnection
Leading enterprises are significantly focused on digital transformation projects, which have become more acute and amplified as these organizations optimize their employees' experience working during the COVID-19 global pandemic, often from locations that were not originally planned for.
While the pandemic has undeniably sped up the worldwide adoption of digital solutions, it accelerated a movement which had been gathering steam for the past decade. Today's digital leaders, whether it's in collaboration or customer service, had the foresight to strategically distribute their IT infrastructure close to users and are now benefiting from a more agile digital foundation that is better equipped to meet today's challenges than their localized competitors.
Andrew Eppich is managing director, Equinix Canada.