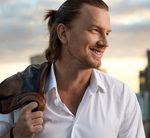 By Sergey Kostikov
What a brand says—visually—is more powerful than what it tries to say verbally. But for a brand to express itself in images rather than words, for it to use the fewest words possible, to know what words to say and what images to display requires data: instant intelligence about the names, likes, passions and professions of its consumers. That this information is available online, that it is the essence of Instagram, Facebook and Pinterest, that these sites have the data to determine what a brand should say speaks to the power of having the right photograph, logo and video.
Data not only allows a brand to make an impression but to also increase impressions: to have consumers do just that, namely consume goods and share content so that a brand can do more business online. The good news is that so much information is at the ready and for free. If a company invests the time to learn about its consumers and if it follows its followers, it can answer (or come closer to answering) what its consumers want.
What works: Tim Hortons and Apple
The response by a company need not be reactive, not when a company can infuse its image with creativity. Not when it can personalize its image with a series of iconic images. For example: Tim Hortons is not just the namesake of a Canadian institution, of a Canadian who is an institution unto himself but of institutions worldwide. From North America to the United Kingdom and from the Middle East to Southeast Asia, the brand is popular and profitable.
With its handwritten-style name, with the slant of its white-on-red signature on its coffee cups and with its photogenic appearance—with its photographs of primary colours and bright pastels—Tim Hortons has become a global and online brand phenomenon. Its Instagram account complements the brand's esthetics.
Put it a different way, Tim Hortons is an e-commerce company in the guise of a brewer of coffee and a baker of donuts, bagels and muffins that also offers other food items. Its mobile Order & Pay app allows users to customize and complete their orders and it recently launched a rewards programme.
My advice is to emulate that strategy, to extrapolate from what works. To make that strategy work, look (again) at what an effective image looks like. It is simple and self-explanatory. Like the "bitten apple" of Apple whose logo is a constant in an industry of constant change by an industry that necessitates changes in technology, commerce, entertainment and trade.
The Apple logo is an image on behalf of a company that eschews focus groups—that avoids forced conversations—in favour of what it is natural. Of what comes naturally to consumers when they see that logo and view a set of related images of silhouetted dancers with white earphones against a monochrome backdrop of green, yellow, pink or blue. Consider, too, the power of a photograph as a billboard: a fixture in Shanghai, Singapore, Thailand and Toronto in which the picture advertises a camera—the camera on an iPhone—with a three-word caption, Shot on iPhone.
That Apple acknowledges the photographer proves the point about why a brand should pay attention to its consumers. That the photographer is active on Instagram, that the picture is a snapshot of his niece and that the photographer promotes Apple by posting pictures from his iPhone: all of these things personalize the business of doing business online. Where a girl's face is the face of e-commerce, accounting for $120 billion in sales (since 2008) for app developers from Apple's App Store1. In so many words, the right picture sells itself.
Apple did not hire a market researcher to tell its executives what they already knew. Tim Hortons did not hire copywriters to invent a backstory when consumers already knew (and loved) the true story about the company. Neither company struggled to find the right logo, the right images or the image of rightness they sought to project—that they continue to project—on billboards and the sides of buildings throughout the world. Images that appear on social media too: photographs and videos that people share, tag and post among fans of these respective brands.
Knowing customer motivations
Where online research is effective is in real-time, where companies process enormous amounts of data to present customers with advertisements­—on Facebook or Instagram or by and for Amazon—about products that, according to this or that algorithm, these customers may also buy. The advertisements contain images and copy that correspond (presumably) to the right customers. Is the process a science? No. Will it be? I doubt it. But will it be more accurate? About that I have no doubts.
When data is so accessible, there is no reason not to know what motivates consumers. When it is more economical than ever for a company to do its own research, when it does not take a lot of research to know how to appeal to consumers and when it is easy to see how appealing a specific photograph or advertisement is, that is when retailers should seize the moment. Now is that moment.
Now is the time to research what resonates with consumers, so companies can better communicate their values, so consumers can see the value a company offers and that so everyone can agree to what is valuable.
Sergey Kostikov is the founder and CEO of FD Photo Studio: (www.fdphotostudio.com) a source of positive disruption within the photography industry that eliminates a series of logistical and financial challenges for photographers, marketers and all manner of business owners.
1 Kevin Kelleher, "Developer's $34 Billion Earnings from Apple's App Store Rose 28% in 2018," Fortune.com, January 29, 2019.