TORONTO, ON–Environics Analytics (EA) announced Anil Arora, the Chief Statistician of Canada at Statistics Canada, as the recipient of its 2023 Special Innovator of the Year award.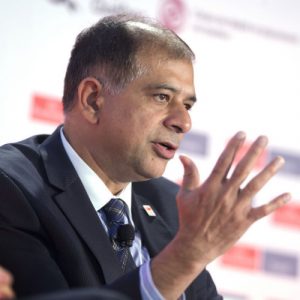 Anil (left) has been a trailblazer in developing new data approaches and statistical methodologies in Canada for decades. He pioneered moving big data processing to the cloud and was responsible for the first online census collection in 2006. He has chaired numerous international statistical initiatives such as the Organisation for Economic Co-operation and Development's (OECD's) Committee on Statistics and Statistical Policy and served as the Vice-Chair of the United Nations (UN) Statistical Commission and the Chair of the High-Level Group on the Modernization of Official Statistics. He is respected for establishing and maintaining independence, high standards and modernization in statistical measurement in Canada and around the world.
"Anil has made immeasurable contributions to the quality and accessibility of data and statistics in Canada. His willingness to collaborate with private sector organizations has enabled businesses across the country to become more data-driven," said Jan Kestle, President of Environics Analytics. "I want to take this opportunity to recognize Anil's wisdom and leadership and thank him greatly for his service."
"I thank Environics Analytics for this recognition. As we think of progress and innovation in data, it's crucial to keep an eye toward how to better serve everyone in this country. Sound, timely and fulsome data are more valuable than ever. Through collaboration and partnerships with companies like EA, and by innovating with purpose, we can continue to provide vital and trusted data-driven insights that bring real value to Canada," says Anil Arora, Chief Statistician of Canada.
The Special Innovator of the Year award was presented at the Environics Analytics 17th Annual User Conference, an in-person event that attracted over 900 participants representing every industry sector. With a theme of "Discover the Data Difference" the day-long event featured 15 client case study presentations and demonstrations of data-based business intelligence tools, such as the company's popular PRIZM® segmentation system, the ENVISION consumer insight and market intelligence platform and more.
Historically, Environics Analytics honours a Partner of the Year at their annual User Conference. However, with Anil Arora retiring from his role at Statistics Canada in March of 2024, EA took the opportunity to instead recognize Anil with the Special Innovator Award for his dedication to innovation, collaboration and provision of the data that Canada needs.
For more information on products and services from Environics Analytics, please visit www.environicsanalytics.com.
About Environics Analytics
Environics Analytics (EA) is the premier marketing and analytical services company in Canada, helping thousands of customers across every industry sector turn data and analytics into strategy, insights and results. Established in 2003, we specialize in using best-in-class data, analytics expertise and purpose-built software to address key challenges in areas such as consumer profiling and segmentation, multichannel media planning and execution, trade area analysis, merchandising strategies and site location decision-making. Our ENVISION platform provides quick and easy access to our comprehensive and privacy-compliant databases—including the latest mobile movement data. Environics Analytics is owned by Bell Canada.