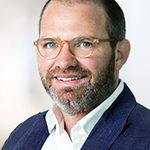 By Joris Kroese
When we look at the incoming trends for the retail sector for 2021, it's clear just how much of an impact COVID-19 has made, as consumer expectations grow in the space of instant delivery, augmented reality and social commerce.
With each year comes a selection of new retail trends, however, 2021 is going to be a little different. Over the past year, we've seen eCommerce growth accelerate as physical retail stores closed their doors (many for the last time) due to the COVID-19 pandemic.
In the current retail landscape, the need for omnichannel commerce has never been more vital. Implementing a cross-channel sales strategy and providing consumers with the seamless experience they desire is what will put brands ahead of their competitors this year. With this in mind, these are three omnichannel advancements marketing professionals should look out for in 2021.
Instant delivery
The bigger online retail has become, the faster customers have begun to expect their orders. In a recent survey, Sendcloud found that 41 percent of consumers abandon their shopping cart due to long delivery times, meaning brands and retailers will need to do more to keep customers from shopping elsewhere in the coming year.
While next-day delivery has become increasingly popular across online retailers, it's just not fast enough for some consumers. Currently, around 96 percent of consumers think 'fast delivery' means same-day delivery.
In 2021, we should expect to see more same-day and instant delivery options. We've already seen this in action at Amazon, with their same-day and express delivery services available at certain locations, along with their Amazon Fresh grocery delivery service. In the U.S., Walmart has also introduced an 'express delivery' option in specific areas, where customers can place an order online and receive it via contactless delivery in two hours or less.
While fulfillment and logistics may currently be an obstacle for some brands, this is the big omnichannel trend of 2021. Instant delivery connects online and offline channels, utilizing in-store stock that may not be shifting as fast, and leverages physical stores' proximity to consumers. Plus, the faster customers receive their orders, the more likely they'll be to shop again with that brand or retailer — and the sooner they'll shop again. It's a win-win for brands and retailers.
Augmented Reality: 'Try before you buy'
AR was once a 'cool' experience offered by a handful of retailers, but with customers unable to visit physical stores throughout the COVID-19 pandemic, it's become a necessity for many, and something that sets retailers apart from their competitors.
Ahead of the pandemic, we saw the likes of Ikea, Amazon and various luxury brands dip their toes into the waters of AR by offering consumers the chance to 'try before they buy'. However, according to a survey by McKinsey and Company, it's thought the pandemic has accelerated the adoption of digital technologies by around seven years.
In the past year, we've seen various brands and retailers adopt AR strategies. For example, jewellery brand, Kendra Scott introduced a virtual try-on tool, allowing users to test out jewellery remotely using AR technology. In September 2020, Levi's also introduced various AR solutions as part of a back-to-school campaign, which featured a group shopping feature, a Snapchat virtual closet, and remote clothing try-ons.
Even when stores do re-open for good, increased online shopping will be here to stay, so technologies like this will prove beneficial for brands' omnichannel strategies. On top of this, we're also likely to see a higher level of in-store hygiene and safety precautions for years to come, meaning the need for things like virtual fitting rooms and AR makeup testing could grow even more.
Shoppable video
Social media shopping has grown massively in recent years, with Facebook, Instagram and Pinterest each enabling consumers to make in-app purchases from their favourite brands. However, we expect this to expand even further in 2021, with more brands introducing shoppable videos to their social media channels.
Instagram's shoppable function has allowed brands to add product tags to in-feed images and videos for a few years now. However, last year, the platform introduced similar shopping functionalities to IGTV, Instagram Stories, and Instagram Live, with testing also going ahead on the new 'Reels' video feature.
Live shopping is also likely to become more prevalent in 2021 — and not just through Instagram. Software such as CommentSold Live enables brands to live stream flash sales across multiple channels at once, updating a single inventory in real-time. For brands with multiple online channels, this is a great way to keep customers engaged — not only can viewers watch and interact with the live stream, but they can also add to their cart and purchase without leaving the video.
There's certainly a lot to look forward to in 2021 when it comes to omnichannel technological advancements. The retail sector has come a long way in the last few years, and we're excited about what the future has in store.
Joris Kroese is the CEO and Founder of Hatch, an omnichannel where-to-buy solutions provider. Joris has been working within the eCommerce industry for more than two decades, where he has strengthened his expertise in omnichannel retail and marketing technology.