Plan to attend this Free, All-Inclusive, One-Day Print & Mail Fair
Learn everything you need to improve, enhance and expand your results from marketing campaigns that include all forms of printed and mailed promotions. No matter what size and type of business you have, if you use any of coupons, flyers, mail order, postcards, gift cards, brochures, catalogues, fundraising letters, billing & account statements, business forms, display advertising, direct response packages, product sheets or other printed marketing materials, you should plant to attend this show.
Drop in any time from 9:30 am to 5:00 pm and tour the exhibits, gather information, attend a seminar, talk with an expert, pick up a directory, gather expert guides, and in general get answers to your toughest questions, find new ideas and network with fellow business executives at your leisure. Attend a seminar simply by showing up and walking in.
But…There's a Special Bonus for Pre-Registering.
NOTE: If you pre-register for one of the seminars and then attend, you will receive a special FREE bonus of the 100+ page workbook called MAXIMUM MARKETING, which gives you step by step instructions on proven techniques for getting better response to your marketing.
FREE SEMINARS | One-Hour Sessions include: 
Email Marketing Insights (10 am to 11 am)
Learn the keys to great email marketing, the new rules (CASL), how to grow your email list (hint: more is not always better) as well as some tips and tricks for engaging email programs. Traditional marketing has always been a rather one-sided communication: we talk while the customer listens. Digital marketing (email represents one form of digital marketing) offers a opportunity to enter a true dialogue with your customers. If you are willing to take the time to listen. Email is not a mass marketing tool and those businesses who can shift their mindset can take advantage of this cost effective medium and tap into it's full power to drive new business.
Speaker: Derek Lackey, President of the Direct Marketing Association of Canada.
Rethinking Physical Marketing (11:30 am to 12:30 pm)
Over the past decade, we've seen digital prompt a new role for the physical store as a place of inspiration and experience activation – a role so compelling that digital pure-plays are taking note and rethinking the role of physical in their own business models. But what of the physical communication? Do catalogues, direct mail-outs and other forms of print advertising still have a role to play in today's hyper-digitized path to purchase? To answer these questions, we look to consumer neuroscience to understand how the brain responds to physical and digital forms of advertising. Case studies will provide insight into the following:
> The brain's response to direct mail and digital advertising media
> Whether the brain's response differs within and between different forms of media
> Top 5 best practices to convert with physical communications.
Speaker: Diana Lucaci, Founder, CEO, True Impact.
Do's and Don'ts of Big Data (1:00 pm to 2:00 pm)
The only constant with Big Data is change. The data itself is not necessarily new but the fundamental paradigm shift is increased access to data. Advancements in technology vis a vis apps alongside the continued need for advanced programming skills have provided the tools that have allowed for this increased access. But increased access to data has resulted in exponential growth and the need for analytics both from an advanced and non-advanced perspective. Questions abound that with new Big Data technologies , the analytics discipline, itself, needs to undergo transformational changes. But does it? In this session, we explore the four step process of analytics and how it can be applied to all analytical exercises and projects. Within the Big Data paradigm, we identify what is unique and new to this discipline versus what has remained constant over the many decades of applied analytics within such sectors as credit card risk and direct marketing.
Speaker: Rich Boire, VP Analytics, Environics Analytics
Mailing Today: How technology drives speed to market, cost efficiency and maximize response (2:30 pm to 3:30 pm) In today's fast paced world we expect everything to happen "now". While traditional media is viewed by the majority of consumers to be more trustworthy than digital media, it falls short in its ability to be agile. By using technology to drive sophisticated and personalized communication, clients have the ability to create a relevant, meaningful and trustworthy follow-up that can be received within 48 hours of customer inquiries or sales activity. We will walk you through our six step process of automating your communication to customers and prospects alike that can dramatically shorten timelines, create cost efficiencies and ultimately help create a better experience for your customers and prospects. Using real-world examples we'll provide insight into some of the business challenges others have faced and explore when it can be a suitable addition to your marketing program.
Speaker: John Leonard, VP Sales & Marketing, Cover-All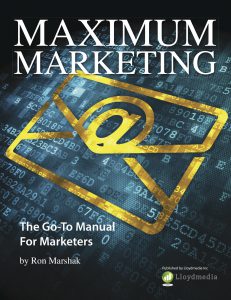 You don't need to register in advance. Simply attend any or all of these sessions at no charge on April 19th at the Sheraton Parkway North and go downstairs to the Vaughan Room. Or pre-register and get the 100-page bonus workbook. (left–click to see the contents)

VISIT THE EXHIBITORS | Companies who'll be on hand to discuss your projects and provide advice, insights and samples include:
Warren's Waterless Printing. Environmentally sensitive printer. Environmental printing is more than recycled paper. No water is used in our print process and we have no water waste.
Relevant Data Solutions. Data, Document & Delivery experts! RDS is a team of industry veteran programmers who provide data processing services to lettershops, and direct to customers across Canada. Services include database management/cleansing/postal sorting, variable document composition, document management, automated workflows and custom programming.
Digital Edge Print & Media. Full service printer. Providing offset and digital printing, custom packaging and promotional products.
Imageworks Print & Prepress. Full service litho and digital printing house with an in-house bindery. We specialize in quick turnaround trade work.
Allegra Marketing Print & Mail. Allegra is a full-service printing and mailing house. Our services range from traditional to 3D mailers.
Insource Corp. Technology company providing leading-edge equipment, software and services to companies that are producers of print and mail communications.
Cover-All. Cover-All has been providing data and mail services for more than 50 years. Specializing in on-demand variable colour.
Neopost Canada. Through our solutions and services we guide and support organizations in how they send and receive mail and parcels.
Go Direct Supply Chain Solutions. Integrated eCommerce solutions, real world product fulfillment and distribution, customer support, and management analytics that enable you to take your business online, and to the next level. Let us show you how. Schedule a demonstration. We provide a fully outsourced "web-to-door" sales solutions for your company.
Torpedo Marketing. Integrated eCommerce solutions, real world product fulfillment and distribution, customer support, and management analytics that enable you to take your business online, and to the next level. Let us show you how. Schedule a demonstration. We provide a fully outsourced "web-to-door" sales solutions for your company.
Data Direct Group. Communicating through mail? Data Direct is one of Canada's largest Direct Mail Supplier to Canada Post, our final delivery channel partner. E-Commerce fulfillment is aligned with same data driven reliance. Data Analysis. Analytics identifies the who, why, when & where your customers & members belong in your value chain. Survey & Evaluation services are offered in a variety of formats to support your Data Driven Metrics.
And more to come…
You can also subscribe to our monthly magazine for free here.
Questions? Email Steve Lloyd at steve@dmn.ca any time.
EXHIBITING INFORMATION: Are you a printer? Mailing house? Fulfillment center? Or other vendor? Want to book an exhibit table? Please call Mark Henry at 905-201-6600 x 223 or email mark@dmn.ca for a no-obligation exhibitor information package.
Presented by Direct Marketing magazine. www.dmn.ca
Published by Lloydmedia Inc, at 302-137 Main St N, Markham, ON. L3P 1Y2. 1-800-668-1838. Publishers of Direct Marketing, Payments Business, Contact Management, Canadian Equipment Finance and Canadian Lender (June 2018).