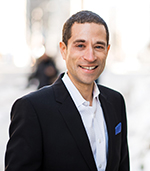 By Allen Davidov
During an unprecedented period like we are experiencing during the COVID-19 pandemic, decisions about marketing could not be more front and centre. Instincts may suggest the prudent choice for many leaders is to act defensively, cutting expenses or scaling back areas that do not always have a solid or clear ROI. History has shown that one of the first budgets to be put on hold or get cut is marketing.
It might seem to make sense. Organizations across all sectors and sizes are struggling to find their footing. They wonder when and how they should "pivot" and even if it even they should at all. They are navigating unchartered waters and going through an ocean of unknowns.
In fact, these are times when the case should be made to scale up and not scale back. Here is why I say this is a moment in time they should be investing in their marketing, not cutting.
With many struggling to keep their doors open or put contingency plans in place for these unchartered waters, the question of how to deliver on the revenue needs and long term manage the customer or donor relationship are two of the many important questions being asked. Much of which can be distilled to focusing on behaviour, attitudes, and experience with an organization.
Being in the charitable sector for nearly 15 years, I have experienced the pressure to manage and maximize revenues and partnerships and find unique and innovative opportunities, including during the last recession in 2008.
Having worked alongside hundreds of organizations across Canada in my role here at Environics Analytics, I have witnessed, and helped, marketers adapt in a way that applies their strategy and tactics at critical times for the greater good. This is perhaps the best example of what marketing needs to do in a crisis.
Why is marketing important
To understand why marketing is important, it is important to first dive into what marketing really is.
For many, when they think of marketing their minds go to the advertising they see on TV, Newspapers, Online or in their Social Media feeds. The campaigns they see for products. Some may even answer by talking about their logo.
All those answers are not wrong, but they are a small part of what marketing really is. If I were to start with the definition, it would go something like this:
"Marketing refers to activities a company undertakes to promote the buying or selling of a product or service. Marketing includes advertising, selling, and delivering products to consumers or other businesses."
Just by the definition, anyone can clearly see that marketing is more than just ads. But clearly defined is more that growth marketing would translate to a better chance at raising revenues and engagement. By cutting marketing activities, the rationale expectation is that its harder to focus on changing behaviour, attitudes, and improving the experience.
Brand marketing
In my years at several charities and foundations, I contended with stakeholders who thought PR was fluff, and who would rather spend money on Facebook ads, but would not invest any funds into building their brand. I saw the opportunity and impact of PR and brand marketing every day, and I see it today with many of our clients.
Brand marketing helps to build an employer brand, it drives leads, sales and donations (sometimes unpredictably), it can position you and your company as thought leaders, it builds trust and legitimacy, and it helps to build a narrative of momentum and growth over time. And a brand — and brand values — are even more important when faced with an unprecedented global pandemic.
Purpose and values
A big part of your brand, is your purpose and the values you and your organization believe in. If your why or purpose is clear, it should make understanding what to do in difficult times, much easier. If your why is jumbled with your what, then it makes it a lot harder to rationalize how you should act and creates a lot of blurriness. It would not be as clear if you should stop asking for donations if you are not directly at the front lines of COVID-19, or if your services are relevant during a pandemic. And if your purpose and values are clear, transitions or taking a stand become more authentic.
Audience
Understanding, defining, and managing an audience is a big part of marketing–and a key part of any organization's success. How your audience shifts and changes and moves through your organization over time is key to having a clear picture of where you are today, but also reveals opportunities that exist for tomorrow and further down the line. Again, during a difficult time, organizations need valuable insights to make the best possible decisions on strategy and tactics. These would include such choices as which media channel is the current better choice for customer acquisition, such as direct mail, an investment in online ads, social media activity or a bigger focus on PR.
From an Environics Analytics perspective, we help our clients understand their audiences through our PRIZM segmentation system , developed using dozens of authoritative data sources, PRIZM gives any organization access to over 30,000 data points and can be combined with your own customer data to better understand your customers, donors, and markets. It provides our clients with a more comprehensive view and allows them to make sounds data-driven decisions rather than guesses.
Channel mix
Once an organization knows their audience for their product or service, its much easier to gauge the right channel mix, and know how to align a budget against this area. Intuitively we all assume consumer or donor behaviour varies from generation to generation, but it can also vary from life stage to life stage and geography to geography. Having all the right information can make tough investment decisions easier, and much more successful. Such as understanding audiences, there is some comprehensive postal code level data available to guide organizations to make the best data driven investment decisions when it comes to executing their strategies. And replicating previous strategies or cutting based on lack of knowledge or assumption, is the worst thing any organization can make.
Effectiveness and metrics
Many times, during discussions around marketing, directly correlating revenue and sales is thought to be difficult when connecting to brand awareness and activities that do not always have a direct link to a sale, donation, or engagement. That does not need to be the case, as there are ways to track effectiveness of a social media and PR campaign, traditional media campaign or other activity.
With the outlook for the fall season and last quarter of the Canadian economy still blurry, as many are bracing for a second wave, it is hard to gauge what is the best way to move forward. Even though an initial reaction typically is to cut marketing, I truly believe now is a time to re-imagine how your marketing has worked for you, and dig in a bit deeper, which will result in making a difference in your organization in the short and longer term.
Allen Davidov leads Environics Analytics' Not-For-Profit Practice. He has more than 15 years of experience helping charities of all sizes use #DataForGood to achieve their fundraising goals.