MONTREAL, QC–As part of its Win Back Sunlight activation, Air Transat celebrated last Sunday's time change in a novel way by asking a seemingly simple question: Why lose an hour of sunlight?
On October 30, the airline responded by setting up two digital billboards in Old Montreal and downtown Toronto to announce a contest dedicated to this "lost" hour. Between 1:00 a.m. and 2:00 a.m. EST on November 5, immediately following the time change, a sunny and eye-catching QR code lit up the billboards to brighten up what is usually considered to be one of the gloomiest moments of the year. Participants were then able to enter a contest for a chance to win one of two all-inclusive trips for two people to Jamaica.
The activation was supported by a robust press, media, social and influencer marketing strategy to drive participation among thoroughly targeted audiences.
Valérie Martin, Transat's director of marketing, brand and commercial activities, said, "This contest is our way of revisiting an annual marker that isn't generally very popular by making it fun, whimsical and participatory. We wanted to give Canadians back that precious hour of sunlight by combining it with our South offer and help beat the winter blues."
The activation, developed in partnership with creative agency Sid Lee, is part of Air Transat's larger Why Travel? campaign that will run in Quebec and Ontario throughout the fall. Most of these placements are contextualized to the location of the ad, evocatively and effectively highlighting the many ways travel moves and transforms us.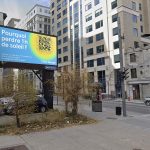 "It's always great to collaborate with a brand and join in the conversation around an event like the time change. It's even better when you can put a positive spin on the debate in a creative way. This time of year, who doesn't want a little more sunshine?", says Brian Gill, creative director at Sid Lee.
Founded in Montreal 35 years ago, Air Transat is a leading travel brand. Its program offers access to international destinations, mainly in Europe, the Caribbean and the East and West coasts of the U.S. Voted Best Leisure Airline by passengers at the 2023 Skytrax World Airline Awards, Air Transat is recognized for its excellent customer service. By renewing its fleet with the most energy-efficient aircraft in their category, Air Transat is committed to a more sustainable industry. Based in Montréal with major hubs in Montreal-Trudeau International Airport (YUL) and Toronto Pearson Airport (YYZ), it has near 5,000 employees with a common purpose to bring people closer together. Air Transat is a business unit of Transat A.T. Inc. (TSX: TRZ). www.airtransat.com
Sid Lee is a multidisciplinary creative collective striving to make a difference and celebrate culture with bold ideas. Its 700 professionals work as one team from offices in Montreal, Toronto, New York, Paris, London, Los Angeles and Seattle. Their mission is to create what matters through brand building, brand expression and brand experience. Its creative community also includes Yard, Digital Kitchen, BIMM and Haigo.
Alongside progressive clients, Sid Lee draws on its rich collection of disciplines, from design to data and experiential communication and technology to advertising and architecture, empowering its clients to outperform their competitors, earn the trust of their customers and increase their influence on culture.
Sid Lee is a member of kyu, a collective of top-tier global creative companies established by Hakuhodo DY Holdings. Sid Lee also imagined C2 Montréal, one of the largest creative-business conferences in the world.
CREDITS
Client: Air Transat
• Marketing Team – Air Transat: Xavier Szwengler, Valérie Martin, Lindsay Kay, Camille Martel
• Creative Team – Air Transat: Martin Moreau, Loïc Vanasse, Marilyne Bélisle, Myriam Delisle, Loïc Ouellette
• Media Team – Air Transat: Sabrina Antenucci, Caroline Blanchet, Émilie Bertrand
Creative agency: Sid Lee
• Executive Creative Director: Alex Bernier
• Creative Director: Brian Gill
• Associate Creative Director: Jean-Christophe Laniel
• Art Directors: Francis Levesque, Julien Poisson
• Copywriter: Thierry Faucher
• Graphic Artists: Jean-Philippe Plante, Danick Gemme, Julien Poisson
• Strategy Director: Marilyse Dionne
• Strategist: Gonzague Mulot
• Group Account Director: Ariane Poitras
• Account Services Director: Omar Othmani
• Account supervisor/ Producer: Catherine Savoie
• Account Coordinator: Sandrine Roussin
• Executive Producer: Vanessa Gervais
• Producers: Camille Thibault Giguère, Kélian Desaga
• Motion: Noah Dauphinais
• Media: Sid Lee Média
Source: Transat A.T. Inc.