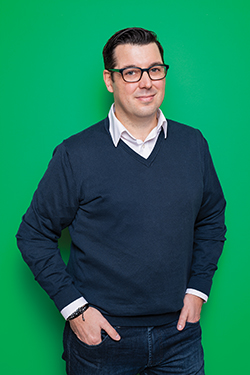 By Carl Boutet
As the lines of physical and digital commerce increasingly blur, does our ability to directly connect with consumers also fall out of focus? Can even the faintest line of differentiation be discerned? Are those differences still relevant?
There are so many questions as the channels with which we can connect and engage multiply. I would suggest that this intersection creates greater opportunities to create more meaningful engagements. Let's see how.
The importance of personalization
One can easily argue that it's all the same consumer and attempting to address their needs differently is irrelevant. They are the same buyer and their needs have to be addressed with consistency above all else. But do they? It is possible that the consumer's online behaviour emphasizes research, discovery and convenience. On the other hand, their in-store needs might be more focused on experience and customer service. Is it even fair to generalize with all the data we could potentially access (with their clear permission) about their browsing and shopping behaviours? We should have clear strategies to address the different ways consumers engage with us depending on the social platform, mobile, in-store, in person or in chat.
With so many channels, touchpoints and opportunities to connect and, dare I say, "personalize", direct contact in a meaningful and measurable way is no longer just a "nice to have". The key is figuring out what those contacts are and creating a company culture of iteration to constantly improve upon them.
Avoiding internal disconnects
Gathering the best data and building correlations around specific behaviours is one thing, making them actionable in order to execute personalization programmes is an entire other skillset. This requires a near-perfect integration between all your operational assets. As the new saying goes, "silos belong on farms". Your company can no longer afford any operations, IT and marketing disconnects. The complexities can seem overwhelming of integrating so many systems (think point of sale or POS, CRM, enterprise resource planning or ERP and digital analytics for starters). A disciplined approach, and a clear focus on what matters to your customer and bottom line, remains critical.
The important question that arises is which departments now own this complex intersection of customer engagements that provides the raw material for personalization. As the focus of its output should be squarely focused on meeting consumer needs, it seems clear that marketing leaders need to lead this integration in close collaboration with other strategic leaders.
This means the marketing lead (e.g. chief marketing officer or CMO, vice president of marketing) is not only accountable for meeting customer expectations, but also for determining strategic go-to-market priorities and resource allocation. For this reason, it is no surprise that an increasing number of companies now have IT and data science reporting into senior marketing leaders.
Personalization examples
So which companies do personalization right? Sephora is often cited as being among the best at creating strong personalized content both online and in-store. It's a near-complete blur of physical and digital, with in-store digital assistants and live in-home tutorials.
We can also look outside of the retail industry. For example, the latest hospitality and entertainment trends can always inspire. Those lines are also blurring with retail. A hospitality brand that is worth following with its interesting predictive work is Airbnb as it expands its "experiences" offering. China is also a hotbed of retail innovation. We can think of the e-commerce behemoth Alibaba with its now hot Hema grocery store or FlyZoo hotels that elevate the possibilities to an entirely new level, mostly thanks to sophisticated uses of anticipatory fulfillment, computer vision and natural language processing.
Adding context to relationships
Let's face it, most of what we've called loyalty programmes for many years have lacked a key ingredient: something of actual contextual worth for the customer. They were willingly sharing in their every action and purchase, in return for 10x points programmes or worse, irrelevant offers.
There are now so many opportunities to personalize those offers with the support of predictive algorithms that go well beyond the traditional "people who bought this, also bought that" suggestions. Consider how good content might create greater customer lifetime value (a top metric for all retailers and brands) if true value beyond simple transaction is created through a better understanding of needs in context. A favourite example of mine is how AliExpress will suggest guitar lessons for customers who recently bought guitars rather than the picks and strings (or even other guitars) that Amazon would typically suggest. That's smart personalization.
Is building a meaningful relationship with your customers part of your value proposition? Then your company culture will be your core competency, built around this notion of an integrated yet personalized approach based on tight customer feedback loops. Data science (i.e. the proper use of data in context) will also be a critical skill at levels we have yet to begin to appreciate. Today, we can still get away with some convenient generalities around "generations" and "regions". That will change as it will become clear to customers which companies best anticipate their needs and meet them and be rewarded with their business.
Like our blurring communication channels, our clients' individual needs are not static. We can't afford to be either.
Carl Boutet is executive director of CloudRaker's (www.cloudraker.com) retail strategy, data and insights practice. He is also lead advisor, Bensadoun Retail School of Management Lab at McGill University.