By Brendan Read
Thane Direct is one of world's best known direct response and retail marketers, with a reputation for creativity, innovation and integrity. Thane has created highly successful brands in such diverse product categories as health and beauty, fitness, weight loss, kitchen/house wares, entertainment, self-improvement and pet care that are sold in over 100 countries.
Direct Marketing Magazine recently visited Thane Direct at its global head office in Mississauga, Ontario. We interviewed Amir Tukulj, Thane Direct's CEO. Mr. Tukulj joined the company in 1997 and became CEO in 2005. In 2016 he won the Electronic Retailing Association's Marketer of the Year award.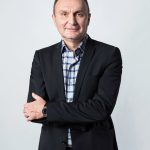 DMM: Bring us to date on Thane, from your reorganization to the present day.
Amir Tukulj (AT): Thane has been a private equity owned for over 15 years and since the MBO (management buy-out), the focus has been on streamlining the business, right sizing our overhead and cleaning up our balance sheet to reposition the company for future growth. We are now leaner, faster and more agile than we have been for many years with focus on generating response and perfecting our omni-channel strategy, with digital media being a huge part of our future.
DMM: How do you differentiate Thane from your competitors?
AT: The main differentiating factor between Thane and all of our competitors whether they are based in North America or elsewhere is the strength and breadth of Thane's international distribution, with offices in Canada, USA, Mexico, U.K., Scandinavia and Australia.
In addition, Thane is one of the few companies in the business that relies on four major pillars for its continued growth: internal product development, external product licensing, internal direct to consumer distribution in the countries mentioned above and external third-party distribution.
DMM: What are the key opportunities and challenges in the Canadian DRTV market?
AT: In many ways the Canadian DRTV market is similar to the USA market with the depreciating Canadian dollar being a main challenge and access to retail being the main opportunity.
DMM: There have been renewed efforts to bring QVC into Canada. What are your thoughts?
AT: Competition is every area of the business is a healthy thing. If a renowned and innovative retailer like QVC were to enter the Canadian market, it would be a huge benefit to the consumer and to companies like ourselves who view QVC as another outlet to get our innovative products to the end consumer
DMM: What changes are you seeing in the channels and devices that Canadians use to respond to DRTV content? Are they moving away from phone to web and social, and to smartphones from TV sets, and for which products?
AT: The main changes are not so much in the type and amount of content that people consume but they are in the way the consumers consume that content! Simply stated, everybody is multitasking why watching TV and /or surfing the web and mobile devices are having a huge impact on the way people process, research information and shop! Its all about mobile for the foreseeable future!
DMM: What differences, if any, are there between how Canadians and Americans engage with DRTV, and are they shrinking or evolving?
AT: With such efficient access to information, it is hugely important to have a great sales and marketing strategy that is consistent across both countries. Canadians and Americans are distance shopping more than ever. The future is about being able to connect directly with your customers and being omni present in all channels where your customers shop.
DMM: Discuss your in-store retail strategy, what has prompted it and what have been the results? How are you driving customers to your products in stores?
AT: Retail is a huge part of our sales strategy and while distance shopping is growing, many people still prefer to touch and feel the product and buy it from a trusted and favorite retailer. Our television and digital advertising creates a lot of awareness and pent up demand which turns into profitable sales at retail level
DMM: Where do you see Thane in the next three years? What changes and innovations are on your corporate roadmap?
AT: The next three years will be about going back to basics and applying true and proven direct response techniques to all of our product lines. We are continuing to add to our existing product portfolio as well as innovate in new product categories and above all focus on creating awareness by driving web sales using digital media.