AIIM Secures Growth Investment from Vegvisir Capital
Avant Imaging & Integrated Media Inc., a provider of omni-channel marketing communications solutions, has secured a majority growth investment from Vegvisir Capital, a firm that invests in growing B2B technology companies. The investment will support the Company's expansion plans which includes augmenting its product offering and service capabilities, accelerating go-to-market initiatives, adding talent, and M&A.
Founded in 1990, AIIM has developed an outstanding "client first" reputation along with an extensive set of innovative digital marketing communication solutions including highly personalized direct marketing capabilities, data-driven relationship marketing programs, and print management services. The company's platform serves over 150 enterprise customers including leading financial services, insurance, retail, non-profit organizations, and government agencies. AIIM helps its clients attract, acquire, and retain customers through a unified offering of digital and physical solutions.
"This investment will enable the Company to accelerate our omni-channel platform vision and fuel its future growth. As both Frank and I approach our retirement, we have been thinking how we could deliver on this vision with the company we built for over 30 years. And just as importantly, how to ensure that our employees and customers are protected and expertly serviced into the future. After considering several different options over the past few years, we are convinced that we are putting our employees, our customers, partners, and our vision in great hands with the Vegvisir team," said AIIM co-founder Mario Giorgio.
Post-close the transaction, both Mario and Frank Giorgio will continue as active advisors to the Company. To ensure a smooth leadership transition, Vegvisir has partnered with Patrick Masset to be the leader of the organization moving forward and acting CEO. He brings robust industry knowledge and proven go-to-market leadership experience to the Company. The Company will continue to operate out of its Aurora, Ontario headquarters.
"AIIM's exceptional service and quality reputation, broad offering and employee expertise provide the foundational elements for us to rapidly become a platform leader in customer acquisition communication management. With accelerated investments in our platform, we will further enable our valued customers to acquire new clients, while driving organic growth and improving the retention rate of existing customers in both a digital and printed communication environment. We will do so with relentless focus on customer experience, ease of use, automation, and sustainability. The team is excited about the future." added Patrick Masset AIIM's acting CEO.
This will be the second platform company for Vegvisir and builds upon its prior investment in Royal Alliances Inc., the leading provider of SaaS-based postage discount identification, mail tracking, and payment software solutions to the US mailing industry.
"AIIM has consistently invested in technology solutions to better serve its customers and has built an innovative, omni-channel marketing communication platform that serves a $40+ billion market," said Kyle Reesing, Founder and Managing Partner at Vegvisir. "When we were introduced to Mario, Frank, and the team, we were impressed by the company's robust solution offering, and outstanding customer service reputation. We look forward to working with the entire AIIM team moving forward."
Founded in 1990, AIIM has developed an outstanding "client first" reputation along with an extensive set of innovative digital solutions, highly personalize direct marketing offering, data-driven relationship marketing programs, and print management services. The platform helps create, automate, and deliver critical marketing communications. Vegvisir Capital invests in growing B2B software and services companies at an inflection point. Vegvisir looks for established core products in large markets that sit at the intersection of software, data, and payments. This business model focus enables deal structure flexibility, aids in the value creation process, and builds strong founder, executive and industry relationships.
Driven by Good: CAA South Central Ontario announces brand platform, new tagline
It's a brand platform and tagline that tells the story of who they are and what they stand for as an organization. CAA South Central Ontario (CAA SCO) announced a new tagline – Driven by Good™. Accompanied by a new brand platform, this will create a sustained and consistent approach for marketing the CAA club brand moving forward.  It will also help to express CAA values and a commitment to always doing the right thing as an organization.
The new brand platform was created in partnership with BIMM and reinforces why CAA was named the most trusted brand in Canada for the third year in a row in the annual Gustavson Brand Trust Index, released last week.
"This new marketing approach will help CAA Members create a deeper, more emotional connection to our brand," said Rhonda English, chief marketing officer, CAA Club Group of Companies. "For over 115 years, we have been helping people through advocacy and roadside assistance and for decades with travel and insurance. CAA has been approaching business in a positive and impactful way since its inception and it is time to align our marketing and communications accordingly."
Driven by Good™ was inspired by the people who work at CAA SCO and how they strive to do the right thing for Members and customers every day. It was inspired by a vision of a world where people who, when faced with a choice to do the easy thing, the reactionary thing, the thing that best serves them, pause, and make a choice to do good.
As the platform and tagline were developed, CAA collected more than 250 stories of Associates going above and beyond to do the right thing in their day-to-day lives. Stories like the colleague who cleared all the vehicles of snow in her apartment parking lot after a nasty snowfall. Or the Associate, an amateur photographer, who set up his garage like a photo studio so he could take photos of his neighbour's ill child and her father. Or the co-worker who scrambled to find a coat and warm clothing to help someone in distress.
"All of these stories, big and small, show how CAA is made up of Associates who are truly driven by doing good in the world. We are proud that our Associates bring this same approach to their work, showing that as an organization we aren't driven by profit, we are focused on keeping Members safe and adding value to their day-to-day lives," continued English. "We are inspired by these kind and courageous acts, which represent a world that we want to be a part of and contribute to."
The first campaign that is part of the new brand platform launches today, to begin to tell CAA's story in this new way. It is focused on inviting our audience into the 'World of Good' that we all want to live in. It showcases the good choices that people make that we at CAA are inspired by every day. It also draws on stories and experiences from Associates across the organization focused on how we are Driven by Good™.
Retail's most influential leaders will meet in person for the first time in three years.
Retail Council of Canada announced the full agenda for this year's RCC STORE 22 Conference. This year's two-day conference will profile speakers who are the "who's who" of retail in North America. RCC STORE 22 will also bring together more than 75 speakers and 2,000 retail delegates and business partners who will be encouraged to talk candidly about current their challenges, how to drive change, and about the future possibilities for retail.
Some of the amazing speakers presenting at STORE.
This year's powerful roster of speakers includes: Susan O'Brien, Chief Brand & Customer Officer, Canadian Tire Corporation, Rosie Pouzar, Chief Operating Officer, Sephora Canada, Ron Wilson, President, International, Best Buy Canada, Gillian Stein, CEO, Henry's, Kate Ancketill, CEO and founder, GDR Creative Intelligence, Dr. Hadiya Roderique, Diversity and Inclusion Advocate, Journalist, Lawyer, Dianne Buckner, Host, CBC's Dragons' Den, Ira Kalish, Chief Global Economist, Deloitte, Paco Underhill, Founder and former CEO, Envirosell, Jacquelyn Kankam, Senior Director of Sustainability & Social Impact, DECIEM, Duncan Fulton, Chief Corporate Officer, Restaurant Brands International, Joanna Griffiths, Founder and CEO, Knix, Eric Morris, Director Retail, Google Canada.
"Many retailers have changed their business models over the last two years to be much more responsive to their customers' quickly changing needs, that, as we all know have been influenced by new insights accelerated by the pandemic. RCC STORE 22 will inspire with retail stories of companies and entrepreneurs who have taken advantage of the new landscape to reemerge stronger and better positioned for success well into the future," said Diane J. Brisebois, President and CEO, Retail Council of Canada. "This year's conference topics and speakers will address tough questions and provide a range of perspectives and insights that retailers can immediately bring to their teams."
At RCC STORE 22, retailers can attend provocative "big picture" keynote presentations as well as concurrent sessions focusing on store operations, marketing, supply chain, and digital and mobile commerce. The content has been developed to ensure that each retailer – regardless of size or type (e.g., large, medium, independent, mass merchant, apparel, grocery) – can participate in sessions that are most relevant to their business needs.  There is also an exciting exhibitor floor which will feature some of the most innovative business partners, from start-ups to leading established companies. These exhibitors will be available to demonstrate their cutting-edge technologies, strategies, and retail solutions.
Record numbers of participants have already registered for RCC STORE 2022, which will be held on May 31 and June 1, 2022 at the Toronto Congress Centre.
Retail is Canada's largest private-sector employer with over 2 million Canadians working in our industry. The sector annually generates over $78 billion in total compensation.
Hot air balloon pilot launches disruptive ad-tech platform.
Hot air balloon pilot and co-founder of The Bot Lab, Eliav Cohen, has launched Helium, an AI-powered, ad-tech platform that allows consumers to converse with brands real time on third-party articles and sites. The first of its kind, the proprietary platform means that readers no longer need to visit a brand's site to follow-up on their interest in a product or service. Instead, they can get their questions answered right then and there, through simply clicking and conversing through a chat bot.
Helium by The Bot Lab demo is a new ad-tech platform which the founder hopes will redefine the future of advertising. Helium allows readers to get their questions answered real time through clicking and conversing with a brand, all through an ai-powered chat bot. This allows brands to connect with their prospects instantly and allows publishers a new source of revenue.
According to Mordor Intelligence, the chatbot market value is projected to grow to $102 billion USD by 2026, representing a 34 percent compounded annual growth rate compared to 2020. "The pandemic has accelerated the medium," says co-founder and professional balloonist, Eliav Cohen, who discovered an unmet need in the chatbot space after utilizing bots to automate the booking process for his hot air balloon company, Seattle Ballooning. "Not only has it accelerated the medium, but the advertising space is ripe for reinvention. Clicking an Ad on a site cluttered with tiles and pop-ups no longer suffices. People want a clean experience where they can digest content and get their questions answered on demand."
Utilizing Amazon's AI technology, the announcement provides a range of benefits for Helium customers: for publishers, it provides a new type of Advertising unit and revenue stream – one that allows them to keep readers on their site; for brands, it provides a new channel to connect directly with prospects at their highest intent moments – while perusing a topic related to their product or service. It also integrates seamlessly with any chatbot platform a brand may currently be using; for users, it reimagines the consumer experience by eliminating the need for redirects, clunky form-fills and unwieldy research.
The Bot Lab specializes in working with CMOs and marketing leaders, to drive new leads and revenue through delivering a friction-free advert-to-purchase journey. Appropriately named, Helium is The Bot Lab's next foray into the conversational marketing arena and can integrate with any chatbot platform.
Since its inception in 2018, the company has garnered a robust reputation for best-in-class AI services, working closely with leading conversational marketing player, Drift and others. Having built hundreds of bots for mid-market, enterprise and fortune 500 brands, The Bot Lab team is united by a belief that contextualized conversations represent the future of marketing and the user experience in the digital age.  With the launch of Helium, The Bot Lab continues to shape the future of marketing. The Bot Lab is 100 percent self-funded.
Hivestack Launches Research Division – Focuses on Programmatic Digital Out-of-Home Advertising for Retail in the Metaverse
Hivestack, the world's leading independent programmatic digital out of home (DOOH) ad tech company, created a new research division that will focus on exploring in-store, programmatic media activation in the metaverse. Legendary computer vision scientist P. Anandan has joined Hivestack as a special advisor as part of the initiative.
According to a recent eMarketer report advertisers spent $31B USD in 2021 in the US on retail media, with a path to $100B in the coming years. The findings of the report showed that the majority of the ad spend went to advertising on Amazon and Walmart's digital assets. A growing trend is that large, big box retailers are implementing custom ad tech stacks with identity solutions to monetize their online marketplace as well as their physical stores.
Indeed, big-box retailers are taking the next steps in their digital offerings and developing metaverse equivalents of their physical venues. When these stores launch, consumers will be able to wear VR headsets and have their avatar counterparts walk down aisles garnering all the benefits of a virtual shopping outing. This will offer consumers a much more immersive experience than shopping on current two-dimensional user interfaces from their mobile devices. Metaverse stores will enable advertising opportunities for marketers to connect with consumers – in particular, their avatars, at the point of purchase – on virtual in-store walls, virtual digital endcaps, and even virtual in-store audio advertising. Preliminary research shows that consumer engagement in the metaverse will far exceed current online experiences and thus lead to deeper engagement with ensuing greater outcomes for advertisers.
Andreas Soupliotis, Founder & CEO of Hivestack shared: "With the launch of our research division, we are prototyping how ad tech can be used to programmatically activate ad opportunities in virtual retail stores in the metaverse. In this environment, the consumer is technically inside their homes shopping via VR headsets, but their avatar is out-of-home. Much of Hivestack's full-stack technology for digital out-of-home activation and monetization applies to retail metaverse advertising, but some important computer science gaps remain to be addressed. We launched this initiative to formulate the needed technology to make programmatic DOOH a success in the meta as well as the physical world."
The use of meta and crypto-related concepts to buy and sell DOOH ads is already happening. As an example, Hivestack's exclusive partner in Japan, LIVE BOARD (a wholly owned subsidiary of NTTDocomo and Dentsu Japan) have already started to experiment selling outdoor advertising space as NFTs, representing the first initiative in Japan to sell outdoor advertising rights as
an NFT.
P. Anandan, former Managing Director of Microsoft Research, Distinguished Scientist and Emeritus Researcher at Microsoft, and now consultant to the Bill & Melinda Gates foundation commented on his new role of Special Advisor at Hivestack: "I am thrilled to be advising Hivestack on this new direction of avatar-based out-of-home advertising. There are some important technology, product and engineering challenges that need to be addressed in order for marketers to benefit from this new generation of advertising. In particular, how does one translate avatar identity from a one-to-one metaverse world to the actual, one-to-many physical world? Also, how do marketers measure the efficacy of these cross-universe media activations? And how should physical-world behaviors drive media activation in the metaverse? Finally, there are many unanswered questions regarding how media payments will be made to metaverse retailers, with crypto currencies possibly being used. In such cases, RTB bid requests and responses between DSPs and SSPS would be based on crypto currency CPMs. As you can see there are many hurdles to overcome, and I look forward to helping Hivestack grow a research team that will address these new frontiers in ad tech and provide marketers with the solutions they will need to succeed in the burgeoning field of 'Meta Marketing'."
Kevin McDonald, CEO of Kinetic Canada commented "The retail metaverse is opening up a new reality for consumers that blends the sensations of physical, out-of-home shopping with ease of mobile shopping. Kinetic Canada is laser-focused on driving precise measurable outcomes for our clients. As the lines blur between consumers and their avatars, the combination of real-world, retail DOOH and metaverse retail digital out-of-home advertising is an important area of exploration to us and our clients. We know that the future of marketing is being built now and we thus look forward to working with Hivestack as we develop a new strategy for cross-universe (physical and virtual), outcome-based marketing."
Hivestack is the largest independent, global, full stack, marketing technology company, powering the buy and sell side of programmatic digital out of home (DOOH) advertising. Hivestack was founded in 2017 with headquarters in Montreal, Canada and operates in 25+ countries across the globe
Next Generation Audience Journeys to Customize Customer Experience
Journey Builder helps Marketers design audience sequences to continuously update audience membership throughout the entire lifecycle. mParticle, the leading customer data infrastructure company released Journeys, a next generation audience toolset to help teams optimize each step in the customer journey. Journeys uniquely combines multi-path journey analysis, testing, and orchestration into a single workflow, helping brands continuously optimize the customer journey, and deliver personalized experiences in the moments that matter.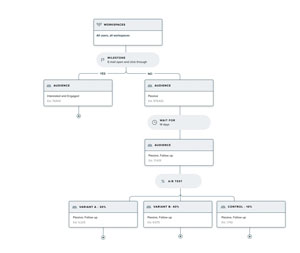 Digital marketing teams often struggle to deliver adaptive experiences due to customer data challenges created by technological, organizational, and process-oriented silos. Individual departments, like Retention Marketing teams, may manage scores of micro-journeys within their own set of tools like marketing automation platforms. Yet, there's often little to no experiential connectivity between the journey sequences and key milestones in the customer lifecycle, like customer acquisition, loyalty, or retention teams. Because of this, brands tend to lack actionable insights and the ability to create leverage on journey performance throughout the customer lifecycle. Teams may have robust analytics for parts of the journey like email engagement or loyalty status, but can't determine the impact of a single touchpoint on the overall customer journey.
With Journeys, teams can collaborate on a range of new capabilities to create the most optimal journey for each customer. Included within today's release is:
Journey Analytics: Powered by Indicative, improve customer context through rich reporting capabilities focusing on multi-path journey analysis
Journey Builder: Design multi-stage journeys with a simple-to-use, visual interface. Using cross-channel behavioral event or user data, define key milestones and sequences within the customer journey.
Journey Integrations: Continuously sync audiences in real-time to any of mParticle's Audience API partners such as Meta, Twitter, Braze, Salesforce Marketing Cloud, Google and hundreds more who deliver the last-mile ads, messaging, and media experiences.
Brands who leverage these capabilities together develop a virtuous cycle between discovery, experimentation, delivery, and optimization. Starting with Journey Analytics, brands discover optimal paths to conversion that they'd want other customers to follow. Leveraging these insights, brands can employ Journey Builder, to build detailed journey paths designed to maximize user acquisition or retention. Using Journey Integrations, brands can reach customers across any channel: email, mobile, or social.  In essence, brands get to compare entirely different engagement strategies, and their impact on subsequent journey milestones.
Because of the bi-directional nature of the integrations, teams can close the loop on performance by incorporating cross-channel engagement metrics such as email opens and clicks, SMS responses, and attribution data back into mParticle. With a continuously updating user profile view,  brands can easily optimize the journey's sequence and maximize ROI across engagement channels.
"In the wake of changes from Apple's iOS update last year, the entire marketing ecosystem has been impacted dramatically, and teams need to continue to drive growth in the face of increasing customer acquisition costs, and shifting economic conditions," Michael Katz, CEO of mParticle says.  "Journeys makes it simple for marketers to do more with less, maximizing the impact of each customer interaction."
Journeys has been in beta with select customers, and a series of additional investments planned throughout 2022. Existing mParticle customers can apply for access to Journey Builder directly on the mParticle website. mParticle makes it easy to holistically manage customer data along the entire product and customer lifecycle. Teams across companies like NBCUniversal, JetBlue, Venmo, and Airbnb use mParticle to deliver great customer experiences and accelerate growth by solving the foundational challenges that impede success at scale. mParticle announced a $150M fundraise in October 2021 led by Permira on the heels of strong growth and product innovation.