In 2005, the Norwegian printer Sappi produced a special report on the role and effectiveness of print and direct mail in the marketing mix. Reading this report again, and reading what some of the world's most successful and recognized marketing and advertising leaders said about direct mail, resonated as a roadmap to some of what we may have lost as we chase the digital channels today. There is more than a place for direct mail — there's an imperative for us to revisit what we may have lost by excluding this channel and format from our work. Here's some of what Sappi said in their report. – Steve Lloyd, Editor in Chief
By Sappi
How can something that does not move be so moving? How can something that makes no sound say so much?
That's the power of print, paper and ink creating life. Or, recreating it. But with no rules, no restrictions. In its finished form, print has the ability to touch each and every emotion we have. It can make us laugh, make us cry, make us think in ways we've never thought before. And because of that, our relationship with print is one of the most meaningful we will have in our lives.
Consumers today live in a world of simultaneous media use. They watch television while surfing the Internet. They listen to the radio while reading the newspaper.
A recent study in The Netherlands — and confirmed in the UK — showed that more than 80 percent of commercials are not being seen by television viewers. People zap to other channels, talk to each other, call friends, read, or walk away from the TV to fetch something from the kitchen.
Consumer attention is scarce and the media are fighting to get their share. Advertisers look for ways of getting consumers' attention by focusing on the format of the advertisement, the style or the content. Humour is typically used to cut through the clutter.
It is estimated that the fragmented approach to reach customers may account for up to 10 percent of the performance of each brand. The media has become more fragmented over the past 15 years, the number of TV channels has increased rapidly with access to more channels getting easier and the number of specialist magazine titles has also increased rapidly. Marketers are unable to reach mass audiences without incorporating more channels or titles into their plans. The fragmentation has also led to higher TV and press advertising costs.
"I don't think advertising works anymore. TV advertising's so average, it's a waste of money. We need other ways of reaching consumers," said Philip Kotler.
In this fragmented media place, advertisers need to be clear about the role each medium can play and its effectiveness.
A quarter of direct marketers in Europe judge that the effectiveness of TV advertising will decrease in the next three years, while half of them expect the effectiveness of direct mail will increase. The same study reveals the "sweet spot" of the tools of the direct marketer. Electronic channels are good at generating sales leads and collecting consumer data, while TV is best to create sustainable brand awareness and image.
However, it is direct mail that scores highest for building brand loyalty, generating sales leads, communicating sales leads and gathering consumer data, according to research from Forester.
With numerous media options and limited consumer attention, efficiency and productivity of advertising investment become key. One way of obtaining efficiencies is by creating more synergy between the different media. Successful marketing integrates different media options. Various cases illustrate the impact of the combined effect of, let's say, television and magazine advertising. These confirm that one medium will positively influence the effect of the other medium and generate an overall higher impact.
The impact of one medium on another was strikingly demonstrated by a groundbreaking test. TV commercials and a direct mail pack were sent to airline customers. A control group did not receive the mailing. The brochure in the mail pack incorporated a frame from the TV commercial and a free flight bag as an incentive for booking.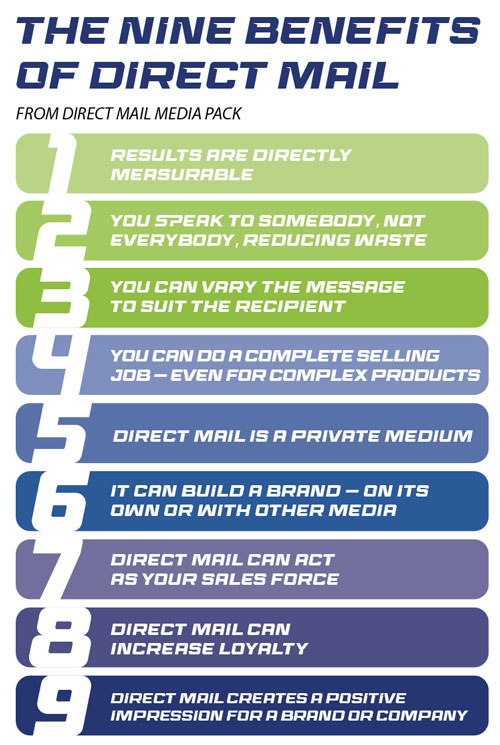 The results couldn't demonstrate clearer the benefits of an integrated multimedia campaign. Almost three-quarters of the customers who had received the mailing recalled the mailing. Of the customers who had received the mailing, 67 percent recalled the TV commercial, while only 9 percent of the customers who had not received the mailing recalled the TV commercial. Brand preference increased significantly in the group which received the mailing with 27 percent voting the airline as their first choice in the USA, while it was the first choice of only one percent in the control group.
A consortium of radio network companies in Britain conducted a study on the crossmedia synergy. It indicated that 73 percent of radio listeners could remember key visual elements of the television commercials when hearing radio commercials. In addition, 57 percent relived the television advertisements while listening to the radio advertisement.
A second medium delivers cues for remembering the other medium and, in doing so, strengthens the overall impact.
Today's integration goes beyond that. Brands are supported by integrated campaigns that address customers and prospects via all customer touchpoints using the full scope of media to address them. At Ogilvy & Mather — a leading advertising agency —this is called 360° branding. It is a holistic look at communications taking from each discipline what is necessary to build a brand.
Ads do work; targeted ads though are more cost-effective, yet most advertising and marketing efforts are completely untargeted. They are hurricanes, whipping through a marketplace horizontally, touching everyone in the same way, regardless of who they are and what they want.
There is a huge amount of waste here, so much that it's easy to assert that advertising isn't working. Seth Godin, The Purple Cow.
Reaching the most valuable customers
Direct mail is a valuable contact point for consumers. With increased data about consumers, marketers know that not every consumer represents the same value. High value customers justify a more intense and personalised approach than customers renting a car once a year.
While the brand perception should be identical, the objectives per target group will be differentiated, and therefore also the investment level, the media, the messaging and the offers. Integrating objectives, media, creative and planning will avoid so called "silo thinking" and will deliver a stronger, single-minded brand in a more cost-effective way. Media are complementary instead of replacing one another. It is often suggested that off-line direct mail will be replaced by on-line direct mail, yet it is the off-line direct mail that drives the web traffic. And a majority of the UK advertisers use direct mail for this purpose. The personalisation possibilities of direct mail are perceived as a strong benefit.
Advertisers and consumers prefer a tangible object, something that can be held or touched. People prefer paper to something that exists only electronically — how many of us read entire documents on the computer screen? Marketing is entering a new phase that transcends the mere coordination of messages across digital and physical channels. In this era of integrated marketing, advertisers will knit messages and media to involve consumers in a continuous brand experience.
Forrester Research and Fedma
Today, direct mail is an extension of the brand experience as expressed in the shop, through advertising or via the packaging. The image expressed through direct mail is consistent and coherent with other means of communication. It adds up to this overall brand feeling. Creative people value the individuality and the lack of constraints that direct mail offers. Writing to clients, prospects, new parents and newly-retired people requires a lot of empathy and understanding of specific situations. Direct mail combined with the latest digital printing technology offers the best possible way to personalise the message and to add whatever you want to a letter.
Sappi is the leading producer of coated fine paper and supplier to the global advertising and promotions industry. This excerpt is take from their Life With Print special report from 2006, which we view as a remarkable example of some of what continues to power mail as marketing. Sappi has Canadian plants and locations.