From Coal Mining Town into a Bucket-List Destination with Universal Acclaim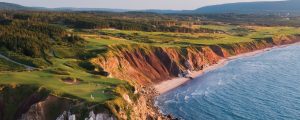 Cabot Cape Breton, located on over a mile of sandy beach along the coast of Cape Breton Island, Nova Scotia, emerged on the global stage a decade ago with the opening of Cabot Links, which was immediately heralded as one of the world's greatest golf courses. Cabot CEO and Co-founder Ben Cowan-Dewar discovered the former mining town 17 years ago, and with the help of a dedicated team, he has since turned the remote stretch of land into one of the premier golf destinations in the world. Cabot Cape Breton now includes a 72-room lodge, various real estate offerings, three restaurants and 46 thrilling holes of golf. Following the tremendous success revitalizing the rural region and catapulting the destination of Cape Breton onto the map, Cabot is now a world-renowned international brand with five properties in some of the world's most jaw-dropping settings.
The resort's dramatic setting, exceptional hospitality and three dynamic golf courses that rank among the world's best continues to draw a diverse set of visitors to the destination year after year. Cabot Cape Breton has generated a record-setting visitor number of visitors in 2022, with the golf courses at capacity most days and the hotel sold out for the entire season.
"It's incredible to reflect on everything that Cabot has accomplished in the past 10 years, and one of the greatest rewards has been seeing the profound economic impact the development has created in the region," said Ben Cowan-Dewar, CEO and co-founder of Cabot. "Thanks to our committed team, the gracious hospitality and personalized service that visitors first experienced a decade ago still holds true today, and we remain committed to creating memorable experiences and magical moments for our guests."
Over the past 10 years, Cabot Cape Breton has appeared on the covers of the most esteemed golf publications across the globe and tops the charts for having the best courses in the world by every golf ranking system. Recently, Cabot Cliffs was ranked No. 1 and Cabot Links No. 5 in SCOREGolf's Top 100 courses in Canada. Golf Digest named Cabot Cliffs the No. 1 golf course in Canada and No. 10 in the world and Cabot Links was ranked No. 6 in Canada and No. 39 in the world. In addition, Cabot Cliffs and Cabot Links were highlighted in LINKS Magazine's 21 Best Holes of the 21st Century and Cape Breton Island was once again voted the best island in Canada by Travel + Leisure readers in the 2022 World's Best Awards.
Beyond the warm hospitality and award-winning golf at Cabot Cape Breton, guests have access to countless land and sea excursions, and many visitors have been so captivated by the picturesque island that they requested permanent lodging. Cabot Cape Breton has seen tremendous success with its real estate offerings, planning thoughtful and beautiful homes that coexist with the natural surroundings. Fifty-five homes have been sold across four phases of real estate, with the latest phases selling out within hours of launching.
One of Cabot's guiding principles since opening its first course 10 years ago has been to support the communities in which it operates. Beyond employing over 560 people, the resort supports a variety of local organizations including United Way Cape Breton, the Inverness Development Association, the Nova Scotia Community College and the Sir Arthur Lewis Community College. By donating rounds of golf and offering hospitality training and scholarships to students, Cabot is an active partner in the community, bringing positive change to the lives of the people who call Cape Breton home. In addition, Cabot Links and Cabot Cliffs have both been designated as an Audubon Cooperative Sanctuary. To achieve the prestigious designation, courses must undergo a rigorous certification program and maintain a high standard of environmental stewardship.
TCN Consumer Survey Reveals Significant Increases in Brands Being Abandoned for Poor Customer Service
TCN, Inc., a global provider of a comprehensive cloud-based call center platform for enterprises, contact centers, BPOs, and collection agencies, today released the results of its second annual "Consumer Insights about Customer Service" survey. The national survey, conducted by OnePoll and commissioned by TCN, reveals Americans are very likely to abandon a brand after a poor customer service experience. On the other hand, Americans are also very likely to recommend a brand after a positive customer service experience. Additionally, despite the labor shortage the country has been experiencing over the past two years, customer service seems to have improved overall in the eyes of the consumer.
Consumers' desire to speak to a human has not changed. When asked their top three preferred methods of communication with a company's customer service department, the most chosen answer again this year was "talking to a live agent by phone," with 49 percent of respondents listing this option. Not far behind this option at 45 percent was "online chat with a live agent." This result clearly indicates that although technology can play a critical role in customer service, it should remain part of a larger strategy that still includes the human touch.
Fool Me Once
According to the survey, 66 percent of Americans are likely to abandon a brand after a poor customer service experience. This is a significant jump compared to only 42 percent in the 2021 survey. When asked how likely they were to abandon a brand after poor experiences, 27 percent said "very likely," up from 16 percent last year, and 39 percent said "somewhat likely," up from 25 percent last year. On the flip side, only 4 percent responded that they were very unlikely to abandon a brand this year, a significant drop from 20 percent in 2021.
Scream It From The Rooftops
Leaving customers with a smile at the end of a call can go a long way for referrals. 71 percent of Americans are likely to endorse a brand when they have a positive encounter. When asked how likely they are to recommend a brand after a great customer service experience, 35 percent said "very likely," and 36 percent said "somewhat likely." Conversely, only 7 percent said they are unlikely to recommend a brand after such an experience, so the chances of being advocated for are in favor of the brand.
Doing More With Less
It is no secret that many companies are trying their best to get by with fewer employees, and this trend of doing more with less is not expected to change anytime soon. According to the Bureau of Labor Statistics, the projected average growth rate for all occupations from 2020 – 2030 is 8 percent, but when looking at customer service specifically, the estimated growth is actually -1 percent. Even so, customer service does seem to be improving in the eyes of consumers. According to the survey, half of Americans believe the coronavirus pandemic has positively impacted customer service. When asked how they think the pandemic impacted customer service in general, 20 percent responded "it made it significantly better;" 30 percent said "it made it slightly better;" and only 25 percent believe it has gotten worse. 25 percent stated that they saw no effect.
Other key findings include:
I'm Telling Everyone: When asked if they have ever posted an online review about a poor customer service experience with a company, 50 percent said "yes," up from 42 percent in 2021. The responses remained consistent across all age groups.
 Buy From This Brand: On the other hand, 55 percent of consumers stated that they had posted an online review about a great customer service experience. Last year, only 33 percent said they had posted positive reviews.
 We Apologize For The Delay: No one likes waiting on hold, but how long is too long? The average hold time in the 2022 survey was 14.6 minutes, which was down 16 percent from last year's average of 17.4 minutes. When asked the longest they have been on hold when calling a company's customer service department, 26 percent said "6-10 minutes;" 25 percent said "11-15 minutes;" and only 11 percent said "31 minutes or longer" compared to 23 percent selecting this option last year.
 Most Improved, Cable & Wireless: When asked which companies offer the best customer service, the industry that was named the most often was cable & wireless, with 22 percent of respondents calling these brands out. This is a significant improvement from last year when only 7 percent of consumers chose companies in this industry.
 May I Ask Who's Calling: Either people are becoming more trusting of anti-spam regulations, or they just want to speak to someone. 47 percent of respondents stated that they are likely to answer a call from an unknown number in this year's survey compared to only 42 percent last year. On the flip side, only 33 percent are unlikely to pick up the call, much less than the 50 percent in 2021 who would rather hit the side button.
 Scam Likely: Despite many regulations being put into place to reduce the number of spam calls consumers receive, Americans feel they are receiving more calls from unknown numbers. When asked how many calls on average they typically receive in a week from unknown numbers, this year's average number was 9.2, compared to 8.6 last year.
 Incoming Call, Again: When looking at the stats above, it is no surprise that 61 percent of consumers stated they are receiving more calls from unknown numbers over the past year.
Press 1 To Hear Your Balance: Overall, consumers are satisfied with self-service options in many instances. When asked how satisfied or dissatisfied they are when using a self-service option, 65 percent said they are either "extremely satisfied" or "somewhat satisfied," while only 12 percent stated dissatisfaction.
 Click Here To Chat: Chatbots are becoming more intelligent and, in turn, resolving many customer service issues without the need to introduce a live agent. 55 percent of consumers said they are satisfied when using online chatbots to resolve a customer service issue.
Healthcare & Finance Dropping Slightly: Customer service in the healthcare and finance industries is still fairing well, despite a slight drop in satisfaction. When asked how satisfied or dissatisfied they were when contacting healthcare organizations, 59 percent were satisfied, a 5 percent drop from 64 percent stating satisfaction in 2021. When asked how satisfied or dissatisfied they were when contacting financial institutions, 60 percent were satisfied compared to 68 percent last year.
 How Can I Help You: An agent's ability to solve a customer's issue is critical, especially for the 52 percent of consumers who chose this as a top-three quality of a customer service agent. Equally important is getting the customer through to the right agent; when asked what is most important when contacting a company's customer service department, 48 percent chose "easy to get through to a live agent."
 Call Dropped: Along with positive experiences dealing with customer service departments, some situations can also bring frustrations. When asked what best describes the biggest frustration(s) when calling a company's customer service department for the second year in a row, the most chosen answer was "waiting on hold for a long time and then getting disconnected and having to start all over again." 50 percent of respondents chose this answer this year, a slight drop from 68 percent in 2021, but still the most common response.
"This year's survey reveals some interesting insights into the progress that contact centers have made in their customer service engagements with customers. The results really drive home the importance of positive customer service and its significant impact on brand loyalty," said McKay Bird, marketing director at TCN. "When comparing the 2022 results to 2021, we are happy to see improvements in many areas such as reduced wait times, and major industries like cable & wireless improving overall customer satisfaction. Other major industries like healthcare and finance appear to be doing well; however, it will be critical to continue providing a wide variety of contact options for their customers to keep them happy."
Survey Methodology
Commissioned by TCN, the 2022 "Consumer Insights About Customer Service" survey was conducted by OnePoll, a marketing research company specializing in online quantitative research and polling, between May 12-16, 2022. Feedback was obtained from 1,000 U.S. adults. TCN is a global provider of a comprehensive, cloud-based call center platform for enterprises, contact centers, business process outsourcing firms (BPOs) and collection agencies. Founded in 1999, TCN combines a deep understanding of the needs of call centers with a unique approach to pricing — no contracts, monthly minimums or maintenance fees — that supports rapid scaling and instant flexibility to changing business needs.
Datable Signs Year-Long Contract Renewal
Datable Technology Corporation, the developer of a proprietary SaaS-based Consumer Lifecycle and Data Management Platform called PLATFORM3, signed an agreement for a one-year contract renewal with a leading manufacturer and distributor of consumer-centric and compliance driven solutions and products that has been using PLATFORM3 since 2019 to host its loyalty and consumer data program.
The Agreement pays Datable approximately $170,000 in license revenues, with additional revenues expected from transaction fees, rewards and upsells. Gross margin on the revenues is expected to be greater than Datable's gross margin of 43 percent in the first quarter of 2022 due to the product mix.
In June, Datable announced four new agreements with existing customers for marketing programs to be completed in 2022 and early 2023.
The customers include:
A leading advertising agency on behalf of one of the world's largest global consumer goods companies, a customer of the Company since 2019, signed on June 21, 2022. This program is notable as it is the first time that a customer will use PLATFORM3 to host a B-to-B program to reward its distribution salesforce for making sales. It is expected that the initial program will be expanded, subject to a successful trial.
The home entertainment division of a leading U.S.-based film production and distribution company, an existing customer of Datable who has been using PLATFORM3 to host its loyalty program since 2018, signed on June 22, 2022.
A leading bedding company, that has been a customer since 2020, signed on June 13, 2022.
A Canadian based marketing and promotions agency on behalf of one of their customers that signed their first agreement with Datable in 2021, signed on June 20, 2022.
The Agreements are contracted to generate approximately $126,000 in license and rewards revenues, with additional revenues expected from transaction fees, rewards and upsells. Three of the marketing programs covered by the Agreements are scheduled to be completed in 2022 and one in early 2023, with gross margin expected to be between 40 percent and 50 percent.
"We have worked with this customer since 2019 and been building a valuable database of consumers who engage with their brands via PLATFORM3 driving incremental sales and brand awareness," said Robert Craig, Datable's CEO.  "Consumer goods companies that license PLATFORM3 under our annual and multi-year SaaS agreements have very high renewal rates because we deliver quantifiable ROI by helping leading brands monetize first-party opt-in consumer data."
Datable now has over $4 million in revenue under contracts for 2022 and future periods, of which approximately $3.5 million is expected to be recognized as revenue in 2022.  This includes over $3.7 million in contracted revenues and close to $400,000 in expected program fees from customers.  Datable expects gross margin to be between 40 percent and 50 percent in 2022, depending on the product mix.
Datable has developed PLATFORM3 a proprietary Consumer Lifecycle and Data Management Platform that is sold to global consumer brands. PLATFORM3 is delivered as a subscription service (Software as a Service model) and used by some of the worlds' most valuable consumer brands to access new consumer communities and engage them while collecting, analyzing, and managing their first-party data. PLATFORM3 incorporates proprietary technology to monetize the consumer data, including demographics and purchasing behaviour, by sending consumers targeted offers by email and text messages.
CAA releases Canadian EV Buyer's Guide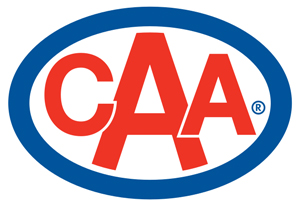 The Canadian Automobile Association (CAA) has a new interactive EV Buyer's Guide that allows Canadians to look up which EVs might be best for them, along with information on the other critical elements of owning an electric vehicle. The EV Buyer's Guide is a user-friendly online tool aimed at the EV-curious, with information on all the 90-plus electric vehicles on the market today, as well as facts and advice on price, savings, charging, and owning an EV in Canada.
"CAA has been supporting the transition to more fuel-efficient and zero emission vehicles for more than a decade," said Ian Jack, Vice President of Public Affairs for CAA National. "We wanted a one-stop, neutral source of information for those considering an EV for their next vehicle, and we think our guide delivers it."
According to a recent study, seven in 10 Canadians intend to make their next vehicle purchase an EV. The CAA EV Buyer's Guide provides potential buyers with the information they need to turn their curiosity into confidence.
In Canada sales of new electric vehicles grew from 5 percent in 2021 to 7.7 percent in the first quarter of 2022, and with its growing EV market, Canadians will be seeking a location to learn more about EVs that is simple, accurate, and thorough.
CAA is a federation of eight Clubs providing over 6.8 million Members with exceptional emergency roadside service, complete automotive and travel services, Member savings and comprehensive insurance services. CAA also advocates on issues of concern to its Members and Canadians, including road safety, the environment, mobility, infrastructure, and consumer protection.