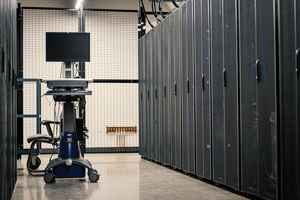 Canada's Data Centre Demand
According to Arizton's latest research report, the Canadian data centre market is to grow at a CAGR of 8.70 percent during 2022-2028. Over the next few years, Canada's maximum data centre demand will come from the cloud segment, followed by the IT and Telecom, government, eCommerce, BFSI, healthcare, and education sectors. Canada is a well-established market in North America. The country supports investments with its macroeconomic policies and other incentives for investors. Toronto and Montreal are Canada's primary data centre hubs, with cities such as Calgary and Kamloops also receiving investments from eStruxture Data Centers and Equinix, respectively, during the forecast period.
Toronto and Montreal are the primary data centre hubs in Canada, with cities such as Calgary and Kamloops also receiving investments from eStruxture Data Centers and Equinix, respectively, during the forecast period. Over the next few years, the maximum data center demand in Canada is expected to come from the cloud segment, followed by the IT and Telecom, government, eCommerce, BFSI, healthcare, and education sectors. Canada has some of the greenest data center facilities, with an average Power Usage Effectiveness (PUE) of around 1.2. According to the International Renewable Energy Agency (IRENA), in 2020, around 81 percent of the renewable energy generated in the country came from hydro and other marine sources.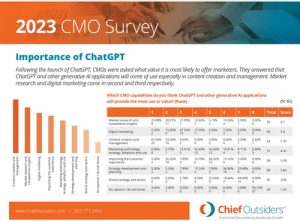 Survey of CMOs: Recession Fears Cause Companies to Double Down on Demand Activation
Chief Outsiders is a firm that offers companies fractional Chief Marketing Officer and Chief Sales Officer services. These services are delivered by executives with Fortune 500 experience. They recently released the results from their fourth annual survey of its CMOs on their 2023 outlook – among the main findings: fears of a recession are driving a shift to demand activation and away from long-term brand building.
"One of the key findings of our 4th annual survey of CMOs indicates that the current inflationary environment is having companies place a much greater emphasis on near-term sales, so we have a recalibration of the brand building/demand activation strategic mix, in favour of the latter," said Art Saxby, founder, co-principal and CEO of Chief Outsiders. "The new emphasis on demand activation is very understandable. Of course, it is then the role of CMOs to make sure that in the current economic climate, companies do not forget to invest in their brands altogether."
"CMOs believe safeguarding growth to be the highest priority for the C-Suite in 2023. They also see that CEOs increasingly give CMOs the responsibility to drive that effort, and it looks like this shift to a very strategic, even business-critical, role for the CMO will be permanent," said Pete Hayes, CMO and co-principal of Chief Outsiders. "What will now help bring about the much-desired growth? Our CMOs believe that revisiting market and competitive insights, refreshing strategy, and accelerating digital marketing capabilities will be three critical factors in helping companies grow in 2023."
The survey of 80 CMOs provides insights into the shifting CMO role in driving growth, the impact of technology and emerging trends, and the priorities for C-suite and private equity in the coming year. The survey also shines a light on the importance of customer experience, the impact of emerging technologies on marketing, and the trends in social media and DTC sales in 2023. Some specific insights that CEOs and other members of the C-Suite can draw from the survey include:
AI and Machine Learning Revolutionary. AI and machine learning will be a game-changing technology in 2023, and they will have the most impact on marketing regarding customer targeting and modelling customer behaviour.
Economy a Headwind to Growth. 84 percent of CMOs believe the economic and business climate of the next 12 months will negatively impact business goals. The economic climate will hamper the ability to meet performance expectations, citing inflation, talent issues, and supply chain issues.
Sales & Marketing Misaligned. CMOs believe poorly defined strategy and corporate culture are the most likely causes of misaligned sales and marketing. Still, they believe that the relationship between sales and marketing has improved as companies rely on digital channels for demand generation.
CMO Role in C-Suite Changing. 74 percent of CMOs believe there has been a shift in the past 12 months in the role CMOs are expected to play in driving growth, with the majority of CMOs believing there is more emphasis on immediate sales, less long-term thinking, and more short-term thinking. Most CMOs believe this shift is driven by changing customer behaviour and increased competition. 75 percent of CMOs believe this shift in how CEOs view CMOs as growth drivers are permanent.
Improved Perception of CMOs. 73 percent of CMOs believe they are viewed more positively by CEOs than in previous years.
Market Research Driving Growth. CMOs believe that market research and competitive insights, strategy development and planning, and digital marketing will be the most significant driving factors in delivering growth.
Growth Trumping Other Priorities. The majority of CMOs selected "Setting the growth agenda" as the highest priority for C-Suite / PE in 2023.
Customer Experience a Competitive Advantage. CMOs believe that creating a best-in-class customer experience is a significant competitive advantage and that market research and competitive insights, strategy development and planning, and digital marketing will be the most important driving factors in delivering growth.
Video Popular on Social Media. Most CMOs believe that customers want to be communicated with over social media platforms through video. Most of them will make video content production a priority in 2023.
LinkedIn and Instagram Most Popular. CMOs cited LinkedIn as their likely predominant social platform for B2B, and Instagram for B2C influencer campaigns in 2023.
DTC Sales up in Retail. CMOs believe either Retail or Health Care will significantly increase DTC sales in 2023.
Gen Z Caring about ESG. Most CMOs surveyed believe Gen Z is the most concerned about a brand's stance on ESG when considering buying.
Following the launch of ChatGPT, CMOs were also asked what value ChatGPT is most likely to offer marketers. They answered that ChatGPT and other generative AI applications will be used, especially in content creation and management. Market research and digital marketing came in second and third respectively.
"Marketing professionals should embrace AI for the many ways the technology can help them serve their clients efficiently," said Hayes. "AI will not replace experienced marketers and everything they have to offer their clients, but marketers who are versed in AI will replace those who do not understand the technology."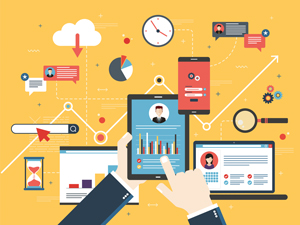 Arima and Vividata Partner to Enable Use of Study of Canadian Consumer Within Arima Data Science Platform
Arima today announced that the Vividata Study of the Canadian Consumer (SCC) is now available as a premium addition to the Arima Data Science Platform. Now, Vividata's SCC data is available across Arima's advanced marketing platform, which includes fully customized consumer insights (Persona Builder) and enables media planning (Cross Media Planner) and spatial decision-making (Location Intelligence).
Arima and Vividata will continue to explore and educate the Canadian marketing sector on the benefits and implications of synthetic data for marketing uses.
"Synthetic data is regarded as the gold standard for data sharing by privacy advocates. It is inter-operational across digital and analogue media, does not depend on cookies, and because there is no one-to-one connection with individuals, it does not require consent management," says Arima founder, Winston Li. "We expect that our work with Vividata, a company that is highly regarded in the media and marketing industry, will greatly advance cross-media planning, measurement and evaluation."
As marketers, agencies, broadcasters, and publishers develop new approaches to privacy compliance and data protection, this integration offers key benefits including:
Variables within Arima's Synthetic Society expand from 5,000 to 25,000 attributes;
Ability to fuse Vividata media planning data with Arima Marketing Mix Models for cross-media planning and attribution;
Vividata/Arima users can begin to explore the use of SyntheticIDs within media buying/selling arrangements; and,
Advertiser's custom questions could be added to the Synthetic Society.
"Vividata is pleased to partner with Arima — a thought leader in synthetic data," says Pat Pellegrini, President and CEO at Vividata. "The expanded capabilities offered by working with the Arima platform deliver immediate benefits to Vividata users. Its advancements through synthetic data let users see our data in new ways that are completely privacy compliant, creating new possibilities for analysis."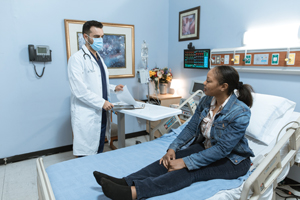 Preventive Healthcare Technologies And Services Global Market Report
The global preventive healthcare technologies and services market grew from $220.95 billion in 2022 to $251.83 billion in 2023 at a compound annual growth rate (CAGR) of 14.0 percent. The Russia-Ukraine war disrupted the chances of global economic recovery from the COVID-19 pandemic, at least in the short term. The war between these two countries has led to economic sanctions on multiple countries, a surge in commodity prices, and supply chain disruptions, causing inflation across goods and services and affecting many markets across the globe. The preventive healthcare technologies and services market is expected to grow to $441.5 billion in 2027 at a CAGR of 15.1 percent.
The preventive healthcare technologies market includes revenues earned by entities remote patient monitoring, 5G-enabled devices, and wearable sensors. The market value includes the value of related goods sold by the service provider or included within the service offering. Only goods and services traded between entities or sold to end consumers are included.
Preventive healthcare technologies include screenings, check-ups, and patient counselling to identify and prevent health problems. Preventive healthcare technology devices are more commonly used to measure daily life health patterns like blood oxygen saturation, heart rate, blood pressure, and sleep patterns.
Preventive healthcare technologies and services are used to take measures and identify future illnesses and treatment by healthcare providers. North America was the largest region in the preventive healthcare technologies and services market in 2022. Europe is expected to be the fastest-growing region in the forecast period.
The main types of preventive healthcare technologies and services market are early detection and screening technologies, vaccines, chronic disease management technologies, and advanced technologies to reduce errors. Early detection and screening technologies are used to identify future health conditions of patients.
The early detection and screening technologies include x-ray, CT, ultrasound, and magnetic resonance imaging (MRI). The applications of preventive healthcare technologies and services are in hospitals and clinics.
An increase in the older population pool is increasing demand for the preventive healthcare technologies and services market. Medical problems are known to increase with age, due to this preventing or identifying problems at an early stage can decrease the risk and intensity of the issue.
According to the United Nations survey, an intergovernmental organization, there were around 727 million persons that were aged 65 years or above in 2020 and it is projected to reach around 1.5 billion in 2050. This increase in the aged people population can also directly impact the preventive healthcare technologies market.
The use of artificial intelligence (AI) as a preventive healthcare technique is a rising trend in the preventive healthcare technologies and services market. Many medical conditions such as identifying type 1 diabetes, indications of Alzheimer's, and predicting breast cancer, and cardiovascular diseases can be identified using advanced AI technologies.
Some orthopedic spine surgery experts from Boston-based Massachusetts General Hospital suggest that machine learning and AI can also predict personalized and accurate assumptions of where fractures will happen on a patient based on the history of the patient and the historic database available. Similarly, in November 2020, Medtronic, American-Irish registered medical device company acquired France based company, Medicrea that provides AI-driven surgical planning and predictive modelling tools which helps to improve the quality of spine management.
In November 2021, Hellman & Friedman and Bain Capital, a private equity firm, acquired Athenahealth, Inc for $17 billion. This acquisition will help Athenahealth become the largest and most innovative provider of cloud-based electronic medical records and physician practice solutions in the USA. Athenahealth, Inc is a cloud computing vendor that enhances the clinical quality, operational efficiency, and delivery of preventive care to many patients in the US.