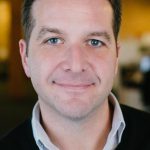 By Michael Phillips
Take a walk through a nearby mall (if it's still open) and you'll notice the obvious: retail is in free fall.
And while there are many reasons for the crisis—online commerce, shifting consumer behaviour and poor in-store experiences, to name a few—there is also a solution.
That solution, and the key for retail moving forward, is about providing complementary online and offline experiences so that consumers get what they want from those specific interactions.
Marketing, both direct and in-store, will have a big role to play. Marketers and retailers must train customers to expect appropriate and valuable experiences and value exchanges, according to whichever way they have decided to interact with the brands that day.
That means adding value to the customer journey every step of the way, from initial consideration to brand loyalty, and from the mobile phone to the store aisle endcap.
The exciting thing about being in this space is that technology is giving the marketing world a huge set of tools to build each of these individualized experiences. To help our clients start thinking about this exact issue, and the possibilities of a new era of marketing and retail, Making Waves built an experience that combines content management systems (CMS), beacons, Bluetooth and mobile apps.
Beginning the journey
Our simulated customer journey begins with a mobile phone and an app (as many journeys do these days).
Let's say that our customer is in the market for a new pair of shoes. As she interacts with our brand on her mobile phone, perhaps through search, an online ad or email, we can suggest that she download our app and opt-in for exclusive products, discounts and content. She does, and we log that interaction to start her user profile, along with any other interaction she takes while viewing our products.
In this case, after a few online and mobile browsing sessions, we see that our customer seems to like red running shoes. But she really needs to see them before buying.
So, she visits a nearby running shoe store where we have several styles sitting on a shelf, each with a small Bluetooth beacon in the sole, including a red running shoe. As she enters the store, the app on her phone tells the beacon in the red shoe that she is near.
So, the monitor above the shoe comes to life, encouraging our customer to pick up the red shoe. She notices and does indeed pick it up. The beacon notices the movement and now prompts her to interact: perhaps encouraging her to turn the shoe over and feel the tread engineered for off-road running (a tactile offline-only experience.) She does that, while the monitor displays more information about the shoe's attributes. She likes it but ultimately puts the shoe down and leaves the store.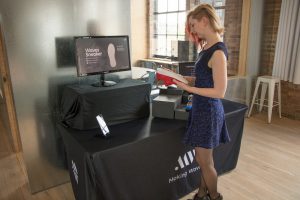 What happened?
We know that she showed strong interest in the red shoe. She viewed it on her mobile phone and on the app. She visited a retail location to see it in person. She picked it up and spent some time with it. She turned it over, felt the sole then put it down. Then, she left.
We know that this product has a sole specifically engineered for off-road running. And once our customer interacted with the sole she ended the engagement. Maybe she's not an off-road runner. Maybe she's a road runner? Is it worth sending an email or a notification through the app that we have that same red running shoe with a sole engineered for road running?
Let's say we do and our customer makes a purchase. We can then follow up with products and content that make her running life even better: maybe reflective gear to stay safe, or recommended routes through her city (which we know, because we logged her location when she visited the store.) Now, we're adding value to her interaction with our brand, while adding knowledge to our marketing and product teams.
Of course, the above example is oversimplified. But its purpose is to demonstrate how adding value to each step of the customer journey—from online to offline to online again—leads to a more complete and rewarding experience, and a better chance for conversation and conversion.
By connecting the experiences, every little interaction gives marketers another key data point. Instead of acting on assumptions, technology like this gives us the ability to constantly refine our communications and approaches. In combination with artificial intelligence (AI) and machine learning, we can help customers get exactly what they want, down to the individual level.
We can also make predictions based on the past behavior of similar customers. Much like Waze, the crowd-sourced navigation app helps commuters find the best route to work based on people who drove to that same destination minutes earlier.
Ultimately, it's by providing value like this that consumers will continue to allow marketers into their lives. Because while technology gives us the ability to do some amazing things, we can't do any of it without users helping us understand what they want and need. In exchange for value, the brands receive data about how customers live with the brands (or don't) that can be used to build even more disruptive technology that helps everyone prosper.
Michael Phillips is creative director at Making Waves, a digital agency and consultancy. He oversees creative concepting and execution, brand development, brand management and digital and offline campaign development. He can be reached via email at michael.phillips@makingwaves.com. Visit the prototype at https://vimeo.com/259898939