Company marks anniversary with key acquisition, strong growth, support for start-ups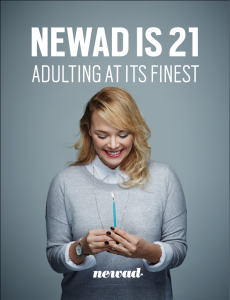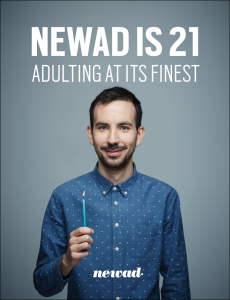 PRESS RELEASE: Montreal — Newad, Canada's leading indoor advertising network, celebrates 21 years of operation in 2016 with strong growth and a unique campaign to mark its official entry into adulthood.
Newad closed its 20th year with the acquisition of the majority of Zoom Media's indoor advertising networks in Canada, new offices in Quebec City and Edmonton, and strong sales. With the addition of its former competitor's key assets, Newad now offers the largest number of indoor advertising spaces in the country, with 40,000 digital and static ad boards in 5,000 prime locations, delivering over 75 million weekly impressions.
"Because we've continued to strengthen our position as Canada's leading indoor advertising company, we've been able to kick off 2016 with a bigger growth in sales than we've seen in the past three years," says Michael Reha, Newad's founder and CEO, who heads the company of 150 employees. Reha largely attributes the company's recent growth to its expanded digital indoor network and its ability to reach and engage a highly coveted demographic, Canada's influential adults aged 18 to 49.
Connecting with this demographic is Newad's focus, and key for Canada's leading brands because these 18 to 49-year-olds spend more money than the average Canadians of the same age and influence purchasing trends. They are tech-savvy, educated and spend a greater amount of time outside of the home than their peers. They are also highly active on social media and the connectors within their social groups. Brands partner with Newad because it offers unique an effective targeted advertising solutions to reach and engage with this coveted demographic.
"For the next few years, our strategic plan is simple: we want to continue to be the best in indoor advertising in Canada, to consolidate our leadership in digital advertising, and to show advertisers that our products are complimentary solutions to that of the web or TV. Technology enables consumers to bypass ads online, namely through pre-recorded shows or ad blocking. But consumers have a life offline and, as such, indoor advertising continues to play a major role in their day-to-day," says Reha.
As the company matures, it is planning a number of activities throughout 2016 to celebrate the major milestone. This spring, hundreds of agency clients and partners will be invited to exclusive parties in Vancouver, Toronto and Montreal in celebration of Newad's 21st birthday.
Supporting the next generation
The Newad team wants to support the next generation of innovation and showcase them to Canadian audiences. The Start-Up 21 initiative will allow 21 innovative companies to benefit from indoor advertising campaigns of four weeks that will help propel them to the next level of growth.
The Start-Up 21 campaign represents a helping hand—one that's likely to make a major difference for start-ups, which often have great business ideas but don't have the means to promote themselves properly in the early stages," explains Reha.
Newad will join forces with veterans from the start-up industry to select the most innovative projects amongst the submissions. Committee members and submission dates to be announced shortly.
Newad's 21st anniversary: A bit of history
"I founded Newad 21 years ago, at a time when nobody in the advertising industry believed in the power of indoor advertising. We had to give our first campaigns away for free in order to demonstrate that our solutions were high-performing," recalls Reha. Now with 150 employees, Newad has seen 20 years of sustained growth, despite the economic crisis and all the turmoil that continues to shake up the media and advertising sectors.