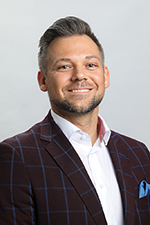 By Ryan Lazar
In an economy that has been brought to a standstill by COVID-19, there is no such thing as "business as usual." Many Canadian organizations have hit 'pause' during the global pandemic, but others are using the slowdown to reevaluate and revamp their operations.
While these businesses have always "done their best" to serve and satisfy their customers, this moment of reflection has made them realize that they've never actually invested in creating high-touch, high-value customer experiences.
Almost half (43 percent) of consumers would pay more for more convenient customer experiences, according to PricewaterhouseCooper, and one in three (32 percent) people will actually stop doing business with a brand they love after just one bad experience.
With consumer demand showing that 'experience' can be an unrivalled competitive differentiator, now's the time for companies to invest in this integral, often overlooked, area of their business.
Collect personalized feedback along the customer journey
Many Canadian businesses have started to realize the limits of customer satisfaction (CSAT) and Net Promoter Score (NPS) surveys, which roll out annually and collect general sentiments about a brand that are usually out of date by the time they're actioned on.
Instead, leading organizations are now using tools that allow them to segment their customers (platinum, gold, silver, etc.) and collect insights across different touchpoints of the customer journey. A retailer, for example, could ask customers for specifics regarding the speed of the checkout process, if they found the items they were looking for, and if the store's employees were helpful.
At Qualtrics, we call our software a listening platform because the goal is to avoid "survey fatigue" by making the entire experience feel more conversational. By personalizing communication to different types of customers on the channels they prefer (SMS, email, within an app, etc.), we help brands collect actionable feedback throughout the customer journey.
This is a process that customers appreciate as well.
Act on customer insights in real time
The most important part of collecting feedback is acting on it, and not just acting on it, but acting on it in a timely manner so it's still top of mind or relevant to your customers. According to The Social Habit, 32 percent of people who contact a brand, product or company through social media for customer support expect a response within 30 minutes, and 42 percent expect a response within an hour.
We operate in a much quicker world today so when a negative customer experience occurs, businesses must be able to close the loop fast. The key benefit of using a software-first platform like Qualtrics is being able to learn where you're underperforming in real time so you can address any problem areas immediately with tactical solutions.
By allowing you to dive under the hood with data specific to region, market, store or team, our software helps organizations get ahead of emerging trends that might be negatively impacting customer experience.
Incorporate employee experience
The biggest mistake businesses make when trying to deliver high-value customer experiences is failing to consider employee experience. Tackling one without the other is kind of like dipping your toe in the water. A satisfied employee will create great products and deliver fantastic service, which means your customers are going to be very satisfied, which means you will have an incredible brand. They all tie in together.
Consider the frontline employees who interact with customers more than anyone in an organization. When you allow staff to provide regular feedback on how to improve service levels, and then action on their suggestions in a timely manner, that can be an incredibly empowering experience for your team members.
The same goes for businesses that are rolling out new technology across the organization. Collecting real-time feedback from your employees could be the difference between a successful digital transformation and a failed implementation. In a recent company survey, millennials told us they want to be asked for their feedback at least four times a year, or once a quarter.
See the whole picture
There's often an astounding disparity between how businesses think customers feel about their products and services compared to how they actually feel. For instance, 80 percent of CEOs believe they have a great customer experience, but only eight percent of customers feel the same.
This is a stat I often use to illustrate the 'experience gap' in the market today. And it is my belief that many Canadian businesses are falling short because they haven't been able to automate actions across business functions to drive improvement in customer, employee, product, and brand experiences.
What I'm describing is the relatively new and growing field of Experience Management (XM). Today, over 11,000 organizations around the world are using XM software to listen, understand and action on experience data. This data provides an up-to-date snapshot of the beliefs, emotions and intentions of employees and customers, helping businesses comprehend why things are happening across their company in real time, while instantly figuring out what steps to take next.
In a post-COVID world, companies will be eager to hit the ground running and make up for lost profits. By using these murky times to prioritize 'experience' across your organization, you can better position your business to deliver the kind of high-touch, high-value customer experiences that people now expect.
Ryan Lazar is Area VP of Sales in Canada for Qualtrics.