Measuring attention and optimizing marketing design concepts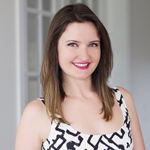 By Diana Lucaci | Images courtesy True Impact Marketing

The weather is getting warmer and I've eyeing my motorcycle again. I love being on my bike, open to where the roads might lead yet very focused in the moment. It's the perfect getaway for someone whose brain never stops buzzing.
The interesting fact about steering a motorcycle is that you end up driving toward whatever you're looking at. If you're too nearsighted, you will overcorrect often, leaving you feeling anxious and exhausted. If you look too far in the distance, you won't be flexible enough to adapt in the moment. Ideally, you can train yourself to look exactly where you want the bike to go next while keeping an overall mental map of the road and your destination. I think about marketing and entrepreneurship in a similar way.
To accomplish a long-term marketing plan, you have to begin by setting goals, doing the next right thing and continuously adjusting, testing and experimenting. You must think beyond generating leads from a single direct mail campaign, but across channels and through to revenue. This means looking at each customer touch point critically, and objectively and optimizing for conversion. Look too close and you risk experiencing decision paralysis. Look too far and you risk not laying the practical foundation needed to get you there.
In my work, I interact with many in-house marketing and design teams within mid-large brands, and sometimes we work with growth and performance-minded creative agencies as well. Many brands are struggling with connecting with their customers. Many of them have goals yet a diluted, unclear roadmap for getting there. Many operate from a scarcity mindset and try to cut corners, timelines, and budgets — all to do 'more with less'. (You will do less with less, that's just a fact.) To thrive in today's consumer landscape, marketers must treat their work with a scientist's mindset. Start with an objective and hypothesis, experiment and get some initial results, then iterate and share your findings with other business units. This 'growth marketing' approach relies heavily on data analysis and testing different variations of marketing tactics to find the most effective ones.
Thanks to advances in generative AI, you can create large quantities of content in seconds, allowing you to visualize and test concepts at scale. You can easily change backgrounds, characters or objects without starting from scratch. Imagine having 10 iterations of a direct mail piece in seconds. Now imagine testing them quickly, and objectively and selecting the one that best aligns with your marketing objective. How much time would this save the design team when choosing which concept to present to leadership? How much more productive would your meetings be if you could discuss strategy while placing trust in your design professionals? How easy would it be to "press go" on the campaign and get some actual sleep the night before? This is why I love what I do. I enjoy helping brands optimize their message — what they're saying, how they're saying it — with help from neuroscience.
To have a chance at conversion, the marketing message must pass its first challenge: getting attention. A particularly scarce commodity these days, human attention has always been a brand's currency. Customers pay for a service with their attention and for brands, more attention means more sales. Factors like the platform, creative execution, ad format, media context and demographic contribute to attention overall. For example, some creative executions may contain five different calls to action, leading to a very confused reader. To avoid this and to captivate attention, it's helpful to consider design testing.
Until recently, measuring where customers look required samples of people, whether online or in person, and the use of very expensive technology that tracks eye movements, gaze patterns, pupil dilation and more. At True Impact, we spent over a decade conducting eye-tracking studies and collecting attention data. Traditional eye tracking is still very popular, however, it can be cost and timeline prohibitive for most applications. You may not be able to invest $25,000 and a week or two of testing every single piece of creative. However, thanks to AI, it is possible to predict where initial attention will go with an accuracy of over 80 percent. This means that within seconds, you can learn where most people will look, most of the time, within the first second of attention. This form of predictive eye tracking — a product we call trueSCAN — uses a visual attention prediction algorithm, requires no participants and delivers insights for a fraction of an in-person eye-tracking study.
Let's assume you have invested in running a direct mail campaign, a postcard for example, for an upcoming promotion. There wasn't enough time to test the piece, so it went straight to print and everybody had no choice but to cross their fingers. The results showed a conversion of less than 1 percent and now leadership is asking for a conversation. Unfortunately, I'm very familiar with this scenario.
Understanding what worked (or didn't) is very helpful, assuming we learn from the past. As a pragmatic thinker, I would instead recommend allowing a few hours for testing the piece before it is sent to print. Take Hand & Stone Spa for example. The original mailer featured a model that captivates all initial attention (See Figures 1 & 2), as seen by the bright red hotspot overlay. When the new design was tested, attention starts on the model however it quickly travels to the promotion and the main message (See Figures 3 & 4). The company experienced 25 percent more in-store service sales with the new design because it is simpler, and easier to understand, it directs attention to a few key areas and the facial expression is used intentionally.
In the case of a Telus poster, the high-contrast design element drew attention to the promotion details (See Figures 5 & 6). Using design areas of high contrast and perfect shapes helps to direct the gaze toward a key region.
Sometimes, attention may not be landing on a desired call to action. For example, the team at FPM Solutions created a postcard with the goal of driving more phone calls and appointment bookings. From the first design (See Figure 7), we learn what will be seen first: the human model and product, the "new location" promo and the "20% off" promo. This was not immediately conducive to their goals, therefore our team made a couple of suggestions from a neuro-design perspective, to help optimize conversions. In the new version (See Figure 8), the model image demonstrates the real-life application of the product, the promotion is still very salient, and best of all, the phone number call to action is now one of the first 3 things to be seen. When the piece went out, there was no question as to whether people will know what to do with the information. The goal became more apparent for the brand AND the customer. This is how a few small changes at the design stage can make a big difference down the line, in helping your audience to quickly and easily understand your message.
All these examples have one thing in common: brands who know who they are. The design execution is aligned with the campaign objective, which then ties into the revenue objective. Successful campaigns rely on people to create them. People who are curious, experimental and not afraid to fail. A skilled marketing team leverages AI to help them think laterally, and empathetically and to connect the dots between content and context. It completely doable. Begin with a mental roadmap, a clear destination and always look where you want to go.
Diana Lucaci is the Founder & CEO of True Impact Marketing, Canada's premier Neuromarketing Strategy and Research firm.