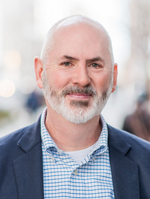 By Paul Tyndall
Event sponsorships give organizations ways to raise their profiles, but it's hard to measure their effectiveness. It's a challenging question for executives who want to know if the events they are being asked to sponsor will attract the consumers they are trying to reach.
The problem has been that there is no good way to collect visitor data at sponsored events. They are often too big and unwieldy for traditional measures, like intercept surveys, to be deployed efficiently and cost-effectively, particularly if the event is in a public space without a specific point of entry.
To address this data gap, we created MobileScapes, a mobile analytics tool, which is opening up a range of direct marketing possibilities. MobileScapes leverages mobile data, which is anonymized permission-based location data collected from smartphones observed in defined areas. These data can also be used to estimate the likely home postal codes (and in most cases, work locations) for the holders of those observed devices.
Who celebrated on Canada Day?
To illustrate the types of insights MobileScapes can provide, let's consider what they tell us about last year's Canada Day celebration on Parliament Hill. With 40,000 people on the Hill to enjoy the concert and watch the spectacular fireworks display, we can provide a detailed profile of the partygoers within a few simple clicks through our ENVISION platform. Users outline a location on a map, set the timeframe and get their insights.
For this event I found the three main fireworks viewing areas designated by the event organizers and combined them into one geofence. Next, I specified the date and time of the event (July 1st between 6 a.m. and midnight) and submitted the query through the mobile analytics tool in ENVISION.
In the background, our mobile analytics tool assigns residential postal codes based on where the devices are seen most often overnight (think of that as the inferred home neighbourhoods). Using a similar process, the tool assigns postal codes based on where the devices are seen most often during daytime working hours (i.e. inferred work locations). Once we have these postal codes, we can use that information to link to the wide range of demographic, psychographic, financial, behavioural and other databases to gain even more profound insights. The results speak for themselves.
In the spirit of a truly national celebration, there were visitors from every province and territory in attendance, with high numbers of visitors from each of the 25 largest cities in Canada. At least one visitor travelled more than 4,100 km to join the party.
By looking at the distribution of visitors through the lens of PRIZM, our popular segmentation product that classifies Canada's neighbourhoods into 68 unique lifestyle types, we can get more useful insights. For instance, the Urban Young Social Group—who tend to be single, university-educated in white-collar or service jobs—were overrepresented. Grads & Pads—one of the segments that shares the same social group as Urban Young—was almost ten times higher in attendance than the general population, while Urban Digirati—which also falls into this social group—was three times higher.
From a life stage perspective, attendees in the Singles Scene segment were observed at a 3.5 times higher rate than the other segments in attendance. Conversely, Older Parents with Younger Kids and Families with Tweens both scored below average. If you dig into the demographics of those in attendance, we find it skews younger and more likely to be singles. They were also more likely to be university graduates who are renting condominiums or apartments.
Targeting event-goers
In the past, marketers would have had to guess at who was at the party, but with this precise information they can make quantifiable and trackable business cases for their campaigns, optimize them and target their messages. With these insights, direct marketers can focus their efforts on these same segments ahead of the events, enticing them with special discounts and offers. Mobile data can be used by event organizers as well. Armed with these data, they can now target relevant companies and present compelling cases to sponsor their events.
By linking mobile data with our other comprehensive databases, marketers can learn what products and services attendees at the events are likely to consume, as well as the best ways to engage them. For instance, our data shows the crowd who showed up on Parliament Hill on Canada Day have a higher propensity to be using their mobile phones than the average Canadian. More than 16% of those who showed up for the party ordered food through mobile devices versus 12% in the rest of Canada. We also found that almost 20% of the crowd on the Hill were more likely to manage their finances on the go, including buying and selling financial products.
Given their comfort with digital technology, it should come as no surprise that many of the Canada Day partygoers are also more likely to respond to ads on social media and to pop-up ads, as well as those sent to them by text. Transit posters and billboards offer another effective way to reach this audience. That is a critical distinction for direct marketers given our data also found this group is less receptive to flyers delivered to their door.
Layering on additional data yields other exciting insights that demonstrate the power of third-party data. By linking mobile data with our SocialValues data, we found that these partygoers belonged to segments that had a higher interest in "Culture Sampling," "Pursuit of Novelty," "New Products" and "Risk Taking" behaviours. And given Canadians from far and wide came to join in on the festivities it probably comes as no surprise that the data confirms these Canadians are comfortable in crowds.
With our new Mobile Analytics tool within ENVISION, in a few short steps, I was able to compile a comprehensive profile of the attendees at a recent event despite not having any visitor data to start with. That is a lot of information from one little party.
Paul Tyndall is vice president, strategic projects at Environics Analytics.
Photo Credit: iStock: Steven_Kriemadis