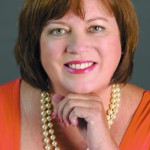 EY, a global leader in assurance, tax, transaction and advisory services, has named Environics Analytics (EA) President and Founder Jan Kestle a finalist in its EY Entrepreneur Of The Year awards program. Selected by an independent panel of judges, she is one of 40 Ontario area entrepreneurs who were named finalists by the prestigious program.
The awards program recognizes entrepreneurs who have demonstrated excellence and extraordinary success in such areas as innovation, financial performance and personal commitment to their businesses and communities. Kestle is one of the finalists honoured in the category of Media and Entertainment. The Ontario winners will be announced at a special gala event on October 29, and go on to compete with winners from other regions.
"Canadian entrepreneurs succeed because they're always searching for better," says Colleen McMorrow, EY's national Entrepreneur Of The Year program director. "This year's Ontario finalists are some of the best and brightest stars we've seen—and they're building their legacies by asking better questions to gain better answers; pushing boundaries to grow our economy; and helping build a better working world."
"We built Environics Analytics ?to help businesses better serve their customers—going from analytics to insight and engagement," says Kestle. "I appreciate this recognition and attribute our success to great customers, partners and team members. The EY program connected me with many amazing entrepreneurs and I am happy to be a part of it."
The Canadian Entrepreneur Of The Year program is in its 22nd year celebrating entrepreneurs from all areas of business and at different stages of their entrepreneurial journey. Award finalists are chosen based on their vision, leadership, innovation, financial success, personal integrity and work in giving back to their communities.