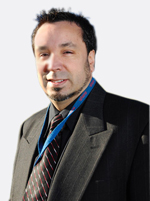 By David Chavez
People are the fabric of every company, and the engagement and success of employees directly correlates to both business results and customer satisfaction. Companies that effectively use next-generation digital technologies, combined with human intelligence, including emotional intelligence, have greater prospects for higher customer-centricity, loyalty, employee fulfillment and revenue growth.
Digital leaders recognize that artificial intelligence (AI) is necessary for continued growth and innovation in today's world. In 2019 this technology will begin to see greater prevalence in the contact centre. In fact, Gartner predicts that by 2022, 72% of customer interactions will involve AI in some form1.
The key to a successful implementation of AI in the contact centre, however, is ensuring the right strategy is in place. And that employees are set up for success.
Understanding customer needs
What is AI in this context? AI is computer software created and trained by humans that automates some tasks and allows natural language interaction with humans. AI has the promise of raising the customer experience (CX). When AI is combined with chatbot technology it can give businesses the ability to automate basic contact centre tasks, focusing the interactions to the actions usually needed at those specific points.
However, AI is only as valuable as the human intelligence that goes with it; the programmers need to understand what customers need at that point to foster the automation. By shifting basic tasks to automated technology, organizations will be able to provide live agents with the capacity to tackle complex interactions: interactions which go beyond the intelligence of technology and require the human touch to solve.
The return on investment (ROI) for spending resources on AI is there. Consider the top companies significantly investing in AI today: Google ($3.9 billion), Amazon ($871 million), Apple ($786 million), Intel ($776 million) and Microsoft ($690 million)2. Even among those businesses without such ample spend, research shows 46% are expecting an increase in revenue when AI is applied to customer service3.
By allowing AI to make contact centre interactions better, more intuitive and faster through intelligent routing, behaviour matching and increased access to actionable data, organizations will be able to deliver more authentic and meaningful experiences during the customer journey than ever before.
For example, think about the application of AI to analyze past consumer behaviour and intelligently pair customers with the best resources, both agents and subject matter experts, available organization-wide. During each of these interactions, they are granted real-time knowledge from data-driven internal and external databases including CRM, demographics and psychographics. Advanced predictive information gives agents, experts and enterprises the leverage to carry out quick service inquiries and match customers with informed insight to address their needs, all while driving personalized, goal-oriented outcomes. Like understanding how likely a customer is to buy a product: all before the first "hello".
The benefits of AI continue after every interaction. With all conversations recorded and transcribed, managers have complete coverage and supervision of their employees on demand. The AI-empowered contact centre is sure to demonstrate performance improvements across the board with employee productivity and customer service satisfaction.
Where to start
There is a vast landscape that AI can applied to in a contact centre. Selecting a place to start can be daunting yet it is critical. Many innovations fail because of a lack of focus on the desired outcome in mind, often yielding the dreaded science experiment.
Instead begin by thinking narrowly. Find a pain point in the customer journey. If it includes repetitive mundane tasks, then it is likely ripe for AI automation. Define success criteria, better if it is clearly measurable. Pilot the programme and include in it the ability of customers to provide feedback on their likes and dislikes of the interface and iterate. Once it is complete, move on to the next pain point. This makes AI adoption gradual and practical and helps the eventual human to human interactions to be more impactful.
Consumer expectations and technology solutions are rapidly evolving and influencing major changes to the contact centre. Enterprises that are planning to invest in AI have identified specific cases for applying, or are experimenting with transformative solutions across the organization, specifically AI for conversational intelligence, robotic process automation (RPA), analytics and insights. These technologies are helping to fulfill the needs of brands that are striving to drive customer loyalty and satisfaction by meeting the demands of a contextual end-to-end service experience.
By taking care of the customer first, AI brings increased profitability due to improved conversion rates, business processes and agent satisfaction. Why apply AI for customer experience now? The real question is: if not now, then when?
David Chavez is vice president, innovation, Avaya (www.avaya.com).
1 Gartner, "Gartner Advises Business and IT Leaders to Influence the Long-Term Direction of Artificial Intelligence", press release, November 7, 2017.
2 Olivia Krauth, "The 10 tech companies that have invested the most money in AI", TechRepublic, January 12, 2018.
3 Teradata," State of Artificial Intelligence for Enterprises", report, October 2017.