A strong history and a bright future: direct marketing in Canada
By John Wiltshire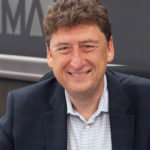 On the 30th anniversary of DM Magazine, I find myself reflecting on the history and the future of direct marketing.
The Canadian Marketing Association's direct marketing roots run deep. In 1967, the Canadian chapter of the American Direct Marketing Association broke away to form its own national entity, the Canadian Mail Marketing Association. From there, as more media channels were employed and the lines between marketing disciplines and channels blurred, direct marketing broadened and fostered new approaches, tactics and strategies.
I fondly remember the early days of direct marketing. At the time, I was working on Bay Street for a financial services company that was an early and successful adopter of direct mail as a tactic for customer acquisition. List management and selecting the right premiums and incentives were the tricks of the trade back then. If memory serves me correctly, there was no better incentive than a power drill to get people to open a savings account.
But this was also the era where segmentation, control groups and "lift" came into being. It was when we all sharpened our ability to draw a direct line between revenue and marketing efforts. Return on investment was a whole lot more than an educated guess.
On the heels of these early refinements came a steady stream of advancements, new strategies and transitioning ways of doing business in the marketing world. It seemed like everything we thought we knew had changed or was set for change.
Not only did direct marketing survive the rush forward, it has thrived. It is now a mix of email, text, social, yes still mail and, to a lesser extent, phone-based. At the core of it all is data: and lots of it. And attached to all that data are sophisticated consumers who don't want to be spammed and who are protective of their privacy.
Today's demands on direct marketers are clear and unforgiving. Be personable but don't be overly familiar. Be timely without being annoying or repetitive. I don't want to see online ads for ironing boards for three months after I buy an ironing board. But despite a continually evolving environment, small dispersed audiences and a general decline in consumers' receptiveness to sales agents, personalized direct marketing has a strong future.
Technology will continue to enable more precise and effective consumer contact at intent-rich moments: when consumers are seeking information related to purchasing decisions. While the tools may have changed, the basics of direct marketing hold true. We still aim to send the right message to the right person at the right time. Relevance and timeliness continue to be key drivers of consumer engagement, as do those age-old pillars of brevity and clarity.
I have no doubt the road ahead will be full of rewarding and challenging twists and turns. And we are fortunate to have a publication like DM Magazine to host and encourage our discussions, our debates and our mutual progress.
Congratulations to the magazine on this significant milestone, and here's to your strong and bright future.
John Wiltshire is president and CEO, Canadian Marketing Association (www.the-cma.org).