Sherwood Chevrolet increases new customer leads by 134% with direct mail complementing its digital marketing strategy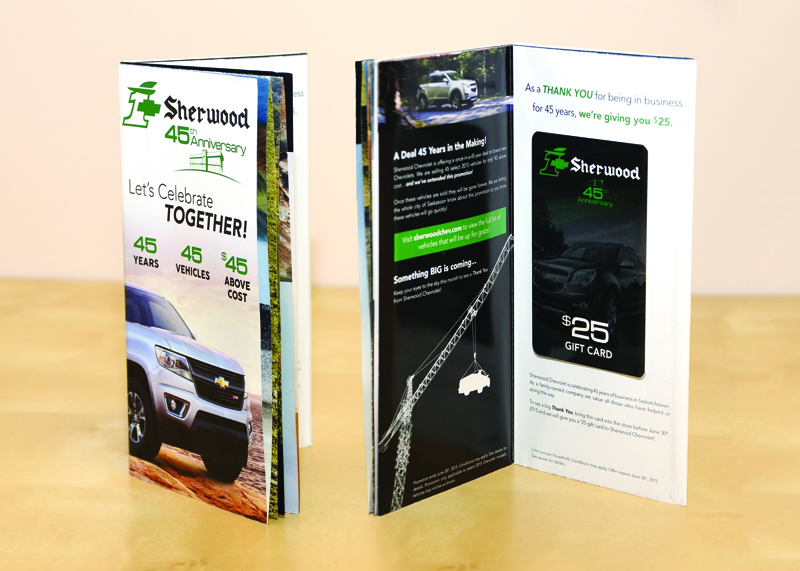 Saskatoon's Sherwood Chevrolet had been experiencing good growth since the economic crisis of 2008 but, like all car dealerships, it recognized that brand loyalty fades easily and competition is fierce. Especially since the quality and features in vehicles are often very similar. For its 45th anniversary, it wanted to get a jump on competition with an innovative multichannel marketing campaign. The idea was to sell 45 cars for just $45 over the wholesale cost of the vehicles to honour 45 years in business.
Hands-on Unaddressed Admail drives customers to store and website
The Canada Post Unaddressed Admail (now Neighbourhood Mail) piece was a large poster folded to wrap around a $25 gift card for services at the dealership. The dealer used the Canada Post Precision Targeter tool to smartly reach the Saskatoon market. The gift card led to 900 first-time visitors to the store. The dealership seized the opportunity to get their contact information, adding them to its database. There was also a 134-percent increase in new customer leads – people who called or emailed following receipt of the direct mail piece. "We wanted to show the value of direct mail and digital together," said Linda Regier, a senior direct marketing advisor for Canada Post. "The website saw a 42-per-cent increase in new visitors the week the mail piece hit."
Direct mail plays significant role in overall success of the campaign The results of the integrated campaign speak for themselves. The dealership saw a 100-per-cent increase in total traffic on the website on the week Canada Post Unaddressed Admail was delivered to homes, and a 90-per-cent increase in monthly traffic compared to last year. More importantly, Sherwood Chevrolet sold a record number of cars in the month the physical-digital mix campaign was launched. "I'm quite confident in saying that the direct mail was a big piece of those leads," said Jay Brown, marketing manager for Sherwood Chevrolet and the man who ran the campaign. "There is a tremendous value in having direct mail as part of the integrated marketing plan."
To learn more about Canada Post's integrated direct marketing solutions, please visit canadapost.ca/smartmailmarketing.
Campaign stats
90,000 Unaddressed Admail pieces
900 new walk-in customers
134% more new leads
A record number of cars sold in the month
This article originally appeared in the January 2017 issue of Direct Marketing.