With 80 professionals in seven cities, Argyle strengthens capabilities in communications & reputation management, creative marketing and public engagement
Argyle Public Relationships, one of Canada's largest independent communications consulting firms, today announces a national expansion of the Argyle Group with the integration of ChangeMakers and Context, two of Western Canada's premier consultancies. After the deal, Argyle will have a team of 80 professionals in seven cities, with annual revenue of more than $17 million.
The announcement merges three management-owned firms with deep roots, resources and relationships in cities across the nation. Context, founded in 1990, is a leader in public engagement and public health programming, with offices in Vancouver, Victoria, Calgary and Edmonton. ChangeMakers, founded and based in Winnipeg since 1998, is one of Canada's leading creative and social marketing firms. These firms complement Argyle, which was founded in Toronto in 1979 and has grown to become one of the nation's most internationally acclaimed public relations firms.
"At a time when truth and trust are elusive, communications firms need new skillsets – and organizations need new mindsets — to navigate a complex world. That's why the new Argyle brings together research-based communications, deep public engagement and breakthrough creativity," says Daniel Tisch, Argyle's President and CEO. "Argyle's expanded national team excels at both representing our clients to the public – and the public to our clients — resulting in better decisions, more reputable businesses and a healthier society."
The senior executives of all three firms continue in senior roles in the new organization. Daniel Tisch remains Argyle's CEO. ChangeMakers' founder, Correy Myco, becomes Argyle's Executive Vice President, Marketing, and Stefan Moores becomes Argyle's Executive Vice President and Chief Operating Officer. Context COO Krista Bax becomes Argyle's Senior Vice President for Western Canada, and the firm's longstanding principals, John Forsdick and Jack Boomer, continue in their current roles as senior advisors. Argyle's senior vice presidents, Roanne Argyle, Alison George and Rob McEwan, will each have national practice leadership roles in the expanded organization.
"Our combined Argyle team offers exceptional diversity – across geography, economic sectors, cultural backgrounds and professional skillsets – united by a deep belief in the business and social value of our work," says ChangeMakers' founder, Myco. "We are excited to be partners in this great national company."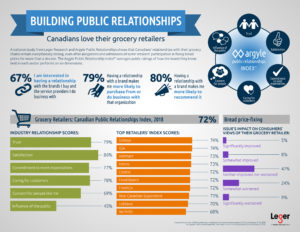 Argyle enables private, public and non-profit sector leaders to understand their publics, make better decisions, communicate with creativity and build the relationships that drive their business success. For 40 years, Argyle has been chosen by some of the world's biggest brands, put big ideas onto the public agenda, and become one of Canada's largest independent communications firms (example of their research and reports, left).
Argyle is a Canadian leader in industry awards for its work in corporate communications, health communications, consumer marketing, public affairs, digital communications, branding and design. In both 2015 and 2016, Argyle was named by PROFIT 500 as one of Canada's fastest-growing companies. In 2017 and 2018, Argyle was named Global Mid-Sized Agency of the Year by the International Association of Business Communicators.
In 2019, the Argyle Group incorporates the businesses of Argyle Public Relationships with ChangeMakers, one of Canada's leading creative and social marketing firms, and Context, a national leader in public engagement and public health programming.
One of Canada's largest management-owned communications consultancies, Argyle has offices in Toronto, Vancouver, Victoria, Winnipeg, Calgary, Edmonton and Ottawa, with partners or affiliates in Montreal and Quebec City, and in 17 countries around the world.