Interview
Afterpay is the leader in "Buy Now, Pay Later" (BNPL) payments, helping millions of users get the products they want fast and with responsible spending in mind. More than this, Afterpay has proven to be a valuable marketing tool for retailers when it comes to reaching young and engaged shoppers.
Afterpay is one of those rare "win, wins" for both consumers and merchants, helping the brand see unprecedented success since entering the Canadian market.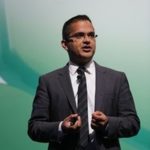 We spoke with Afterpay's General Manager of North America, Zahir Khoja, (left) to break down what Afterpay is, how it helps merchants and retailers understand their shoppers, and how the brand's customer-centric business model has spurred Canadian growth so far.
Tell us about Afterpay. What is it and how does it work?
Afterpay lets consumers receive products immediately and pay over time using their own money — always interest-free — at thousands of retailers across the globe. Purchases are paid in four instalments due every two weeks.
Since launching, Afterpay is now offered by over 86,000 retailers and used by 15 million active customers around the world.
The benefits of using Afterpay for merchants are far reaching. For one, merchants have access to millions of global shoppers, mainly in the Millennial and Gen Z cohort, who are turning away from traditional credit cards, debts and fees. Merchants also see Afterpay as a marketing vehicle, as many of our customers will start their shopping journey on the Afterpay platform. An average of 35 million merchant referrals are generated globally per month from our Shop Directory, providing a source of new traffic to our retail partners and an increase in cart conversation by 20 per cent on average.
For merchants, using Afterpay is as simple as paying a small transaction fee for the service which, in turn, gives their brand exposure to millions of users. Once a product is bought, the merchant ships the product immediately and Afterpay pays the merchant in full the next day, minus the fee. Afterpay assumes the full risk of non-payment so the retailer doesn't have to worry.
Afterpay's goal is to give its customers the ability to budget their own money and pay over time, instead of turning to expensive loans with interest, fees and revolving debt.
Afterpay has a highly tailored user platform, which has influenced customer loyalty and acquisition. Tell us a bit about how Afterpay helps retailers understand their overall customer demographic and keep them coming back to shop.
Overall, we've found that a more personalized consumer shopping experience delivers strong value. In the US, we've seen this especially with our Favorites feature – which allows customers to keep track of all the items they want to Afterpay in one place. With this feature, shoppers return more frequently to track saved items, merchants see increased referral traffic from return shoppers, and Afterpay get insights to make better recommendations. We look forward to bringing this feature to Canada in the near future in our newly launched app.
We also aggregate and share purchasing data with retail partners to help them better understand what people were buying, when, and why — see our latest Trend Report here. Tracking massive shifts — like the move to more transitional dressing as consumers emerge from lockdown — helps savvy retailers adapt to retail in a post-pandemic world.
How is Afterpay using its buy now pay later service as a discovery tool for retailers?
Afterpay's Shop Directory is a destination where customers can find our newest merchants, and can filter brands by category, trends, values, and those offering sales. Whether customers are looking to browse through our thousands of retailers or they have a very specific item they're looking for, our app and website are designed to support them through their shopping journey. Our Shop Directory is also an important marketing channel for our partners, connecting the best brands in the world with a powerful demographic of young and engaged shoppers.
Afterpay has seen great success since its launch in Canada. What are some successes or results you've noticed from your Canadian partners?
Despite Afterpay's relatively recent entry into Canada, it is the most used and visited BNPL service in the country with the highest customer intent, according to a February 2021 Citi Research report.
This success is benefitting Afterpay's retail partners in a big way. For example, recent data shows Afterpay owns 30 per cent of cart share with Herschel Supply Co. This is a result of bringing approximately 150,000 shopper referrals to Herschel between September 2020 and March 2021 from Afterpay's Shop Directory.
As of late, Canadian retailers such as Urban Outfitters, Lululemon, Pandora, NARS and Shiseido have recently partnered with Afterpay to reach a younger demographic of consumers.