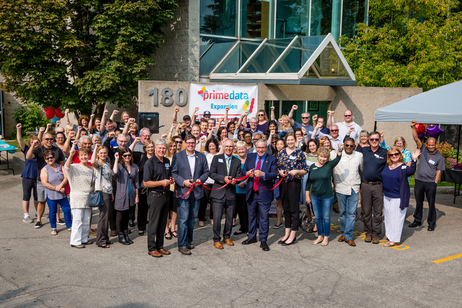 AURORA, ON, — Marketing technology company Prime Data is proud to announce the expansion and centralizing of its production, IT and administration in Aurora, Ontario.
In an era when digital media have put pressure on other channels to perform, Prime Data has flourished by using technology to help fundraisers and private sector marketers get the most from print and mail marketing in their cross-channel marketing campaigns.
"Within the past two years, we've expanded well beyond the capacity of our original location," says Steve Falk, president of Prime Data. "We had to move production to a new location to accommodate investment in a new, state-of-the-art elan variable colour printer and the increased workload that came with that. Meanwhile our customer service and support functions stayed at the original office. We're now in a position to bring everybody back under one roof in a larger, more convenient location."
Prime Data celebrated the move to 180 Industrial Parkway North with vendors and customers, as well as with Mr. Kyle Peterson, MP for Newmarket-Aurora, The Honourable Chris Ballard, Minister of the Environment and Climate Change and MPP for Newmarket-Aurora, as well as His Worship Mayor Geoff Dawe.