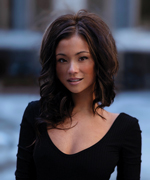 By Kaitlin Narciso
Retail vacancies are plaguing prime locations in some of the North America's biggest cities. Noticeable in shopping districts like Manhattan's Fifth Avenue and Toronto's Queen Street, store closings have grown increasingly common, leaving an abundance of storefronts empty and dark.
With the absence of light and movement in these spaces, real estate takes longer to lease out as there is nothing drawing potential occupants to the space. In Calgary, Alta., 29 businesses on a once-bustling street closed up shop over the span of two winter months. The cause? Everything from the increasing cost of labour and property taxes to a consumer shift towards eCommerce.
Transforming spaces
Public space pioneers like FrontRunner Technologies offer a solution to this epidemic. By leveraging these vacant street-level spaces, this digital-out-of-home (DOOH) company creates windows of opportunity for real estate owners, as well as for companies and agencies looking for unique and targeted ways to reach their audiences.
Through its WindowFront Matrix, FrontRunner transforms these vacant windows into advertising realms, driven by an app and projection technology that deploys vibrant and captivating content. Not only does this allow real estate owners to brighten their dark spaces, attracting new tenants, but it also gives them the ability to monetize spaces that would otherwise be costing them money.
Recognizing the light and vibrancy that this technology offers to otherwise lifeless spaces, CBRE, KingSett, Cushman & Wakefield and First Capital Realty have partnered with FrontRunner to display striking art, film, news, sports, music and advertisements to expedite leasing opportunities.
"We have partnered with FrontRunner to deploy its technology on several KingSett properties, from the Royal York Hotel in Toronto, to Cornwall Centre in Regina," says Theresa Warnaar, senior vice president, Retail, KingSett Capital. "They are helping to bring our spaces to life."
From static to moving content
The DOOH and OOH industries have typically remained unchanged and stagnant for decades, utilizing the typical static billboards, posters and wallscapes that dominate the industry. This means that companies are putting advertising dollars behind targeting more individuals versus specific demographics, which although is fine, is not cost-efficient.
Moreover, the static advertising that outdoor marketing typically utilizes is no longer captivating consumers: who are surrounded by ever-evolving technologies that delivers beautiful content to their smartphones, laptops and televisions. With the advancement of CGI in Hollywood, in blockbusters, Photoshop creations and extravagant drone footage, people's expectations for incredible visionary masterpieces grows exponentially.
Naturally, the expectations for incredible, thought-provoking content produced by the advertising and marketing industry is no exception. In today's market, if a company wants to attract their audience and be competitive, its content must be visual, captivating and ahead of the curve.
"We know people are attracted to colour and movement," says Nathan Elliott, CEO and founder of FrontRunner Technologies. "The vibrancy of moving digital content is currently unrivalled in capturing the attention of consumers. But what we're most excited about is interactive integration. We're working on tech that offers a completely immersive experience that touches multiple senses including sight, sound and touch."
The company's ability to reach hyper-targeted locations at the click of a button in any given window of time is unprecedented. This means that companies that are looking to target a certain kind of consumer can leverage select locations at specific times of day based on when that demographic is populating a given area.
Proximo Spirits is a company that builds brands to match the world's changing tastes. For its national campaign promoting 1800 Tequila, it needed a platform that was a step further than anything being offered in the OOH realm. Targetting on-the-go Millennials, Proximo Spirits partnered with FrontRunner to deploy an exclusive, street-level digital campaign that reached over 230,000 hyper-targeted onlookers over a four-week span. By activating five windows in the heart of Toronto's Entertainment District with large-scale, full-motion digital content, the response from the launch was tremendous.
Darra Naiman, previously media supervisor at Bensimon Byrne, the agency responsible for the campaign, recognizes the value that a DOOH company can provide as a creative visual platform.
"FrontRunner has been a staple in our highly impactful DOOH strategies over the last year. They have created street level placements that do not exist in the Canadian market right now," says Naiman. "Their activations are inventive, eye catching and impressionable. On top of the quality of the ad placement, they have also been able to share eye-sight and mobile data from passersby that very few companies are doing as well and accurately."
With the retail renaissance moving in full force, brands still have a bright future thanks to new digital developments and innovations in how digital space is used to engage and interact with consumers. Guided by disruptive companies elevating traditional outdoor advertisements with a new generation of DOOH tech, public space will never be the same.
With a background in multimedia journalism, digital marketing strategy and media relations, Kaitlin Narciso is a senior media consultant at PUNCH Canada.