By Antoine Bonicalzi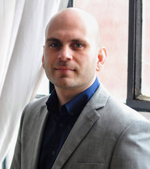 The appetite for online video is at an all-time high. By 2022, online videos will make up more than 80% of all consumer Internet traffic1. Video is most likely your audience's favourite content format.
At the same time, e-mail is still going strong. 86% of marketers say e-mail is "important" or "very important" to them while it accounts for a return on investment (ROI) of over £32 (approximately CDN $55) for every pound/dollar invested, according to a British study2. We can safely say that e-mail is one of the most effective ways to distribute your content.
So how can e-mail and video can be used together to communicate more effectively with your audience?
1. Use video strategically to build your e-mail list. Since e-mail marketing is still very effective3, investing time and energy on building an e-mail list still makes a lot of sense. And the use of video can definitely help you build that list.
a. Build hype and a list of interested viewers. If you're working on a video project (like a short film or a web series), you can build anticipation before it's completed and have a list of interested people to distribute it to when it's released. For example, Ouisurf is a business that organizes surf trips. It releases video series regularly and when a series is coming up, it asks web site visitors to subscribe to be notified when the series is released. The company build its e-mail list and when the series is out, it has a list of interested viewers who are eager to watch the content. And in the meantime, it can send offers and other content to those new subscribers.
b. Offer a video course. This is a classic online marketing tactic. You offer a video course (a series of educational videos) in exchange for an e-mail address. People who are interested in the information that you are providing will want to join the course and therefore will join your e-mail list.
c. Collect leads in the video player. With Wistia's Turnstile e-mail collector, your viewers can enter their e-mail addresses right within the video player. This advanced feature makes it easy for you to gate videos and drive qualified leads to your e-mail list.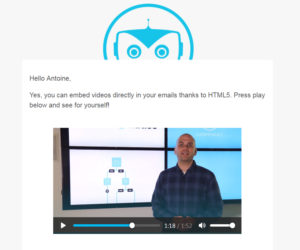 2. Maximize video distribution with e-mail. Let's say that you share a new video on your brand's Facebook page, Instagram account or YouTube channel and that you are hoping to get some organic (viral) reach from it. You know that the first minutes after you post are crucial; you need to get views, likes and comments fast so that the social algorithms show you some love. If you have a healthy e-mail list, you can reach out to your subscribers, let them know about your new video and drive some targeted traffic to it. Your e-mail subscribers are some of your best fans, so they are likely to check out your content quickly and interact with it. We tend to think that e-mail should drive traffic back to our web site. While that's true in a lot of cases, why not send some traffic to our best social media content? Especially if it helps us get more viral reach.
3. "Include" video in your e-mails. Video is engaging! Including or sharing a video in an e-mail can lead to open rate increases of 19% and click-through rate increases upwards of 50%4.
a. Should you embed HTML5 videos in your e-mails? Yes, you can, but note that not all subscribers will see them. It all depends on whether or not their e-mail client (like Gmail, Hotmail or Outlook) can support the most recent video format, HTML5. If HTML5 is supported, the video will play within the e-mail itself. If it's not supported, subscribers should see what's called a "fallback image," which is a still image that looks like a video. This image sends subscribers to a web page where the video can be played. That is something that Wistia offers as a beta feature. They provide a code that you embed in your e-mail and that code takes care of the fallback image. I think that more and more e-mail clients will support HTML5 videos. At Cyberimpact, we are rolling out videos in e-mail in 2019. If you want to maximize video views, why not give it a try? If, on the other hand, you want to maximize conversions (like a purchase) you might want to link to a landing page instead.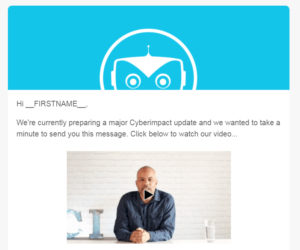 b. Simply use an image with a link. This is a tried and true method. It's simple, and it works well. Here are a few best practices:
Let people know there's a video in the subject line and e-mail text; Choose an enticing thumbnail from your video and make sure there's a play button (hint: friendly faces attract clicks);
Link that thumbnail to a page on your web site; and Keep the number of calls-to-action limited.
c. Add motion to your e-mail with GIFs. Instead of using a static image, you can use a GIF to add movement and give readers a preview of your video and really entice them to click to watch the whole clip. The one thing to remember is that file size matters. GIFs won't animate in an e-mail until all of the frames are loaded, so larger file sizes can create a subpar experience. If you're lucky, an oversized GIF might pause on the first frame. Conversely, it could appear completely blank. As a rule of thumb, e-mail GIFs should be under 125K.
You're up!
Hopefully, you're now inspired and have a few ideas of how you can start using video and e-mail together. Start experimenting and I'm willing to bet that you'll see improvements on the key performance indicators (KPIs) that you care about.
Antoine Bonicalzi is the marketing director for Cyberimpact , the Canadian e-mail marketing platform (www.cyberimpact.com).
1 Cisco, "Cisco Visual Networking Index: Forecast and Trends, 2017–2022", report, November 26, 2018.
2 DMA, "DMA insight: Marketer email tracker 2018", report, March 29, 2018.
3 Miriam Reis, "Is Email Marketing Still An Effective Strategy In 2018", Digital Agency Network, blog, January 18, 2018.
4 Campaign Monitor, "How to Use Video in Your Email Marketing", guide.