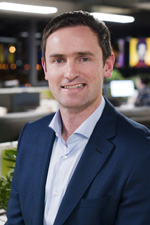 By Aidan O'Shea
Talking: it's an action that humans engage in every day. As technology becomes more advanced, we're not just talking to each other anymore: we're talking to the likes of assistants such as Alexa and Siri, our phones and our remotes, enabled by automated advanced speech recognition technologies. We're also talking through online channels, via instant messaging (IM), e-mail and social media platforms.
As we develop even more ways to talk with one another and to our devices, we also gain new ways to communicate more effectively with the brands that form part of our lives. Chatbots, in particular, are a source of communication that companies have embraced in an effort to create a more seamless customer experience (CX).
Chatbots (or bots) make it easier for consumers to connect with brands from their phones or computers. They accomplish this digitally through enabling automating direct interactions and by automating menial tasks for the customer service agents, so that their efforts can be focused on more complex customer issues and on larger business initiatives.
As you can see, the role of humans in customer experience is not going anywhere: it's simply evolving. Chatbots find the most success when working alongside agents to create a stronger CX.
Now with the implementation of chatbots and humans, we are destined to see a future of customer service that thrives on a blended model. But, how are consumers responding?
To chat?
According to the recently released Voxpro CX Index, from Voxpro – powered by TELUS International, 65% consumers are becoming more open to chatting with bots for customer service. The key reason is because they find it more convenient and it saves them time.
For those consumers who have used automated or chat features, 47% rated their experiences as either good or very good. Additionally, we found that for those who have had successful interactions with chatbots, they're impressed with how the bots recognize their customer histories. In fact, 49% acknowledged that they would be willing to connect with bots for reasons such as information gathering if it meant putting them on expedited tracks to speak with agents to resolve their issues.
Although brands are turning to bots to access customers' personal data in order to create more personalized experiences, only 45% of customers want them to have their data on file. As a result, businesses must be cautious of how they communicate with consumers through bots and manage how they are storing their data. In the event of a customer issue or data breach, this is where we need humans to step in and take the wheel.
Or not to chat?
On the other hand, while it may appear that consumers are attached to their smart devices 24/7 and want technology constantly in their lives, our survey showed that 68% still have not used chatbots to contact brands. This is evidence that interacting with human representatives is still valuable to consumers who are looking for more personalization when having their issues solved. Over half (56%) of consumers said that the reason they have not used automated features or chatbots is because they prefer experiences with real people.
Trust is another reason being cited by consumers for not chatting with bots; only 21% are willing to trust their personal information with brands. Specifically, 27% of them are not using chat systems because they do not yet trust these new technologies, which brings us back to the fact of the matter: what are companies doing with our personal data? As a result of fears of data breaches and hacks, 45% of consumers are not willing to connect with bots online or through mobile devices.
The critical takeaway here for brands is that there is a critical need to be transparent about how they are using, storing and sharing consumer information. This will be paramount in earning and maintaining consumer trust and in delivering beautiful customer experiences that result in lasting, high value customer relationships.
Love it or leave it
The results of the Voxpro CX Index are clear: a blended approach to CX is the best way for brands to deliver positive customer service interactions. Chatbots and other automation technologies, like speech recognition-enabled assistants cannot solve complex customer problems alone or completely. However, combining the efficiencies that automation delivers, with the experience of interacting with humans, is a step in the right direction to creating a more personal relationship between brands and consumers.
Brands need to create an experience that combines technology and human conversations in order to complete the customer experience rather than having the two compete with each other. By prioritizing a balanced CX strategy, businesses can create memorable customer experiences that lead to long-term, loyal customers.
Aidan O'Shea is the CEO of Business Operations at Voxpro – powered by TELUS International, (www.voxprogroup.com) where he transforms the outsourcing relationship from supplier to real partnership, working with clients who wish to redefine the customer experience.