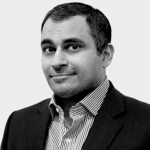 By Rodger Desai
As we increasingly rely on mobile devices to engage in payments and banking activity, the applications for digital identity technology are continuing to evolve in order to secure these transactions. With the digital payments industry expanding exponentially each year, digital identity technology now plays a key role in making digital financial transactions a quicker, safer, and more streamlined experience for both customers and merchants.
With the ongoing and unpredictable Covid-19 pandemic, the digitalization of payments and ecommerce transactions is rapidly increasing, with a projected growth rate of 15.4 percent worldwide, expected to grow to $180.2 billion by 2026. As retailers migrate towards primarily conducting business online due to the ever-changing pandemic and resulting ecommerce swell, the opportunity for transaction and payment fraud continues to grow in tandem. With new and increasingly advanced cyber fraud attacks arising seemingly daily, retailers and financial institutions are turning their attention towards fully securing digital transactions, and looking towards identity verification technology to enhance safety, speed, and overall experience for businesses and customers alike. With these developments in mind, retailers and financial institutions are faced with considering where the future of digital identity technology lies in 2022 and beyond:
• Biometrics Technology Becomes Mainstream: As mobile technology and capabilities continue to exponentially advance, the capacity to verify identity utilizing biometrics technology will become more mainstream and widespread. While applications such as face scanning technology exist in our smartphones today, the next wave of biometrics technology will be streamlined and integrated into every step of the payments process to ensure the highest degree of security and efficient automation in identity verification, while also protecting consumers' privacy. For example, verifying users and individuals based on behavioral metrics such as voice, the way we walk, and measurement of different behavioral metrics will become more widely used as a method to thoroughly identify users.
• The Growing 5G Market: With 5G technology being integrated into a majority of new devices entering the market, this improved functionality will further increase the number of digital transactions that consumers make. In the payments sector, 5G will transform the speed and ease of transactions, while providing merchants with more informative insights and data about their customers, markets, and products. With the market for 5G services expected to reach $115.4 billion by 2026, consumers will increasingly expect a secure, efficient, and convenient way to authenticate their identity and complete their purchase. To meet this growing demand, companies and merchants must embrace phone-centric technology and tap into 5G data-driven insights to provide secure identity verification across all channels.
• Advancing Financial Inclusion: With a history of preventing marginalized consumers from accessing affordable credit and establishing a financial record, financial institutions have perpetuated the exclusion and instability of many people. For far too long, many consumers have been left out altogether from the financial system, preventing them from establishing economic progress and inhibiting mobility. For example, in the U.S. a staggering 11 percent of the adult population (26 million people) doesn't have a file at the major credit bureaus, and 8.3 percent of the adult population (19 million) has too little credit history on file to even generate a credit score. To remain both equitable and relevant, companies need to meet this financially invisible population by creating fair and safe identity verification alternatives to credit scores.
Moving forward, the early adoption of growing digital identity technologies will be the key to success in establishing more secure and advanced digital payments. As the digital payments market continues to experience exponential growth over the coming decade, companies and institutions will need to look towards the next generation of identity verification technology, as it will help create a future-forward financial landscape that is more accessible and secure.
Rodger Desai is Co-Founder & CEO of Prove. Rodger is a mobile and digital identity expert who has been quoted by publications such as The Wall Street Journal, Forbes, CNBC, TIME, and the MIT Technology Review. Rodger is passionate about how technology can solve human and societal issues. In addition to his work at Rave Wireless, his business ventures have ranged from using mobile phones for microfinance village programs in emerging markets to enabling financial inclusion by leveraging Prove's mobile identity technology to allow underbanked and credit-invisible consumers to access financial services. Rodger graduated from RPI and attended Harvard Business School.