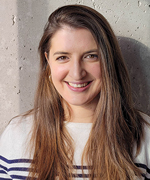 By Tania Amardeil
Today's shoppers are tech-savvy and informed. They read and write online reviews, search for the best deals online, and have invented the practice of "showrooming" — visiting a store to check out a product in person before buying it online at a lower price. When shopping, they consider factors like where a product was sourced, its ingredients or components, and whether the product has harmful environmental effects. They want to know if a product is fair-trade, gluten-free, or locally sourced. If they're not shopping online, they have their smartphone in hand. And whether they're shopping on their laptop or at a brick-and-mortar store, today's buyers expect shopping to be seamless, convenient, and highly engaging.
"We're seeing the evolution of shoppers and the evolution of social conscience," says John Ricci, founder and CEO of Danavation Technologies Corp, a Canadian company leading the way in digital retail. "Nowadays, people need a lot more information to make an educated purchase." Ricci's firm is working to expand the application and acceptance of labels as a source of real-time information which benefits customers and retailers in a way that builds a richer experience and provides more accurate data.
Homegrown innovation
Ricci is a retail vet with more than 30 years of experience in the industry. He noticed that the retail environment seemed to be missing something, a solution that met and exceeded the needs of modern businesses and tech-savvy consumers. Determined to revolutionize the retail segment and to bring retailers into the digital age, in 2018 Ricci launched Danavation's signature system called Digital Smart Labels.
The relatively straightforward but powerful solution are micro e-paper displays that enable diverse organizations — not just retailers and grocers but pharmacies, pet stores, animal shelters, distribution warehouses and many others — to automate their labelling, pricing, product information data and promotions in real time. They are easier to read and more energy-efficient than LCD displays and reflect light like paper to offer high resolution and contrast, easy visibility, and vibrant colour displays that can be read even in direct sunlight.
The state-of-the-art technology is driven by cutting-edge IoT automation technology and proprietary software developed by Danavation.
"We're the only electronic shelf label provider that's founded and grounded in North America," says Ricci. "We design and engineer all of our hardware and software right here in Canada. In the tech world, this means less concern about privacy and security as there are no servers outside of the country and far less risk of security breaches. We represent a safer environment to do business. We like to think of it as one thing that no one else can, and that's home-field advantage."
This homegrown approach also allows more effective customer service, on-site technical support, and 24/7 availability.
Celebrating operational efficiencies
Central to the idea is to connect shoppers with the latest, most relevant product information so that they can make more informed in-store decisions, while providing the retailer with faster reaction times and the opportunity to optimize operations. This includes engaging consumers at the shelf, which increases basket size, Ricci suggests.
"We preach three wins: operational efficiency, consumer-engaging features, and revenue generation," says Ricci.
Operational efficiencies are a given, starting with the reduction of paper. Electronic labels help establishments lower their carbon footprint and boost sustainability. They also reduce labour costs and free up employee time, so staff can focus on product education and offering valuable customer service — more high-impact tasks than switching out labels manually.
"Customers' number one pet peeve is that you can't find a salesperson anymore," says Ricci. "Employees should be free to walk around the store, asking customers if they can help them with something."
Danavation's labels also sync with retailers' ERP and POS systems, offering unprecendented speed and accuracy and vastly improving in-store efficiency and productivity.
Reimagining the shopping experience
"The next win, engaging consumers, is critical for the success of a business," says Ricci.
Although today's consumers are increasingly shopping online, brick-and-mortar retail stores will always have a distinctive appeal and cachet. Nothing compares to feeling the weight and texture of a sweater, selecting your own perfectly ripe tomato, or enjoying a personalized experience thanks to the help of a friendly and knowledgeable sales associate. Shopping in person also guarantees that you'll get exactly what you want, when you want it — without the shipping delays, fees, and order mix-ups of online shopping.
Still, today's retailers know that they need to go the extra mile to engage and excite customers who enter their stores. Shopping has become more of a destination and an experience, and engaging customers is essential — both to give them a memorable, five-star experience and to increase cart sizes, maximizing profits for retailers.
Smart revenue generation
"Businesses are opening their doors and they want to sell more products," says Ricci. "They don't want customers to just walk around and look, and then go home and make the purchase at their kitchen table. If you really want customers to make the purchase in the store, you have to catch them while they're there."
The team at Danavation is hard at work developing various software features that will soon be available to retailers to help them engage their customers at the shelf level to encourage purchases and increase order size. From the recently-launched Digital Smart Blade (a larger-format Digital Smart Label that extends perpendicularly from shelves, offering consumers relevant promos in real time while increasing revenue for retailers, who can rent out the ad space to brands) to augmented reality and QR codes embedded into the labels that give consumers more info about a product (for example, a winery tour for a bottle of wine for sale at the LCBO), Danavation's innovations facilitate an enhanced shopping experience.
Propelling data-driven marketing
"All retailers are looking for that secret sauce — how do we get into our customers' heads, how can we get them to buy more, how can we make the buying experience a lot more personal than it has been," says Ricci. You know how when you search for a new car or pair of shoes on your phone, you suddenly start seeing ads for the same product? That's what retailers should be doing, too, says Ricci.
The advanced engineering behind Danavation's digital e-paper displays, cloud architecture, software, and, in the near future, data-as-a-service intelligence tools will equip retailers with valuable insights into consumers' buying habits. Coupled with parameters such as inventory levels, cost of goods sold, sales velocity, competitor offers, weather conditions, current events, and demand/price-sensitivity, the firm's innovative leveraging of AI, big data, and machine learning will allow retailers to automate pricing at the shelf, optimize their product mix, and forecast inventory.
Ultimately, the data-driven insights and analytics will be focused on understanding customer buying habits and using that knowledge to better respond to customer demands.
Giving shoppers the right products, at the right time, at the right shelf — along with a captivating, personalized, digital-forward experience — is the way to bring retail into the digital age and to effectively serve and engage today's savvy shoppers.
Tania Amardeil is a Toronto-based freelance writer.