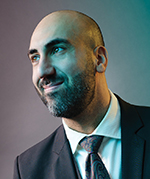 By Mo Dezyanian
It's that time of the year again. The trees are turning, cozy sweaters are back and pumpkin spice is in everything we eat.
To the marketer that means only one thing: budget season. But this year isn't quite the same as the years before. This year is weird. Budgets were first cut and then they came back, maybe. And no one knows what's going to happen next month or next year.
At the same time, marketers are all very nervous about our jobs since those depend on budgets. It doesn't help there are some deep-rooted tensions between the chief financial officers (CFOs) and the chief marketing officers (CMOs). All because of some misconceptions about how CFOs look at marketing budgets.
In partnership with Leger, the American Marketing Association, the CFO Center and McMaster University, we set out to find the gaps between marketing and finance during budget season.
Here are the five top myths about CFOs and marketing budgets, busted once and for all:
Myth One: CFOs only care about profits or revenue
Well that one is partially true. Of course, CFOs are concerned about their businesses' profitability, but things change drastically when a business is a crisis: such as the current pandemic.
Unsurprisingly, CFOs default to protecting company cash flows (65 percent). In contrast, only 27 percent of CMOs are concerned about cash flow. Instead, most CMOs aim to control expenses.
There is a tremendous opportunity here for marketers to shift budget conversations in a crisis away from "how much money we need?" to "where we will get the money to spend?" It's incumbent on us to have deeper conversations with our finance counterparts in order to move our organizations past the pandemic.
Myth Two: CFOs are short-sighted
It is true that CFOs evaluate businesses in cycles of months, quarters and years. That is, after all, how businesses work.
But that does not mean that CFOs are only focused on those cycles. Our research shows that 24 percent of CFOs think balancing long-term marketing success with short-term goals is the greatest challenge in approving budgets. Interestingly, 27 percent of CMOs agree. Both parties are on the same page yet find it difficult to reconcile short and long-term objectives. Which brings us to Myth Three.
Myth Three: CFOs know what the ROI on marketing should be
To a large extent, the idea of balancing short and long-term marketing success hinges on the "R" in ROI (return on investment). But the challenge is that this return is not clearly defined between CFOs and CMOs. 91 percent of CMOs believe they have adequately demonstrated past ROI.
By contrast, 29 percent of CFOs see proof of past ROI as the biggest challenge to approving budgets. Similarly, 24 percent of CFOs are skeptical about the CMOs' abilities to prove future ROI in marketing.
The evidence is clear: marketing and finance should seek to agree on how marketing is to be evaluated in the short and long term before having any budget discussions. Only when both sides speak the same language around what the expected returns are on marketing can budget conversions be effective.
Myth Four: CFOs approve budgets only based on cashflow
Let's say we now agree on what marketing success looks like in the short- and long-term. How do we set budgets? Yes, it's true that CFOs determine budgets based on how much money the company has (cashflow): or at least is expected to have (forecasting). That is the primary driver for budgeting (29 percent of CFOs). But CFOs also agree that it is not an ideal way of setting budgets.
Ideally, budgets should be set based on how much money our organizations need to achieve our objectives. That is, we should be using market intelligence (71 percent of CFOs) to determine marketing budgets. Of course, marketers agree: 64 percent of CMOs think market intelligence should be the primary driver of budgets. This brings us to our final point.
Myth Five: CFOs and marketers just want different things
Both CFOs and CMOs actually agree on what it takes to close the gap between them during budget season. The skills they all feel are lacking from organizations are analysis and insights capabilities to better interpret data and, more importantly, external research capabilities.
At the end of the day, both parties feel like they do not have the resources to truly determine if marketing can be successful in the long and short term and how much money they need to ensure that success.
Moving forward, CMOs and CFOs need to consider the following five ways to better communicate and bridge this gap:
1. Alignment on what the ROI on marketing should be ahead of time.
2. An evidence-based approach to measure marketing performance.
3. Agreement on short-term and long-term objectives.
4. Investment in resources to extract insights from the market (via market research), the competition (competitive research) and available data in the organization.
5. Contingency planning ahead of time for drops in revenue due to a crisis.
Through better communication and understanding, both parties can ensure that marketing's now outsized role in helping its organization navigate today's new world will be successful.
Mo Dezyanian is the president of Empathy Inc. and has co-written the curriculum for the Chartered Marketer's media course. You can reach him at mo@empathyinc.ca for a copy of the study.