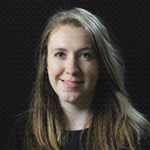 By Sarah Lightfoot
Direct mail has shown remarkable resilience over the past 10 years. Direct mail volumes remain consistent in Canada. As we endure the digital takeover of marketing endeavors, we can see that direct mail is remaining a relevant communication method according to Canada Post's annual reports. Since 2012, Canada Post reports that the volume of direct mail campaigns has declined by 18 percent. A large portion of that decline came in 2020 during the pandemic where the volume dropped an astounding 27 percent. Since then, reported volumes recovered a total of 20 percent in the two years following. Depending on how Q3 and Q4 goes for 2023, there possibly could be more adding to that recovery.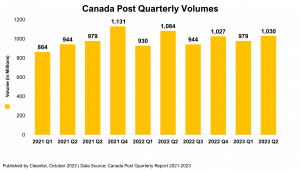 Canada Post Quarterly Volumes
There is an expectation that direct mail would be a dying marketing effort in the digital age. However, the rate in which it is declining isn't what most people would expect. Here's a potential reason as to why:
The Canadian Anti-Spam Legislation (CASL) and Multichannel Marketing
The Canadian Anti-Spam Legislation (CASL) plays a large role in the impact that digital marketing can have on Canadian citizens. Uniquely Canadian, this legislation requires marketers obtain explicit opt-in consent, before sending even the first message. On top of that, they must offer the standard opt-out clauses on every digital out-reach, giving the individual the ability to stop digital communications without reason.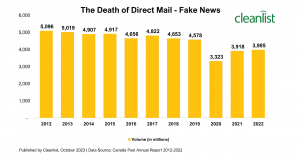 However, opting out doesn't always translate to being "not interested". A customer declining digital communication could mean they are opting out to keep their devices tidy. For this reason, more and more marketers are using multichannel approaches, including direct mail, to ensure their customers aren't lost to CASL miscommunication. Direct mail has not lost its relevance in Canada. In fact, it complements digital strategies by providing a tangible and personal touch to the customer experience. The synergy between the two approaches allows for a more holistic marketing strategy.
If you are looking to bolster your direct mail campaign, get access to ResponseCanada™ Consumer as an excellent resource to locate your target market in Canada. You can do your own real-time queries with Cleanlist's online tool at cloud.cleanlist.ca or book a meeting with us today to find out what Cleanlist can do for you!
Sarah Lightfoot is the Product Manager for Cleanlist, Canada's largest customer data company. About the data: The data presented in this report was summarized from Canada Post's Quarterly Financial Reports Q1 2022 to Q2 2023 and Annual Financial Reports 2012 to 2022. To learn more about the data or for additional information, contact sales@cleanlist.ca.