Toronto-based marketing communications agency joins global movement to reimagine the future of work-life balance.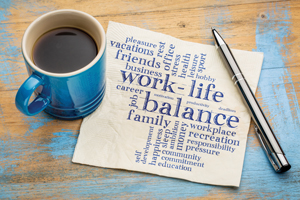 Leading Canadian marketing communications agency PRAXIS is delighted to announce that the agency will be participating in a global pilot to test the viability of a four-day work week for its employees. The six-month pilot program is coordinated by non-profit 4 Day Week Global, in partnership with researchers at Cambridge University, Boston College, Oxford University and regional researchers.
The decision to participate comes amid a growing movement to examine the future of work and how to build a more productive, healthy, and sustainable work environment. PRAXIS is one of 60 North American companies across a diverse range of industries participating in the large-scale pilot.
"To our knowledge, PRAXIS is one of the first agencies of its kind in Canada to run a 4 Day Week Global pilot," says Matt Juniper, Associate Partner and General Manager at PRAXIS PR. "Work-life balance has always been a big part of our PRAXIS culture and we've chosen to participate in the pilot as an investment in the well-being and happiness of our employees. We're excited about how this investment in our team will also translate into additional benefits for our clients."
There is a growing body of research that demonstrates that a four-day work week results in happier employees with improved physical and mental health, and higher levels of job satisfaction. This provides the opportunity for a more energized and productive team, with heightened creativity and sharpened problem-solving skills, ready to and bring their best selves to their client work.
The pilot will follow the 100-80-100TM model, which advocates for 100 percent of the pay, working 80 percent of the time, with a commitment to maintaining 100 percent productivity.
"Our team will be working closely with our clients and partners to ensure that our four-day week model offers the highest level of accessibility and service," says Juniper. "We also consider a four-day work week a business improvement strategy focused on working smarter rather than longer, recruiting the top talent in the industry and maintaining the highest standard of client service. It will allow us to shift our business away from measuring based on hours worked toward measuring based on results."
The pilot will begin in October, and will run through March, at which time PRAXIS will assess the results and determine if the program will become permanent. PRAXIS is an award-winning Canadian marketing communications agency with a talent for turning heads, curating exceptional experiences, and making authentic connections between brands and the people who matter to them.
■ ■ ■ ■ ■ ■ ■ ■ ■ ■ ■ ■ ■ ■ ■ ■ ■ ■
Nektar exits stealth mode to help companies navigate the downturn by fixing CRM data leak.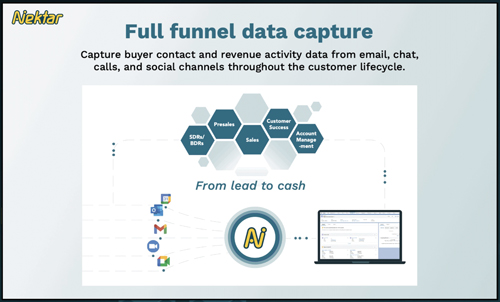 The nature of how marketing organizations structure, promote and market themselves is changing. Around the world, new organizations are shaking foundations with different ways to doing things. Take Nektar for example. Unprecedented amount of free flow capital resulted in startups throwing money at tools to tackle growth while efficiency and productivity were put on the back burner. With the ongoing tech meltdown, these companies are now responding to the market condition with layoffs, cost cuts, and budget freezes. The tech industry's prevalent mindset to follow a 'growth at all costs' approach is now shifting towards 'productivity at all costs'.
Sales teams depend on their CRM data to gain insights into team productivity, pipeline insights, and revenue forecasting. Despite a CRM being an important system of record for modern go-to-market teams, it still grapples with the problem of poor user adoption and missing data. As per estimates, 40-50 percent of sales activity data remains missing from a CRM, while 27 percent of the data that's available in a CRM decays every month. This leads to major data and productivity leakage.
Revenue operations solution provider, Nektar.ai is addressing the 'CRM data leakage' problem and has launched the general availability of its AI-enabled activity capture and intelligence solution. Nektar's no-code platform automatically captures revenue activity data from email, calendar, chat, and social across all touchpoints in the customer lifecycle. This results in enhanced rep productivity, unprecedented pipeline visibility, and revenue predictability – all with zero rep adoption. Backed by B Capital Group, 3One4 Capital, and Nexus Venture Partners, Nektar raised a $6 M seed round in August 2021 and had been working in stealth with early customers such as Lily.ai, MoEngage, and Observe.ai.
Pete Lee, SVP of Sales at Lily.ai had this to say about Nektar, "It's hard to know where to spend your time when you're not sure if what you're looking at is accurate. Nektar keeps the data up-to-date and surfaces insights into actual selling time, and inbound vs. outbound activity."
Nektar is a fully remote company with 32 people (and growing) distributed across 7 countries and has 1500+ users. The company plans to spend the rest of the year on its go-to-market strategy and hiring. Nektar is a no-code revenue operations platform that plugs CRM data leakage across the revenue funnel to increase sales productivity, pipeline visibility, and revenue predictability.
■ ■ ■ ■ ■ ■ ■ ■ ■ ■ ■ ■ ■ ■ ■ ■ ■ ■
Can a blender be legendary? The Real Vitamix Legends contest thinks so, and we agree.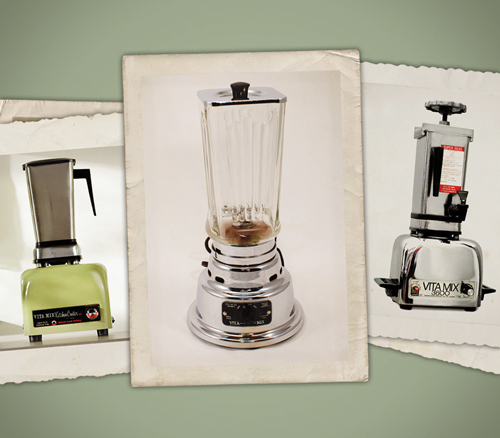 Vintage household products are symbols of marketing campaigns gone by and using them to market new products is a bit of genius. If you have one of the longest-running Vitamix machines you could be one of six winners who receive the brand's next-generation products.
They are out there, the Vitamix machines older than their owners, passed down through generations; the decades-old blenders that are still in use every day. Starting today, Vitamix is officially on the hunt for these legendary machines with the launch of the "Real Vitamix Legends" contest, a search for the oldest working Vitamix in North America.
"We design Vitamix machines to stand the test of time, and we hear constant proof of that longevity from our social community, who share stories of machines running for decades," said Laura Ostenkamp, Director of Global Brand and Content Marketing at Vitamix. "We wanted to take these stories beyond our DMs by launching the Real Vitamix Legends contest, celebrating and rewarding the generations of meals and nourished families Vitamix has served in our 101-year history."
Running Sept. 6 through Oct. 18 at 11:59 p.m. EDT, participants age 18 and older can enter by posting a photo or video on TikTok, Instagram, Facebook or Twitter using the hashtag #REALVITAMIXLEGENDS and tagging and following @Vitamix. The post should show their Vitamix in use and share its age and a little about its history. Participants can also submit online here.
Vitamix will choose the top six finalists based on the age of the machine, and the brand's social community will determine the winners through head-to-head matchups on Instagram Stories the week of Oct. 24. Winners will receive next-generation Vitamix products, and the grand prize will include a trip for the winner and a guest to Vitamix headquarters, valued at nearly $2,500.
The Vitamix family of companies, privately held and family-owned since 1921, is currently celebrating its 101st anniversary. Millions of people around the world employ Vitamix machines to prepare nutritious whole foods in their home kitchens and deliver exceptional and consistent results in their commercial kitchens. The company's commercial customer list reads like a Who's Who of major restaurant chains, and gourmet chefs say their Vitamix machines are as important to them as their knives.
Start digging in your closets or get out to those local weekend antiques fairs.
■ ■ ■ ■ ■ ■ ■ ■ ■ ■ ■ ■ ■ ■ ■ ■ ■ ■
Consumer Genius Inc is one of Canada's top "hidden consumer acquisition" forces.
Consumer Genius Inc. Alberta's fastest growing company has grown quicker than any other company in the province, making it the 15th fastest growing company in Canada for 2021 according to the Globe and Mail and Report on Business TV. There are many companies that still may not know what Consumer Genius does, as its rise to fame has been quick in the short term but has taken a lot longer in the background, mastering one skill, how to source a customer online and help them apply for a specific product or service, and then send that customer to the company who can provide that customer with what they need.
Let's take an auto loan for example. Sounds like a simple product, right? Quite the opposite. Thousands of people spend hours upon hours in car dealerships, browsing websites, looking at cars they would love to buy, however a large majority of those browsers may never be able to qualify for the vehicle they want. This is where Consumer Genius comes in. Through its platform for auto loans in Canada, CarsFast and LendingArch, consumers can apply for the car loan first, before they waste any time browsing for a vehicle. They then obtain a pre-approval within minutes and are connected to a representative in their area that will complete the deal for them and send them options for vehicles they can choose from, without ever having to step out of the comfort of their own home or office. This also allows the consumer to maintain their credit score health, as it prevents them from having to apply at different auto lenders, with their credit score taking a hit each time they apply.
Consumer Genius has applied the same methodology now into various financial and non-financial industries, connecting consumers with companies, and becoming the hidden acquisition engine behind some of North America's largest lenders, mortgage brokers, insurance firms, debt counsellors and auto dealerships. Even companies in the non-financial sector are benefiting from Consumer Genius' and its ability to send customers their way, including roofing, windows, audiology, solar product installers and home security companies.
"To put it simply, our value add eliminates so much uncertainty for companies when it comes to customer acquisition," says Ryan Matthews, the companies head of business development. "Take a large Life Insurance company for example, they would spend thousands if not hundreds of thousands in online marketing spend, placing their own ads on social media and large web platforms to attract applicants, without ever knowing how many actual customers they will capture. With us, we would charge a CPL or a (cost per lead), in other words, a fixed cost per customer. We eliminate all the uncertainty when it comes to their advertising spend, allowing them to have a set budget on customer acquisition and in turn, efficiently manage and grow their own firm without the marketing risk," says Ryan.
By eliminating the uncertainty on marketing spend, Consumer Genius has allowed some of North America's largest companies to increase their likelihood of controlled growth and decrease the dire risk of overspending on marketing that may not yield any results for them. Consumer Genius usually charges on a CPL (cost per lead) basis, however in some cases Consumer Genius would charge a CPA, CPS or CPF which stand for cost per acquisition, cost per sale or cost per funded respectively.
"We have become experts at delivering ready customers acquired through diversified digital channels to various companies within Canada, the United States, Australia and the United Kingdom," says Ryan.
■ ■ ■ ■ ■ ■ ■ ■ ■ ■ ■ ■ ■ ■ ■ ■ ■ ■
Home Hardware celebrates 30 years of community beautification with Tree Canada.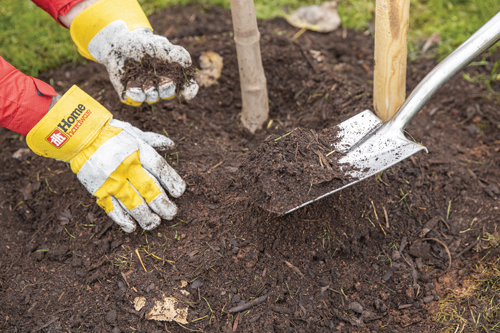 This September, Home Hardware Stores Limited is celebrating three decades of partnership with Tree Canada by continuing a tradition started in 1992. For the 30th year, participating Home Hardware Dealer-Owners will host Home Hardware Community Tree Plants in partnership with the national charity, beautifying their communities and giving back.
"Home Hardware has a long-standing reputation for supporting and championing local communities, and our relationship with Tree Canada has allowed our Dealer-Owners to give back in meaningful ways," said Kevin Macnab, President and CEO, Home Hardware Stores Limited. "As we mark another year of Home Hardware Community Tree Plants across Canada, I want to thank Tree Canada and our independent Dealer-Owners for working together to plant more than 30,000 trees over the past 30 years."
Since 1992, when Tree Canada was founded, Home Hardware Dealers have planted thousands of trees at schools, community parks, conservation areas, and in spaces that require restoration following wildfires, tornados, and other weather-related events.
To celebrate 30 years of partnership, 30 Home Hardware Dealer-Owners across the country are participating in this year's Home Grown: 30 years of planting at Home campaign, each with their own close-to-home reason.
"The impact our partnership with Home Hardware has had across so many Canadian communities is immeasurable. Not only has it been a catalyst to getting so many kids and community members involved in beautifying their communities, it also inspired people and organizations within our network to get involved," said Nicole Hurtubise, CEO, Tree Canada. "Since 1992, Tree Canada and Home Hardware have worked together to plant and maintain trees in local communities across the country, creating a lasting legacy for present and future generations. We're thrilled to be celebrating the longevity of what has been an incredible, 30-year relationship."
Home Hardware Community Tree Plants are traditionally held in September around National Tree Day – the Wednesday of National Forest Week. This year, National Tree Day fell on September 21.
As Dealer-Owners prepared for their 2022 tree plant, they are reflecting on the positive impact their tree plants have had on the communities they serve: Todd Young, Dealer-Owner, Beach Builders Supplies Home Hardware Building Centre, Wasaga Beach, Ontario: "One of my favourite parts of being involved in Home Hardware's partnership with Tree Canada for over 10 years is getting to pass my passion for planting trees down to the younger generations, including my son. It has continued to be a passion of mine to work with youth to share this stewardship perspective and leave an indelible mark on our community for generations. In 2015, we planted 50 fruit-bearing trees at a local park – one of our biggest plants to date. We were inspired by the efforts of our local community garden that donates a lot of produce to the food bank and thought fresh fruit would be a great way to add to this donation."
Jeff Redden, Dealer-Owner, Windsor Home Hardware, Windsor, Nova Scotia: "Working with Tree Canada has been the perfect opportunity for us to take further action on a cause that is already near and dear to our hearts– restoring trees damaged by Dutch Elm disease. In 2015, we formed a tree canopy restoration committee, with the goal of planting 1,000 trees in Windsor. Throughout the past five years, we have successfully planted over 650 trees and have created 10 new "mini parks" in town. Our partnership with Tree Canada has been essential in regreening our parks and public spaces and restoring Windsor's tree canopy to what it once was."
Home Hardware Stores Limited is Canada's largest Dealer-owned hardware, lumber, building materials, and furniture home improvement retailer with close to 1,100 stores under the Home Hardware, Home Building Centre, Home Hardware Building Centre and Home Furniture banners. Founded in 1964 in rural St. Jacobs, Ontario, Home Hardware remains 100 percent Canadian owned and operated.