DM Magazine: When it comes to using the data from Pinterest to predict trends, which areas do you find are extremely accurate? What do you think accounts for this?
Jenna Landi, Director of Global Insights, Pinterest:
Pinterest's trends are a great signal of where society is going and how advertisers can add value to those planning moments. People use Pinterest to plan the actions in their lives and come to the platform months in advance, which enables Pinterest to have an early look into what ideas are likely to be really big, really soon. More than 400 million people around the world come to Pinterest every month to plan what to do, try or buy next. This is why we're able to analyze what they have been searching for, getting early insights and helping us define what's coming next for consumers, advertisers and creators.
Our trend predictions are based on months of data, rigorous analysis and evaluation by our team of researchers and strategists to ensure we nail our trends each and every year. We break down the research and development of our annual Pinterest Predicts report into four key stages.
In the first stage, data examination, our team sifts through billions of search results from over a two-year period and filters out any seasonal biases to ensure they don't skew the data set. From there, we move to the curation stage where our team of trendspotters take thousands of searches and narrow them down into about 30 trends by looking at the cultural context to help identify the "why" behind the trends in consideration.
That brings us to the next stage, inclusion, which is a value that is core to our company's mission. Alongside NXT Labs, an external focus group, we work together to ensure that people from all backgrounds and perspectives are included in our predictions.
In our final stage, accountability, which happens after the release of the report, our team watches the trends to see how well they are performing. Gathering both internal and external feedback, we assess what we got right and why some predictions didn't come true.
Using our findings, we update and enhance our trendspotting process each year. This has led us to have an 80 percent accuracy rate for three years in a row.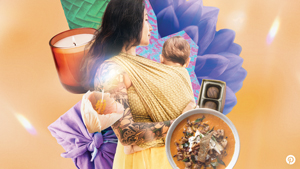 What are some of the most surprising trends or ideas that you are predicting for 2023?
Our trends are a reflection of the diverse sets of interests that Pinners have. They're turning to Pinterest for inspiration for all areas of their life, which allows us to showcase a wide variety of trends we predict will be impossible to miss this year.
For 2023, our predictions range from celebratory plans like pool pawties and the YOLO years to financial planning with the cha-ching challenge hobby inspiration with good old paper, and more.
One trend that I loved seeing and may come as a surprise to some is our fourth-trimester trend. It's also a trend that I can relate to personally — I have a 9-month-old at home, and those first few months post-birth are raw and real. While babies have always been celebrated, I love that we see more and more people supporting parents as well. Driven by Millennials, we see people searching for everything from postpartum meals to gifts and essentials. Bringing this life-changing time into focus is a movement I can definitely get behind.
You state the prediction rate is 80 percent — what were some of the things you got right and what did you miss?
At Pinterest we love to take smart risks and actively bring past lessons to our next effort. This is why Pinterest Predicts has had an incredible success rate over the past three years.
In a recent study with Black Swan Data, a leader in consumer data insights and predictive analytics, we identified three key findings on how trends took off on Pinterest compared to other platforms.
The first is that our trends take off faster as they grow 20 percent quicker than trends across other platforms in their first six months.  This momentum gives brands and marketers the confidence they need to stay ahead of the curve and reach their target customers.
Pinterest trends also last longer since they sustain a monthly growth of more than 20 percent longer than other trends that tend to lose popularity after six months.  This allows brands and marketers to invest in trends that are proven to have a longer lifespan.
The last finding, which is core to the Pinterest experience, is that our trends inspire across audiences. When people come to Pinterest, they don't search for a trend just once — Pinterest users often revisit a trend multiple times, allowing them to go deeper into topics they're interested in.
Barkitecture and Dopamine Dressing were two trends from our 2022 Pinterest Predicts report that definitely came true!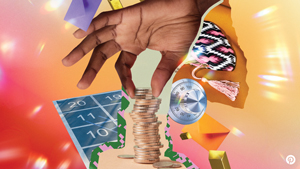 How can marketers maximize your Pinterest tool?
With over 400 million people coming to Pinterest each month to plan for the future it provides a unique window into what people are looking for so they can act on it in real life, providing the insights that marketers need to make decisions on how to best reach their customers. On Pinterest, marketers can drive their audience from discovery to decision — all in a more positive place online where a brand's product helps people accomplish what they came to do, rather than distract them from it.
For example, with Pinterest Predicts, marketers can lean into the not-yet-trending annual report to see what will likely arise in the upcoming year because staying ahead allows businesses to make informed decisions before anyone else.
Our insights also power a suite of other tools for marketers including Pinterest Trends, a tool that allows you to see what's trending right now, and our Ads Manager tool, a hub for professionals to create campaigns, track results and improve performance.
Since people come to Pinterest with uniquely high intent to act, brands of all shapes and sizes find success on Pinterest.