Personalization is not just a necessity anymore — it is imperative.
In this year's Personalization Pulse Check Report, MoEngage helps brands understand customer sentiment on personalization. The data is clear: it is not just "nice to have"; customers now demand it.
However, only 30 percent of brands use deeper insights to personalize their experience. Brands still struggle to provide personalized, omnichannel experiences based on customers' affinity, AHA moments, channel/frequency preferences, and more.
Finding the solution to winning customer loyalty can appear daunting, but it isn't an impossible feat. The key is to start with the basics: for example, how many channels you use to interact with customers, how often customer sentiment changes, how many channels your customers browse before making a purchase, and so on.
But who can give you the answer to these age-old questions? Your customers!
MoEngage spoke to 2,000 North American consumers to understand their customer engagement preferences and personalization needs. This report is meant to answer clear questions like what delights consumers, what frustrates them, how personal they want you to be, where they would like to read or see communication from you, and much more.
A look back at previous Personalization Pulse Check edition
In last year's Personalization Pulse Check report, MoEngage found that the number one challenge for consumer brand marketers was consistent messaging across multiple channels.
This is the communication gap between brands and their end customers. Much data is available to these marketers, but customer communication is not personalized on a relevant, human level.
Approximately 44.5 percent of marketers feel that using insights (customer, journey, and campaign level) helps boost the overall ROI. However, adding personalization to customer engagement remains elusive.
So in this year's report, MoEngage wanted to understand consumers' current expectations toward brand communications and establish how these expectations have changed (or not) compared to their last edition of the report.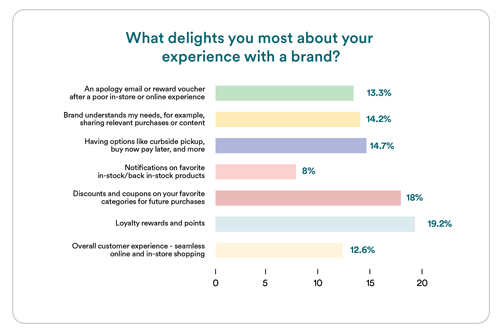 MoEngage surveyed 2,000 North American consumers from the US and Canada, aged 16-54 to:
understand their expectations from brands regarding personalizing their experiences.
know what delights, what frustrated customers, and how personal they want brands to be.
find out which channels they would like to read or see communication from brands on and much more
From a customer engagement perspective, around 14 percent of consumers are delighted when brands understand their purchase needs and improve their overall buying experience.
The broad majority of consumers want brands to understand their purchase needs, compensate them when they have a poor experience, and notify them about in-stock favourite products. Consumers also want brands to focus on a seamless customer experience that includes personalized communication based on their buying behaviour.
The majority of consumers' frustration stems from a lack of strategic customer engagement. Furthermore, 31.9 percent of consumers are frustrated when brands send too frequent or too few communications. This clearly shows that consumers also demand relevant, timely, and customized communication apart from price and product-related benefits.
Based on the data, it is clear what delights and frustrates the consumers is mostly related to brand communication. It's essential to understand consumers' criteria when personalizing communication and engagement.
27.7 percent of consumers want their communication personalized using purchase history, and 22.7 percent prefer known interests such as favourite categories, repeat purchases, wishlist products, and more such insights.
The expectation in which brands use name, preferences, and location are still essential but represented as lesser importance compared to the other criteria, likely because brands have been focusing on these attributes for some time. Now, consumers are looking for deeper conversations that can only happen using deeper insights such as purchase history, app/website activity, affinity, and so on.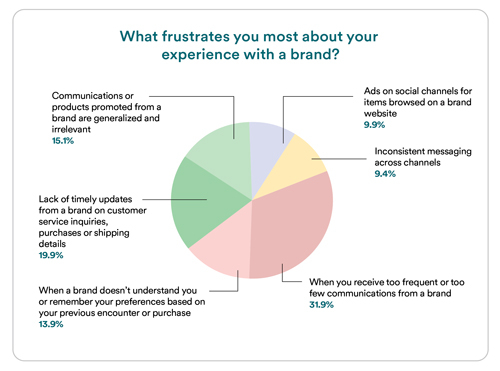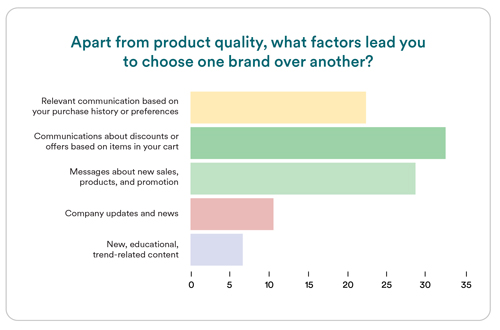 Interacting with brands through their website (22.5 percent) is consumers' preferred channel, more so than even in-person interactions (18.8 percent). This shows a shift in the importance of digital communications compared to traditional channels. Moreover, 13 – 15 percent of consumers still prefer mobile apps and social media as engagement channels. Emails and SMS are on the consumers' preferences list as well. Noticeably, chatbots seem to be last on the priority list; however, based on 2023 engagement trends, this channel will gain popularity soon.
We understand the preferred channels, so what comes next? Frequency of interactions on these channels. 47.8 percent of consumers interact once or twice on their preferred channel(s) before making a purchase. Whereas an equally close 43.6 percent interact 3-4 channels before purchasing.
Balancing personalization and privacy
Personalization comes at a cost, i.e., sharing personal data. Hence it is essential to understand how consumers perceive sharing their data and letting brands use it for an enhanced experience.
Well, more than 66 percent of consumers are comfortable or slightly comfortable with sharing their data including name, location, and email. This acceptance of data sharing shows personalized experience is expected from consumers. That's how customer-centric brands need to move to succeed in a high-competition, low-loyalty environment.
Once we understood that consumers are willing to share their data, the next thing to gauge was what type of data they wanted to utilize for this personalized shopping. So other than name and location, more than 50 percent of consumers want brands to use preferences, affinity, favourite products/categories, and purchase history as elements of personalization. Finding browsing and purchase history insights is straightforward, as brands can use the app and website data.
Prioritize personalization like your growth depends on it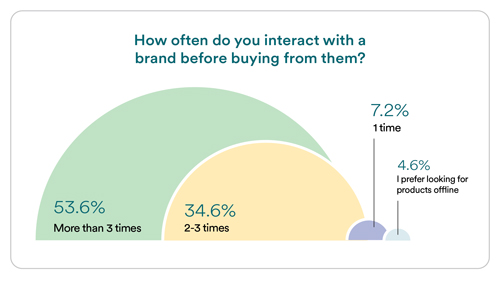 Because it does! Where brands place their bets, how they prioritize their customers, and adapt to customer expectations will determine their growth trajectory for the year ahead.
Consumers have made it abundantly clear that they want a highly personalized experience over their favourite channels and seamless journeys from start to finish. Deliver on these expectations, and all brands, large or small, have a chance to retain their growing customer base. Fall short, and brands might miss out on the opportunity to try again.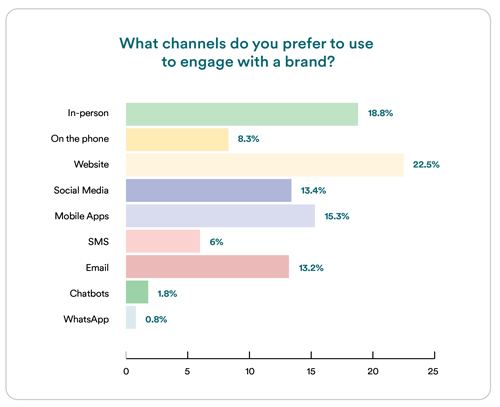 Future success depends on four emerging growth areas
Moving away from static segmentation towards dynamic, hyper-personalization
To get personalization right, brands need to understand what isn't personalization. In many instances, personalization and segmentation are used interchangeably. While segmentation helps you categorize and label your customers into different cohorts based on their interests, preferences, locations, etc., personalization helps you treat them as individuals. Look at it this way, while segmentation allows you to divide thousands or millions of customers into different segments, personalization allows you to have individual moments with each customer.
Invest in scalable real-time messaging
Your consumers demand the opportunity to interact with a brand whenever they need to, without a moment's delay. Giving consumers real-time transactional updates on value-added services like curbside pick-up, BOPIS, order confirmation, returns, etc., sent at the right time, helps you as a brand have a proactive communication plan to build trust and loyalty. Using MoEngage Inform, brands can deliver critical messages to customers in real-time. These include alerting customers when an ordered package arrives, sending OTPs to approve transactions or log in securely, cab arrival updates, or password reset requests, for example.
Explore channels to grow in the age of conversational commerce
Customers don't want to wait hours on end to connect with your brand's customer service on a call. They want an instant resolution. That's where channels like SMS, chatbots, Facebook, and more come in handy and are gaining increasing popularity. Brands need to personalize their communication to suit these conversational channels.
Exploring channels like Chatbots and WhatsApp allows brands to establish a direct relationship with the consumer.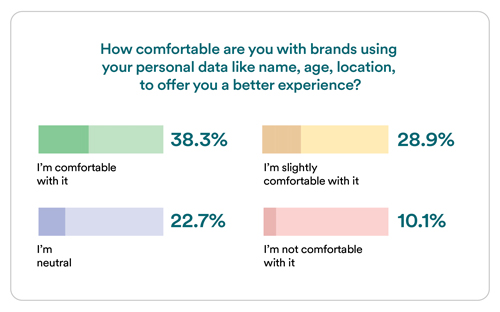 Leverage insight to succeed with first-party data
Zero-party data collected from loyalty/referral programs, buying intent, or other sources should now be used for product recommendations, building custom profiles, and improving customer service, which in turn will assist better strategic decisions. Similarly, brands can use first-party data gathered from owned digital channels — website/app, surveys, feedback, newsletter, WhatsApp opt-ins, etc. This will facilitate offering hyper-personalized experiences, reaching the right customers, and fostering customer relationships by understanding their preferences.
By embracing new technologies and investing in both consumers and their journeys, brands can infuse a customer-first mindset into all levels of engagement. The window for action is small — and closing. But brands have the opportunity to drive bottom-line growth and create better experiences just by letting their customers lead the way.
For more insights from this report, please visit www.moengage.com