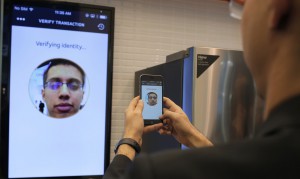 BMO Financial Group (BMO) and MasterCard have begun a phased launch of Identity Check, the first biometric credit card program in Canada and the U.S. that will enable cardholders to verify transactions using facial recognition and fingerprint biometrics.
Quickly dubbed "Selfie Pay" by the media, Identity Check will be used to verify online purchases. If an e-commerce transaction is flagged as questionable by MasterCard, cardholders who opt in to the program will be prompted to provide their fingerprint or "selfie" via the Identity Check app on their mobile phone. That information will then be matched against an authentication signature based on previously provided biometric information that is converted into an algorithm and stored on MasterCard's servers. Once the match is verified, cardholders can return to the merchant site to complete their purchase.
Simpler and more secure
This new functionality is intended to increase the security of payments that don't require a face-to-face interaction by reducing the likelihood of the card being used by anyone other than the cardholder. Participation is voluntary; no cardholder will be obligated to switch from using passwords to using Identity Check.
At a press briefing hosted by MasterCard and BMO in Toronto on March 23rd, Catherine Murchie, senior vice president of North America processing, enterprise security & network solutions for MasterCard, explained that customers are frustrated trying to keep track of all of their passwords. As a result people tend to make their passwords simpler but this makes them less secure. Selfie Pay offers a convenient alternative without sacrificing security.
"It's always exciting to introduce biometrics to new cardholders," says Murchie.  "They quickly realize that they don't have to sacrifice convenience for security. By snapping a selfie or scanning a fingerprint, the person becomes the password."
"Mitigating the risk of fraud is always our top priority, and the inclusion of this technology is going to make payment authentication easier and strengthen the security of the entire payments ecosystem," said Steve Pedersen, vice president, head, North American corporate card products, BMO, in a release.
Beyond enhancing security, Pedersen also hopes that customers will enjoy using the app. "I look at this as a customer experience driver in particular," he noted at a media demonstration. "To make the customer experience that much better is so important to us as an institution and this is going to be a key driver for us. And we believe our customers are going to very much enjoy this capability."
Coming to a card near you
BMO and MasterCard have begun rolling out Identity Check with corporate cards issued to BMO employees in Canada and the U.S. as of late March 2016. The objectives for this first phase including establishing and improving best practices in corporate environments, developing better protection against potential fraud and continually minimizing the need for customer service inquiries. While no further launch dates have been announced, more cardholders may have the chance to try Selfie Pay this summer.
"I don't characterize this as a pilot, I characterize is as a soft launch," says Pedersen. "We are very comfortable with the tool. We are going to go through the normal shake out phases of any new product launch. But this is for Bank of Montreal a soft launch"
This article originally appeared in the April 2016 issue of Direct Marketing.