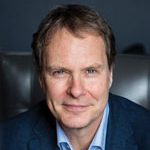 By Robert MacLean
AMA Toronto's Canada's Marketing Hall of Legends (CMHOL) announced its 2022 inductees — and we can relish the place that data-driven, response-based marketing has in this hallowed gallery.
Our newest Marketing Legends are Chris Lang, former chairman, Lang Partnerships Network; Zak Mroueh, founder and chief creative officer, Zulu Alpha Kilo; Brenda Pritchard, partner, Gowling WLG; Dani Reiss, president and CEO, Canada Goose Inc.; and Edie Weiss, president and CEO, Radke Film Group. The 2022 Marketer-on-the-Rise is Marie Chevrier Schwartz, founder and CEO of Sampler.
"Each of these diverse Canadians has elevated our industry in Canada and on the international stage and are being recognized for their remarkable leadership achievements," says Tina Portillo, president of AMA Toronto.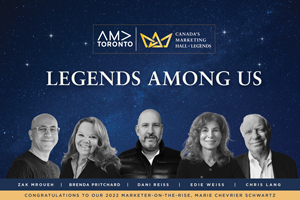 The longest-running industry program of its kind, Canada's Marketing Hall of Legends, honours the industry's most inspiring visionaries, enablers, builders and mentors who've had tremendous impact on the field of marketing throughout their careers. The Marketer-on-the-Rise award celebrates Canada's top up-and-comers.
"Our 2022 Canadian Marketing Legends epitomize successful business leaders pursuing excellence in the field of marketing. They all have demonstrated that in their careers business decisions have been based on analytics and key performance metrics to align achievements to overall business objectives," says Nancy Marcus, chair of this year's CMHOL selection committee and a 2020 inductee for her leadership and accomplishments as chief marketing officer at Kruger Products.
"Data-driven intelligence has provided these five successful inductees the confidence and capabilities to generate insights to optimize decision making, support customer engagement and, ultimately, organizational success."
For instance, the acclaimed leader of Canada Goose, Dani Reiss has transformed the small outerwear manufacturer founded by his grandfather into a global performance luxury lifestyle brand. He is recognized for playing a central role transitioning the business into an iconic consumer-facing brand, developing international markets and championing made-in-Canada manufacturing. His company's corporate social responsibility and omni-channel marketing and sales model is what Legends are made of.
Brenda Prichard is the first advertising and marketing lawyer to be honoured by Canada's Marketing Hall of Legends. Brenda has been a law partner at Gowling WLG for more than 35 years and knows what it takes to produce cutting-edge advertising that is both legally compliant and protects the creative idea. With experience across nearly every platform and product/service category, she is a trusted adviser to dozens of the world's top brands and creative agencies on laws and guidelines applicable to data and privacy, eCommerce, marketing technology (MarTech), and all facets of marketing.
Zak Mroueh's record of creativity and innovation in marketing spans 35 years as a writer, creative director, philanthropist, and entrepreneur. He presently leads one of Canada's foremost creative agency networks. His self-described "maverick indie agency" Zulu Alpha Kilo has been well recognized at home and abroad for creating award-winning work for brands like Bell, Cineplex, Interac, Harley-Davidson, HomeEquity Bank, Harry Rosen, and Subaru. Zak's unconventional approach to business and use of multiple media channels to implement programs, track response, analyze results, measure ROI and generate sales for his clients is undeniably legendary.
Edie Weiss is our first Legend from the commercial film production industry. She founded the Radke Film Group in 1992 and has grown it into one of the pre-eminent production companies in the world. In an era of digital transformation, Edie produces award-winning advertising content for a long list of top clients. Giving back has always been a hallmark of past legends, and Edie famously created POV, an organization that creates opportunities for diverse young people to have careers in TV, film or advertising production. While empathy, collaboration, partnership and empowerment are her raison d'être, Edie says simply: "Doing good is good business."
Chris Lang, "the Guru of Canadian partnership marketing," is being honoured posthumously for his vision and progressive leadership. Chris spent five decades leading sponsorship development and innovation at Lang Partnerships Network and was committed to delivering game-changing partnerships in sports, entertainment, transportation, and other sectors that matter to society. From major multi-national corporations to Canada's leading companies — the roster of organizations that benefited from his insight and marketing expertise is a testament to his stature. We remember and celebrate Chris as a Legend, a Canadian visionary who created deep, immersive consumer experiences.
Marketer-on-the-Rise Marie Chevrier Schwartz's company Sampler, launched in 2013, is a leading technology platform for product sampling. Sampler delivers data-driven product experiences that create personalized relationships between people and brands. Marie started Sampler with a vision to transform the way consumer packaged goods companies distribute product samples. Today, Sampler's network reaches over 50-million consumers in 24 countries and serves some of the world's largest brands like L'Oréal and Unilever.
Learn more about how data-driven response-based marketing has driven the accomplishments of our Marketing Legends in future DM Magazine issues, at the upcoming in-person CMHOL gala on May 12, and in AMA Toronto's upcoming Legendary Leadership Series of events.
Robert MacLean is principal, MacLean PR & Corporate Communications, and vice president, public relations, AMA Toronto (www.ama-toronto.com).
AMA Marketing News
The American Marketing Association Toronto Chapter (AMA Toronto) is a not-for-profit organization focused on advancing the practice of marketing and the success of marketers within Canada. Since 1946, AMA Toronto has been committed to helping individuals and companies within the Toronto and Canadian business community connect, learn, and grow.
A welcoming community run and led by volunteer marketers, AMA Toronto is an inspiring and empowering organization committed to building the marketing leaders of tomorrow. Our goal is to help transform individual marketers into successful business leaders who can succeed on both a local and global stage. Only AMA Toronto provides a gateway to Canadian and international opportunities that empower your leadership potential at every stage of your career.