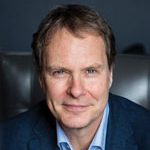 By Robert MacLean
Canada's Marketing Hall of Legends just announced the inauguration of six new Marketing Legends and this year's Marketer-on-the-Rise. And like last year, data-driven, response-based marketing has played an essential part in their achievements.
Our newest Marketing Legends include two brand builders and four agency founders: Lisa Lisson, SVP of hubs, ramps, and global operations control, FedEx; Noel O'Dea, president and founder, Target Marketing and Communications Inc.; Sandra Sanderson, SVP, marketing, Empire Company Limited and Sobeys Inc.; as well as Chris Staples, Ian Grais, and Tom Shepansky, the founding partners, Rethink Communications.
The 2023 Marketer-on-the-Rise is Hyla Nayeri and Adrien Bettio, founders of the meteoric 437 Swimwear, a luxury swimwear and apparel brand launched in 2017.
"These diverse marketers have each elevated our industry in Canada and on the world stage," says Barbara Boyd, president of AMA Toronto, the association that runs the award. "Through the Marketing Hall of Legends, we celebrate and recognize their remarkable leadership, vision, and achievements."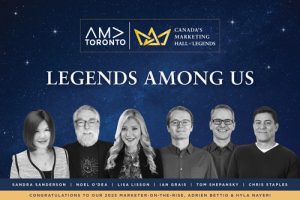 Canada's Marketing Hall of Legends honours the industry's most inspiring visionaries, enablers, builders and mentors who've had tremendous impact on the marketing field throughout their careers. The Marketer-on-the-Rise award celebrates Canada's top up-and-comers — the next generation of influential marketing leaders.
The class of '23 have all demonstrated that data-driven intelligence has driven organizational success for their companies and clients. Analytics and key performance metrics have provided them with the confidence and capabilities to generate insights into optimized decision-making, support customer engagement, and develop award-winning creative marketing.
Lisa Lisson is the first marketing leader from the transportation sector to become a Marketing Legend. Last month, she took on a new role at FedEx, leading nearly 40,000 employees across the United States. Previously, Lisson spent 12 years as SVP and president of FedEx Express Canada, and was the first Canadian and first woman to hold the post. Under her leadership, FedEx Canada was consistently listed highest among transportation companies in reputation rankings and as a best employer.
"I'm fortunate to serve as a leader in work that I'm passionate about at FedEx, and being acknowledged for this work means so much to me," says Lission. "It's even more exciting to accept this award as FedEx celebrates its 50th anniversary, knowing I've made an impact on the strides we've made in Canada while serving the communities our team lives and works in."
Noel O'Dea, best known for his company's poetic brand campaigns for Newfoundland and Labrador, becomes the first marketer from the province to be inducted. "We set out to make our moms proud — and our clients famous. We took the road less travelled, here in the most creative place on the planet." says O'Dea. "Newfoundland is our inspiration, and Target's indispensable competitive advantage."
Since founding Target in St. John's 40 years ago, his agency has helped build hundreds of brands and won creative awards in Canada and globally. "I've always been committed to doing emotional work that makes people 'feel' something, that moves them, that evokes laughter or love. That people remember," says O'Dea.
Sandra Sanderson becomes the first woman from the grocery retail industry to become a Legend. At Empire Company Limited and Sobeys Inc., she's been a driving force in transforming the company's marketing, including it becoming an Olympic sponsor and the first Official Grocer of Team Canada.
"Marketing has undergone extraordinary change in recent years," says Sanderson. "I count myself lucky to have played a role in its transformation, as brands strive to meet customers' ever-evolving needs."
Beginning her career in CPG working on Ivory, Mr. Clean, and Kraft Dinner, Sanderson went on to lead marketing at Canada Post and Universal Studios before moving to Shoppers Drug Mart, Walmart, and eventually Empire Company Limited and Sobeys Inc.
Chris Staples, Ian Grais and Tom Shepansky are the founders of Rethink Communications, and the first business "trio" inducted.
"We are so honoured to be the first trio inducted into Canada's Marketing Hall of Legends, they said in a joint statement. "There's never been a CEO at Rethink — we believe our shared leadership model featuring all sides of the business has been a crucial factor in success.
Creative directors Staples and Grais are famous around the world for their body of award-winning work. Shepansky, the business lead, is well-known for brilliantly overseeing strategy, account services and finance. Today, the three founders have stepped away from their management of the agency, but remain on the Rethink Board of Trustees.
"For nearly 20 years, the Marketing Hall of Legends has been evolving with the marketing sector," says Jacob Kessler, VP, CMHOL, AMA Toronto. "Today, the award proudly reflects a mosaic of marketing talent from coast to coast, but remains a once-in-a-lifetime, one-of-a-kind achievement."
Canada's Marketing Legends is made possible by AMA Toronto's dedicated community of volunteers and through the backing of Zulu Alph Kilo, this year's presenting sponsor.
"We're happy to support and celebrate this year's class and all their contributions to the industry. We hope it helps inspire the next generation of leaders in the Canadian marketing industry," says 2022 inductee Zak Mroueh, founder and creative chairman of Zulu Alpha Kilo.
The new inductees will be honoured by AMA Toronto at a gala event in Toronto on May 10. Learn more about how data-driven response-based marketing has driven the accomplishments of these Marketing Legends in AMA Toronto's upcoming Legendary Leadership Series of events.
Robert MacLean is the principal of MacLean PR & Corporate Communications, and vice president, of public relations, at AMA Toronto.